For immediate release ‐ July 15, 2019
Contact: Jon Pishney, 919.707.8083. Images available upon request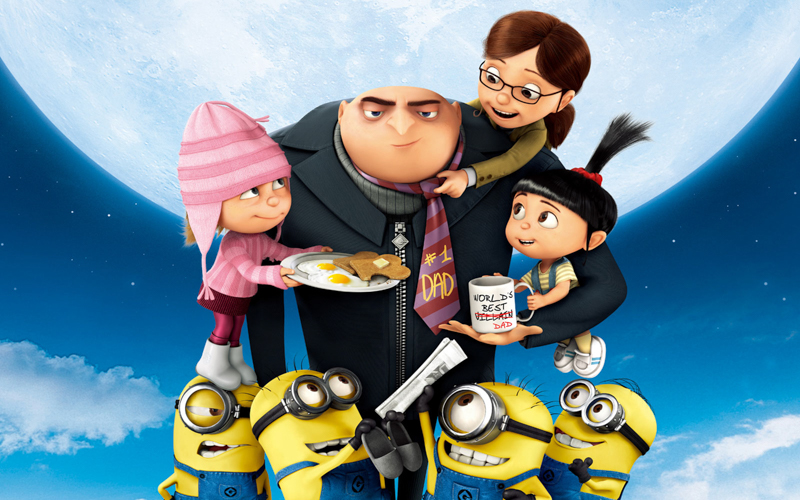 (RALEIGH, N.C.) — In a happy suburban neighborhood surrounded by white picket fences with flowering rose bushes, sits a black house with a dead lawn. Unbeknownst to the neighbors, hidden beneath this home is a vast secret hideout. Surrounded by a small army of minions, we discover Gru, the world's greatest villain, planning the biggest heist in the history of the world. He is going to steal the moon. (Yes, the moon!) But what happens when he meets his greatest challenge: three little orphan girls named Margo, Edith and Agnes? Don't miss "Despicable Me" (2010, PG) on the big screen at the North Carolina Museum of Natural Sciences, Friday, July 26 at 7 p.m.
Steve Carrell, billed as one of America's most versatile comics, voices Gru. After more than a decade playing small roles on television, Carell broke into films playing Evan Baxter opposite Jim Carrey in "Bruce Almighty" (2003), Brick Tamland opposite Will Ferrell in "Anchorman" (1994) and Uncle Arthur opposite Ferrell and Nicole Kidman in "Bewitched" (2005). He broke out as a leading man after starring in the summer box-office hit "The 40-Year-Old Virgin" (2005), which he also co-wrote. From 2005 to 2010 Carell also gained fame in his starring role as Michael Scott in the American remake of the Britain's existential comedy, "The Office." He has appeared in more serious film roles of late, including "Foxcatcher" (2014) "Beautiful Boy" (2018) and "Welcome to Marwen" (2018).
Prior to the movie, beginning at 5:30 p.m., check out movie-themed science stations. Plus, special guest NASA JPL Solar System Ambassador Alan Rich will help separate the facts from the fiction following the screening. Finally Friday movie nights feature a fun night of trivia and tongue-in-cheek commentary on popular science-themed movies, complemented by experts and hands-on science stations related to each night's theme. Dinner (such as sliders or tacos), beverages and popcorn will be available for purchase before the show. Doors open at 5:30 p.m.; movies begin at 7 p.m. Admission: $5/person. For information or tickets, visit naturalsciences.org/calendar/finally-friday/.
---
The North Carolina Museum of Natural Sciences in downtown Raleigh (11 and 121 W. Jones St.) is an active research institution that engages visitors of every age and stage of learning in the wonders of science and the natural world. Hours: Monday–Saturday, 9 a.m.–5 p.m., and Sunday, noon–5 p.m. General admission is free. For more information, visit naturalsciences.org.