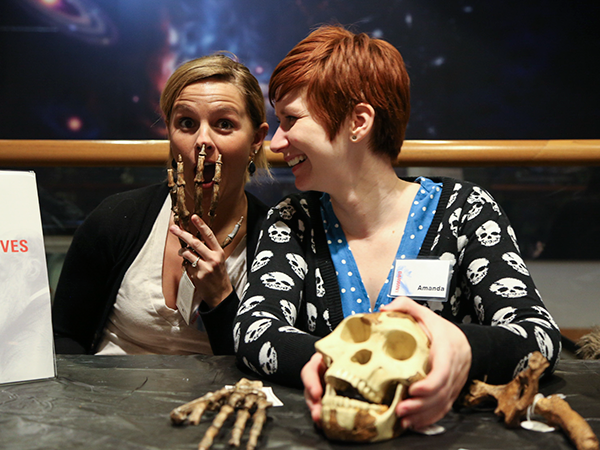 Overview
The internship program at the N.C. Museum of Natural Sciences provides a professional work setting for selected college students to bridge the gap between their classroom experiences and their intended careers. Internships at the Museum provide a forum to learning new skills or using and refining career goals of university students. With the approval of their university, students can earn academic credit by working directly with Museum staff in many areas. Through this partnership interns can receive practical experiences to help clarify and further career goals. These internships are for experience and are not paid positions.
After being interviewed and accepted into the Museum's internship program, interns will meet with their supervisor to come up with a work schedule for the semester. Each internship includes a mix of specific projects and departmental work with interns encouraged to participate in the design of their projects.

Looking for an internship? Visit the Internship Fair, Sunday, September 23, 1-4pm at the NC Museum of Natural Sciences!
Internship Fair Flyer
Internship Requirements
Must be currently enrolled in an undergraduate program and classified at least a Sophomore. Graduate students may also apply.
Experience and/or knowledge of field of internship.
Grade point average of at least B (3.0).
Education interns must be able to communicate well with the public.
Enthusiasm and a strong interest in learning about science education, environmental science, museum studies, research, etc.
Internship Opportunities
Some internship opportunities may not be available every semester. Please check with Head of Interns to verify availability.
Education - Curiosity Classes, Discovery Room, Windows of World, Summer Camps, Naturalist Center, and Micro, Natural, and the Visualization Investigate Labs (iLabs)
Living Collections - Arthropod Zoo, Living Conservatory, Program Animals, Terrestrial Exhibits, & Fish and Invertebrates
Exhibits
Digital Media
Graphic Design
Prairie Ridge
Citizen Science
Public Relations
Communications/Marketing
Information Technology
Research and Collections - Paleontology, Geology, Ornithology, Mammalogy, Ichthyology, Mollusks, Non-molluscan Invertebrates, Astronomy & Astrophysics Research Lab, Genomics & Microbiology Research Lab, Biodiversity Research Lab, and Paleontology Research Lab
Credit or Non-Credit
Credit internships—135 hrs. for 3 semester hrs. Academic advisor or class professor must sign off to approve credit (includes project)
Non-credit/experience internships—120 hrs. (includes project) does not need a signature
Application Process
Download and complete the Internship Form. If you will be receiving credit hours, please have your faculty sponsor provide a digital signature in the space provided on the Form.
Attach a personal statement in which you address the following:
1) Your career goals
2) How this internship will help you achieve those goals
3) Why you wish to intern at the Museum
4) Relevant coursework
5) Skills, activities, and/or experience that are relevant to this internship.
Enclose an unofficial transcript or have the school's registrar send one to the email address below. It does not have to be an official copy.
Email your application to: Cindy Bogan, Internship Coordinator, at cindy.bogan@naturalsciences.org.
Incomplete applications will not be considered.
Candidates selected for interviews will be contacted by phone or email approximately two weeks after the application deadline.
Application Deadlines
July 1: Fall Semester (16 weeks)
November 1: Spring Semester (16 weeks)
March 1: Summer semester (12 weeks)
For more information, contact Cindy Bogan, Internship Coordinator, at cindy.bogan@naturalsciences.org or 919.707.9288.