5:30pm-7pm: Food, live music and science stations.
7pm: Movie begins in the WRAL 3D Theater, followed by commentary.
DESPICABLE ME
Listen up boys, "gorls" and Minions of all ages — things are going to get a little mischievous — one could even say "despicable." Join us at the Museum of Natural Sciences to watch Gru steal one of the Great Pyramids of Giza, the Moon and even the fluffiest of unicorn toys in Despicable Me.
On July 26, bring out your inner Minion and go bananas for science at the Museum's Finally Friday event!
Doors open at 5:30pm and the movie starts at 7pm. There will be crafts, experiments, activities, food and we'll host Alan Rich, a NASA-Jet Propulsion Laboratory (JPL) Solar System Ambassador, to help us separate the facts from the fiction following the screening. Don't miss it!
Check out the upcoming movies and learn more about Finally Friday: Where Science meets the Cinema.
---
Despicable Me (2010)
The Moon is in danger! A man who delights in all things wicked, supervillain Gru hatches a plan to steal it. Surrounded by an army of little yellow Minions and his impenetrable arsenal of weapons and war machines, Gru makes ready to vanquish all who stand in his way. But nothing in his calculations has prepared him for his greatest challenge: three adorable orphan girls who want to make him their dad.
---
SCIENCE STATIONS (5:30–7PM)
Banana Music
Become a scientist like Dr. Nefario! And create music playing the piano with….. BANANAS! (The best thing to keep your minions under control!)
"We are going to steal … THE MOON!!"
Gru has a great plan: he is going to steal the Moon! But first, he has to get there. Learn about how the first humans landed on the moon 50 years ago!
Make-a-Minion
Assemble the minions"! Check out our craft table at Finally Friday where you can make your own Minion, just like in "Despicable Me." If you want to be a villain, you have to have your Minions by your side!
Despicable Me Button Handouts
Hot off the press! A new button from our Finally Friday movie collection has been released. Numbers are limited, so get one fast before they disappear!
Hide and Seek Moon
"Exploring the Solar System: Hide and Seek Moon" is an engaging way for early childhood learners to experiment with some of the tools scientists use to study objects that are very, very far away, and to learn about how cultures around the world have viewed the Moon. Easy-to-use binoculars and a hidden object Moon poster let young participants discover how some tools can make distant objects appear closer and brighter.
---
MUSIC (5:30–7PM)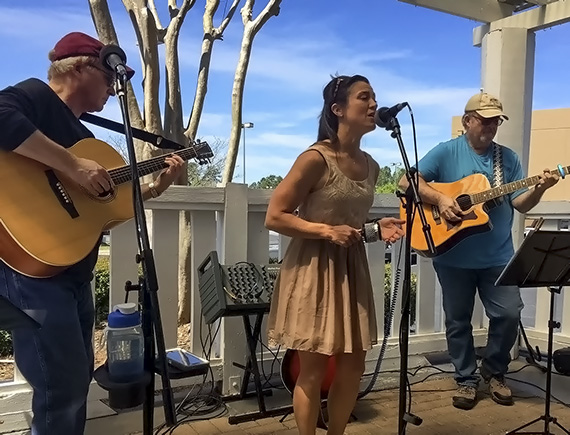 Loos Change is an acoustic trio based in Raleigh that plays a wide range of material from the 1960s to today. From the British Invasion to Americana, classic country, R&B, and pure pop, Loos Change has something for everybody. Don't miss them at this month's Finally Friday event!
---
 FOOD & DRINK
This month we're featuring hot dogs, beef tacos ($6), and quinoa and avocado salad ($8).