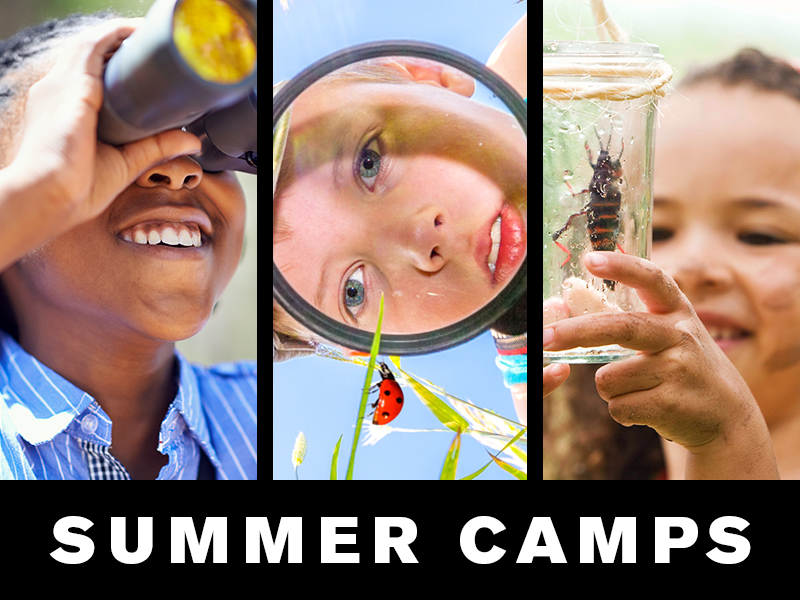 Welcome
The North Carolina Museum of Natural Sciences (NCMNS) looks forward to meeting your child at day camp this summer, where they will experience a range of creative, fun and interactive activities and adventures. The Museum welcomes all campers and strives to provide an equal experience to any child registered. We are committed to open and honest communications with guardians to ensure the best experience for all of our campers. If your child can benefit from any modifications and/or support in order to fully enjoy their time at camp, please contact summercamps@naturalsciences.org.
NCMNS is committed to offering fun, science-centered day camps. Select from one of our innovative interactive experiences. There is something for children in kindergarten through twelfth grade.
Camp Update
Summer Camps will follow current state and federal health guidelines and apply a range of safety measures to mitigate health risks. For the 2022 camp season, each camper must be considered fully vaccinated against COVID-19 OR receive a negative COVID-19 test result from a test completed with 72 hours of the first day of each camp. Guardians will need to attest that the campers meet these requirements prior to attending camp and should be prepared to provide visual proof upon request. Additional precautions may include health and temperature screenings, mask requirements, physical distancing and increased sanitation efforts. Visit Summer Camps Frequently Asked Questions for more information on current guidelines. Guardians will be updated on our current guidelines when camp packets are emailed in June.
Registration for Summer 2022
| | |
| --- | --- |
| February 1-3: | Registration opens at 10:00am for Friends of the Museum Brimley, Explorers, Naturalist Society level and  Family+1 level members. The registration link will be emailed the evening before your priority registration date. Registration temporarily closes at 5:00pm on February 3rd and reopens at 10:00am February 4th. |
| February 4-11: | Registration expands to include Friends of the Museum Family level members at 10:00am. The registration link will be emailed the evening before your advanced registration date. Registration temporarily closes at 5:00pm February 11th and reopens at 10:00am February 15th. |
| February 15: | Registration opens to the public at 10:00am. A link to register will be added to the Summer Camps website. |
Registration is completed with our online system, Active Network. Registration is first come, first served. Camps traditionally fill quickly. Friends of the Museum members save $30.00 per camp. Not a Museum member? Join today!
Each child can enroll in up to 2 weeks of day camp. The Museum will cancel any excess registration. A $30.00 processing fee per camp is required if the Museum cancels excess registration.
What grade level camp is appropriate for my child?
Grade levels stated in program descriptions are those of the upcoming school year (2022-2023). Please double-check to make sure that child(ren) are signed up for the appropriate age groups. We cannot make exceptions. Falsified registrations will be cancelled and the registration fee will be refunded minus the $30.00 processing fee per camp.
Following Wake County kindergarten eligibility requirements, campers must be five years old on or by August 31, 2022, to be eligible for kindergarten camps. A copy of the birth certificate or its equivalent must be emailed to summercamps@naturalsciences.org upon registration.
Refunds
NCMNS can grant refunds only when a cancellation is received before 5:00pm May 20, 2022. Cancellations received after May 20th will not be eligible for a refund. A $30.00 processing fee per camp is required for all refunds. If we are alerted as soon as possible of a child's illness or family emergency immediately before camp begins, we will do our best to provide a full refund, minus the $30.00 processing fee.
Refunds will not be granted if campers are not able to attend camp due to a failure to meet the COVID-19 safety requirements.
Cancellation
Camps with low enrollment 3 weeks prior to the start date are subject to cancellation.  Campers will be contacted to investigate the possibility of enrollment in another camp.  A full refund will be issued if summer camps are cancelled by Museum staff. Please note that all summer camps are subject to change or cancellation depending on COVID-19 restrictions. A full refund would be provided in event of a cancellation by the Museum.
COVID-19 Camp Guidelines
Visit the Summer Camps Frequently Asked Questions page for more information.
Scholarships
Visit our Summer Camps Scholarship page for information and applications. Eligible applicants will be entered into a lottery drawing. All scholarship applicants will be notified by email on or before Wednesday, February 16th.
Opportunities
Interested in an internship or working for our Summer Camps program? Visit our Summer Camps Employment page.
Questions
For additional information and camp policies, please visit our Summer Camps Frequently Asked Questions page.
Still have questions? Email summercamps@naturalsciences.org or call 919.707.9889.