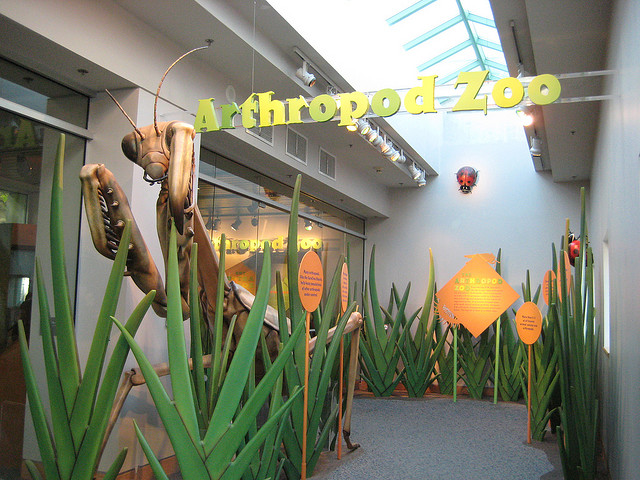 A Zoo...for Bugs
The Arthropod Zoo is a self-guided gallery located on the 4th floor of the Nature Exploration Center (NEC). As visitors explore the gallery, they will venture through several different areas covering the world of arthropods from their biological relationships and sensory perceptions to their ecological roles and importance. The Arthropod Zoo Gallery features 23 living exhibits and maintains a 24th exhibit on the 2nd floor of the Nature Research Center (NRC). In addition to our living exhibits, the Arthropod Zoo houses a large collection of living Arachnids, Crustaceans, Millipedes, Centipedes, Insects, and miscellaneous other arthropods and invertebrates (native and exotic) for exhibit backups and programming purposes.
Volunteering
Note: Volunteering has been temporarily suspended in the Arthropod Zoo.
Come spend some time working with LIVE invertebrates in the Arthropod Zoo! We are looking for people who are interested in the natural sciences and public interaction for our exciting volunteer opportunities.
Time Commitment: 2-3 hour shifts 3-4 times per month.
Weekly operations: Monday thru Friday, 9:00am–5:00pm
Special events & programming: Saturdays, 9:00am–5:00pm & Sundays, 12:00pm–5:00pm
Training: On-the-job training in the fields of entomology & invertebrate zoology and live animal husbandry & handling.
More information about volunteering
Support Us
Thank you so much for your interest in supporting the Arthropod Zoo! Your donation helps in many ways, including enhancing the exhibit with additional live animals to expanding our public reach through the purchase of educational components and instructional tools. Donations of any monetary amount are greatly appreciated and can be made online by visiting the Museum donation page
Donations of items from our Amazon Wish List can be made by visiting our Amazon Wish List website - Look for "Arthropod Zoo" in the item description.
---
Staff