Share Your Testimonials
Behind every gift is a story of generosity and commitment to the Museum's mission. Whether you were inspired during a visit to an exhibit or program or just excited about the great work the Museum is doing, we want to hear about it. What is your story?
---
Declaration of Support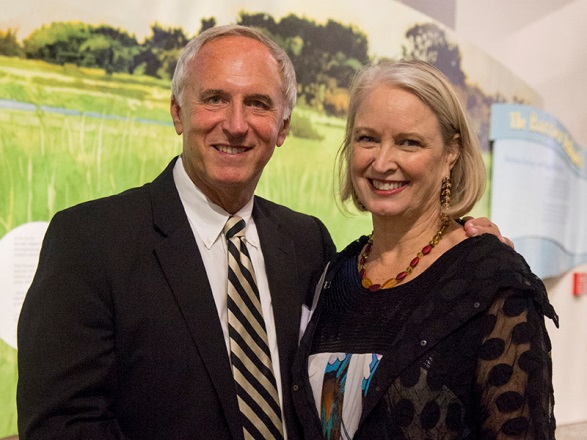 Chris and Susan Valauri enjoy the Extreme Mammals Gala.
"My husband and I are proud supporters of the Museum. Our contributions as Brimley Society members and enthusiastic participants in museum events reflect our shared commitment to the nurturing of science in the lives of young and old alike. Innovative museums like ours are treasures in the community and they must be continually supported and renewed through financial contributions from ordinary folks like you and me." — Susan Valauri, Outgoing Friends of the Museum Board Chair
---
Donor Impact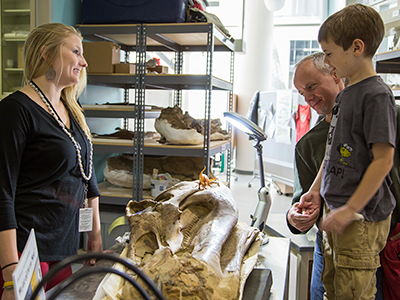 North Carolina State University graduate student and Paleontology Lab volunteer Alison Moyer spent time talking with visitors at the Fossil Fair in 2014. These types of meaningful, personal interactions would not be possible without the support of our donors.
---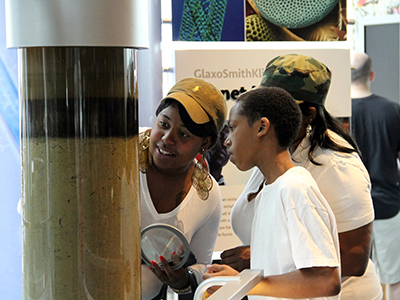 Museum visitors investigate the Nature Research Center's Winogradsky Column. This exhibit houses real live microbes collected from different locations around the state. It allows visitors to realize for themselves the diversity of microbes that can grow. Donors were a part of being able to provide this thought-provoking exhibit.
---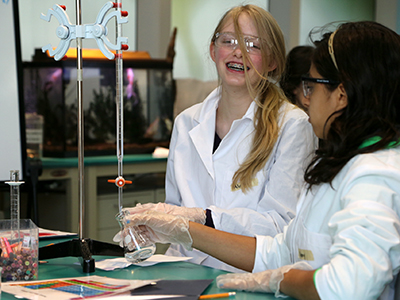 Alaina Randolph, Junior Curator at the Museum, and friend have fun during a homeschool chemistry class in the Natural World Investigate Lab. Research shows that project-based learning helps children not only to obtain higher scores, but to become more engaged in science. Donors help children realize their true potential.
---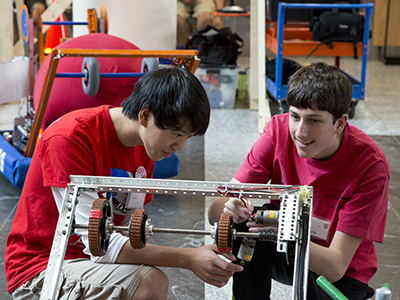 Felix Vivongsy and Gianni Absillis, students from Southeast Raleigh Magnet High School, participated in the 2014 Triangle Sci-Tech Expo by showing off (and troubleshooting) their robots. Children are learning to be innovative because of donors.
---
Share Your Impact Story
Each day, the Museum is filled with children and adults who are having unique experiences within our walls, during our outreach activities or in our outdoor play spaces. We want to hear about all of your encounters with our activities and how the Museum has enriched your lives. What is your story?
---
Annual giving is one of the most important areas of the Friends of the Museum fund development efforts because it supports our ongoing need to bring about updated new exhibits and a rich menu of programs and events.
---
Within our walls each and every day, someone is inspired by something they have learned through an event, exhibit, or program. We therefore warmly toast lifetime donors for their generosity and support of the Museum's mission.