For immediate release ‐ September 29, 2017
Contact: Jon Pishney, 919.707.8083. Images available upon request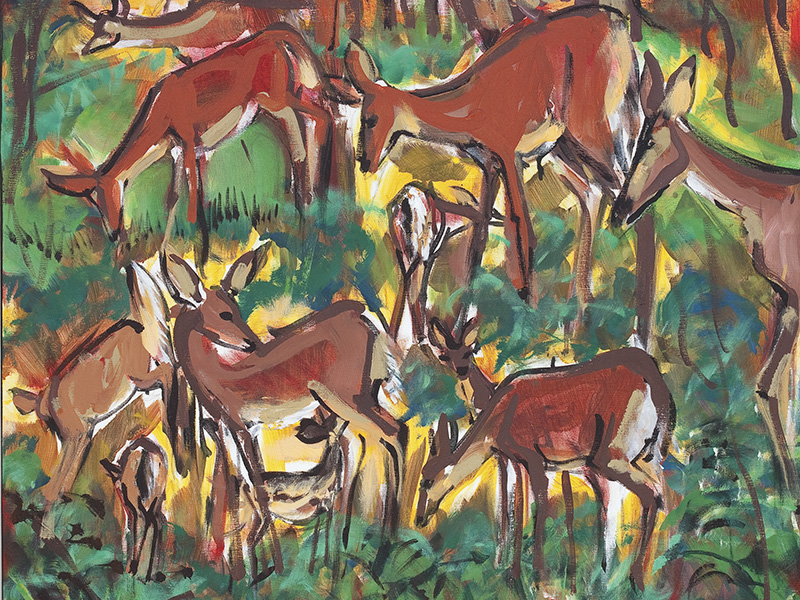 (RALEIGH, N.C.) — Chatham County artist Shannon Bueker has always drawn. "As a kid, there wasn't any surface that was safe from me and my crayons." Surfaces remain at risk. After earning a degree in studio art from the University of Texas she migrated to North Carolina, where for the past 24 years her wooded surroundings have proven to be fertile ground for her personal and artistic growth. The North Carolina Museum of Natural Sciences' Nature Art Gallery presents "Deer, Oh Dear," a selection of Bueker's acrylic and watercolor paintings featuring deer. October 6–29. A Gallery reception honoring the artist will be held Saturday, October 7 from 2 to 4 p.m.
Bueker's paintings, created in her Pittsboro studio, are acrylic on canvas and watercolor with ink and charcoal. But drawing remains a big part of her process. "I go back and forth between paint and line, drawing, and color, over and over," she says. She constantly works on picturing the connections that bind humans to creatures and creatures to nature. "I am so curious animals, their lives, their concerns, how our behaviors affect their lives," Bueker says. "I am lucky to live in the woods with a forest right outside my studio windows. Every day there is beauty out there and creatures about. Lots to draw, lots of opportunities for an overlap with a fellow creature."
Bueker teaches art classes at the Pullen Art Center in Raleigh, the Chatham Arts Council in Pittsboro, and the Artists League of the Sandhills in Aberdeen. She has participated in the Chatham Artists Guild's annual Studio Tour since 1994.
The Nature Art Gallery is accessible through the Museum Store. Hours are Monday through Friday, 10 a.m. to 4:45 p.m.; Saturday, 9 a.m. to 4:45 p.m.; and Sunday, noon to 4:45 p.m. All exhibited art is for sale. For more information about the Nature Art Gallery, call 919.707.9854.
---
The North Carolina Museum of Natural Sciences in downtown Raleigh (11 and 121 W. Jones St.) is an active research institution that engages visitors of every age and stage of learning in the wonders of science and the natural world. Hours: Mon.–Sat., 9 a.m.–5 p.m., and Sun., noon–5 p.m. General admission is free. Emlyn Koster, PhD, Museum Director. For more information, visit the Museum online at www.naturalsciences.org.