For immediate release ‐ August 26, 2019
Contact: Jon Pishney, 919.707.8083. Images available upon request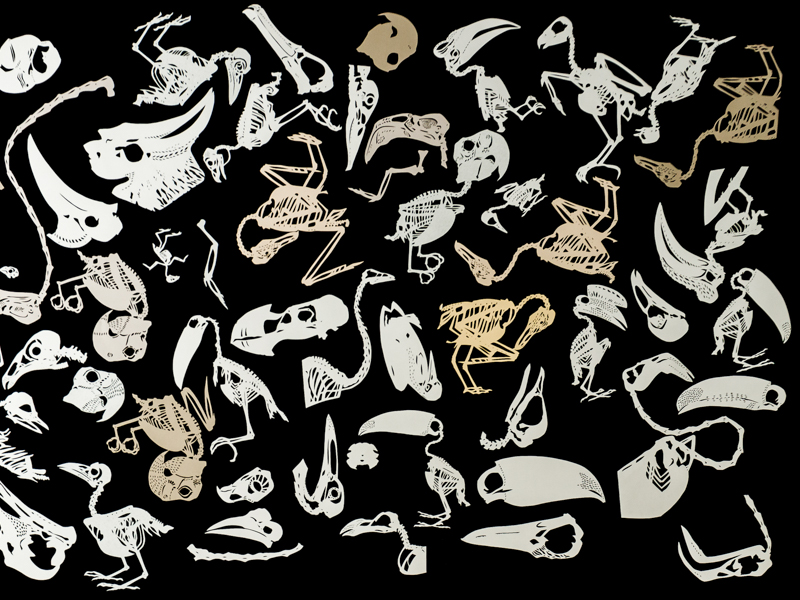 (RALEIGH, N.C.) — The North Carolina Museum of Natural Sciences' Nature Art Gallery presents "Lift," artwork by Salisbury-based Ingrid Erickson. The show runs September 6–29, with a Gallery reception Saturday, Sept. 7, 2-4 p.m. All exhibited art is for sale.
Erickson's work in cut paper reflects the intersection of art and science. She explores the ornithology, botany and ecology of ecosystems through the rendering of specific species. Each project involves extensive on-site research. "I enjoy working with and learning from scientists," she says. "I work from life, as well as from natural history collections and specimens, radiographs, and my own photographs and video taken on-site. Each piece is individually hand cut using an X-Acto knife and scissors, with up to several thousand tiny cuts per piece. I add color after cutting is complete using up to 20 layers of light-fast acrylic spray paint."
She recently completed a course in Bird Biology from the Cornell Laboratory of Ornithology in Ithaca, NY, and is an active participant in Citizen Science projects, as well as a wildlife rehab volunteer at the NC Zoo. The recipient of a 2015 North Carolina Arts & Science Council Artist Project Grant, Erickson recently transformed 300 feet of paper into large-scale paper cuts featuring the 32 species of raptors being rehabilitated at the Carolina Raptor Center in Huntersville. Other recent partner organizations include The Field Museum, Chicago; Patuxent Wildlife Research Center, Laurel, MD; the International Crane Foundation, Baraboo, Wisconsin; and The Duke Lemur Center.
The Nature Art Gallery is located inside the Museum Store. Hours are Monday through Friday, 10 a.m. to 4:45 p.m.; Saturday, 9 a.m. to 4:45 p.m.; and Sunday, noon to 4:45 p.m. Admission to the Gallery is free. All exhibited art is for sale. For more information about the Nature Art Gallery, call 919.707.9854.
---
The North Carolina Museum of Natural Sciences in downtown Raleigh (11 and 121 W. Jones St.) is an active research institution that engages visitors of every age and stage of learning in the wonders of science and the natural world. Hours: Monday–Saturday, 9 a.m.–5 p.m., and Sunday, noon–5 p.m. General admission is free. For more information, visit naturalsciences.org.