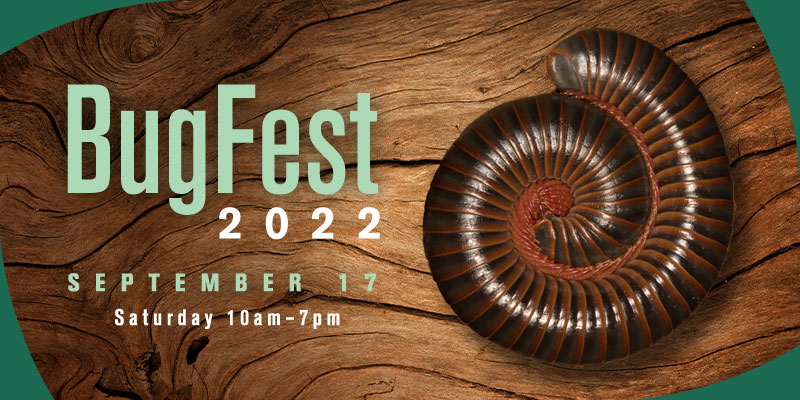 September 17, 2022
10am-7pm
BugFest is back downtown! The largest bug-centered event of its kind in the entire country, BugFest educates and engages the public in science and the natural world. Museum guests participate in more than 100 exhibits, crafts, games and activities as you interact with entomologists and other scientists while learning about the fascinating world of arthropods.
This year, BugFest spotlights the subphylum Myriapoda, which has about 13,000 terrestrial species, sure to delight participants of all ages with their numerous legs!
*If you would like to request an ASL interpreter for any program, please contact accessibility@naturalsciences.org.  Please give 24 hours notice.
---
¡BugFest vuelve al centro de la ciudad! El evento sobre insectos y artrópodos más grande de todo el país. El BugFest pretende educar e involucrar al público en la ciencia y el mundo natural. Nuestros visitantes podrán participar en más de 100 exhibiciones, artesanías, juegos y actividades mientras interactúan con entomólogos y otros científicos a la vez que aprenden sobre el fascinante mundo de los artrópodos.
Este año, como tema principal, el BugFest destaca el subfilo Myriapoda. Este grupo tiene alrededor de 13,000 especies terrestres que, seguramente, deleitarán a participantes de todas las edades con sus numerosas patas.
---
2022 Theme Arthropod: Myriapods!
What's in a name? BugFest celebrates all arthropods, a group that includes insects, spiders and scorpions, centipedes and millipedes, crayfish and crabs and many other creatures, as well as true bugs, like cicadas and planthoppers.
---
Museum Members
Members make events like this possible. Learn how you can get amazing perks at BugFest, including a free BugFest T-shirt when you join or renew your Museum membership, September 3–17, with code "BugFest22."
---
Presenting Sponsor: