September 13–18, 2021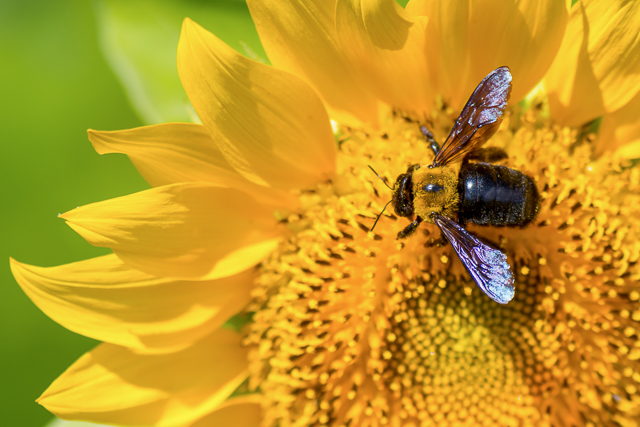 BugFest will bee a little different this year…welcome to BugFest 2021: Plan Bee!  Enjoy virtual programing Monday-Thursday and join us for two in-person BugFest events!  Saturday, bring the family out to Prairie Ridge for a Pollination Celebration from 9am – 12pm!  Then, Saturday night from 8:30pm – 10:30pm we will have a Moth Party at Prairie Ridge!  Of course, our theme arthropod this year is the BEE!
*If you would like to request an ASL interpreter for any program, please contact accessibility@naturalsciences.org.  Please give 24 hours notice.
---
BugFest 2021: Plan Bee
Del 13 al 18 de Septiembre, 2021
BugFest va a ser un poco diferente este año … ¡Bienvenidos a BugFest 2021: Plan Bee! ¡Disfruta de los programas virtuales que hemos preparado para este evento desde el Lunes 13 al Jueves 16 de Septiembre.
Y no puedes perderte nuestros dos eventos presenciales: el sábado 18 de Septiembre trae a toda tu familia al Prairie Ridge EcoStation para la "Celebración de la Polinización" de 9am a 12pm. Más tarde, ese mismo día, desde las 8:30pm a las 10:30pm tendrá lugar nuestra "Fiesta de la polilla" dónde podrás ver los insectos que sobrevuelan el parque por la noche.
¿Y qué sería de nuestro BugFest sin nuestro artrópodo del año? Pues bien, para este BugFest 2021, nuestro artrópodo estrella es: ¡La Abeja!
Nota importante: Los programas virtuales y las estaciones durante los eventos presenciales son en inglés.
2021 Theme Arthropod: Bees!
---
What's in a name? BugFest celebrates all arthropods, a group that includes insects, spiders and scorpions, centipedes and millipedes, crayfish and crabs and many other creatures, as well as true bugs, like cicadas and planthoppers.
Friends of the Museum
Learn how you can get bee-utiful perks at BugFest, including a free BugFest T-shirt when you join/renew Museum membership from September 13 to 19 with code "BEETEE21".
Get the buzz!
Sign up now for exclusive BugFest 2021 e-mail updates. You'll get registration links, updates about our experiences and more in the weeks leading up to our virtual infestation.
Presenting Sponsor: