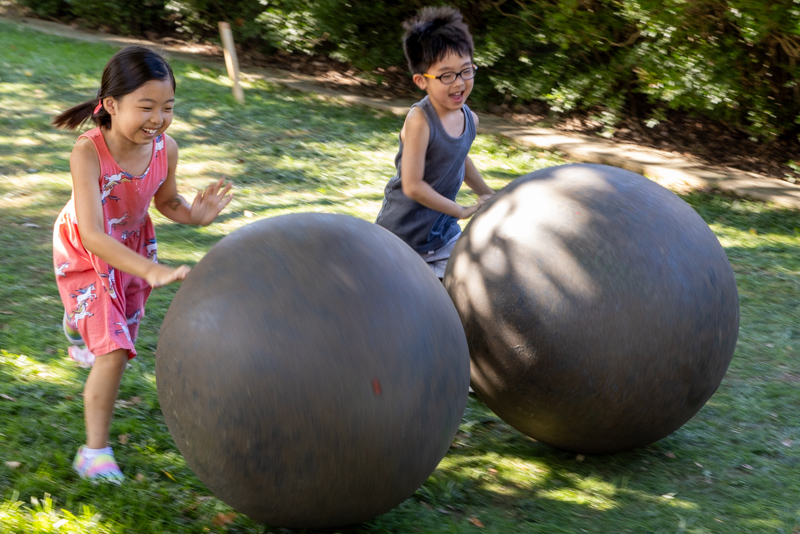 ---
Accessibility and Information
NC Museum of Natural Sciences
BugFest for everyone!  This year BugFest is proud to introduce our Information and Accessibility Buddies.  These volunteers are trained to assist BugFest visitors with any and all information, wayfinding, or accessibility questions or needs.  Buddies can be found roaming the event and at the Information and Accessibility Tent located near the accessible drop-off area on the corner of Wilmington and Jones Streets.  The tent is also where you'll find courtesy manual wheelchairs, noise-cancelling headphones, sighted guides, maps, event information and more.
For more information on the accessibility features of BugFest or to request an accommodation please contact the Museum's Coordinator of Accessibility and Inclusion, Sam Frigerio, at Samantha.Frigerio@naturalsciences.org or visit the Accessibility & Inclusion page for BugFest.
Quiet Space
NC Museum of Natural Sciences
The quiet space is a place to escape the busyness and energy of the the event.  Come enjoy quiet play and take a break!
---
Plaza T-Shirt Sales
NC Museum of Natural Sciences
Check out the 2023 BugFest T-shirt featuring our theme arthropod … the jumping spider!  Vintage shirts will also be available.
Volunteer Registration
NC Museum of Natural Sciences
Pick up your T-shirt, name tag, meal ticket and schedule! Also, get assistance finding your assignment.
---
Ant Lab (12pm-3pm)
NC Museum of Natural Sciences
Come visit inside the Evolutionary Biology and Behavior Research Lab (AKA "Ant Lab" on YouTube)! Learn about our research and meet some of the insects we work with.
Aquatic Macro Fun
Eno River Association
Many bugs spend a portion of their life cycle in freshwater systems like the Eno River. Join the Eno River Association to learn how conserving and protecting freshwater resources impacts this critical stage in life for our amazing native insect species!
Artist at Work: Chairmaker Sue Fisher (12pm-3pm)
NC Museum of History
Celebrate spiders as you watch Sue Fisher weave a web you can sit on—chair seats! Visit our booth to learn more, spin our Wheel of History, and make a weavy craft to take home!
Attack! Insect offense & Plant Defense!
NC Plant Science Initiative
How do insects know which plants to attack and which ones to stay away from? Learn how biology and chemistry play a role in tactics of the plant and insect world.
Butterflies and Moths
NC School of Science and Math</em
Learn about the lifecycle of butterflies and moths, what they eat, and what makes one a butterfly and one a moth. For the highlight of our exhibit, see a real live tobacco hornworm!
Carolina Butterfly Society
Touch caterpillars and watch as butterflies emerge from their chrysalis.
Cool Crustaceans
NC Museum of Natural Sciences
Explore the diversity of crustaceans-from our backyards to the bottom of the sea!
Crayfish Escape Artists
NC Museum of Natural Sciences
Quick! Act fast to help crayfish avoid predators! Step right up to play a game and craft your own crayfish buddy to take home.
CREEP
WUNC
CREEP is a podcast that encourages us to lean in for a closer look at how insects and animals are changing the environment, economy, and health of our region in ways we never expected. Join us to chat about the creepy crawlies in your backyard!
Creeping Crawlies (Centipedes and Millipedes)
NC Museum of Natural Sciences
Information on myriapods (centipedes and millipedes) will be featured.
Fusing Technology and Nature: Exploring Computer Vision and Machine Learning in Robotics and Arthropod Identification
InspireNC
Learn about how computer vision can be used in both robotics and natural sciences. We will demonstrate how machine-learning techniques can be used to accurately identify arthropods in real-time, in the same way competitive robotics identify targets on a field.
GreenLight? GreenMite!
Greenlight Biosciences
Exploring the world of the spider's little and big cousins – mites and tarantulas!
Home and Garden Pest Management
Center for IPM
Spiders are very beneficial in the home and garden. They eat many insect pests including aphids, caterpillars, cucumber beetles, flies, plant bugs and thrips. Weave your way over to us and spend a day in the life of a spider in an IPM world.
Insects Living Inside Plants
City of Raleigh
Many insects go under the radar, living in tiny spaces inside plants. These insects are incredibly diverse, with interesting life histories, and many have turned out to be new species. Learn more about them here!
Jonathan Daniel, Wire Artist
DARE TO SHARE with ZIMBABWE
African wire artist Jonathan Daniel makes insects (and other creatures) by hand using wire, beads, and creativity! Proceeds from sales help sustain clean water and educate orphans in Zimbabwe, Africa.
Lifecycle of a Caterpillar- A Moving Experience
Holly Springs School of Dance
A creative movement dance experience for children of all ages. Join us as we explore the lifecycle of a caterpillar! Bring your wings or borrow some of ours!
Meet the Bug Vet
Avian and Exotic Animal Care
Avian and Exotic Animal Care is NC's first 100% exotic animal hospital. Our veterinarians treat all kinds of non-traditional pets, including invertebrates! We have seen and treated pet spiders, tarantulas, insects, hermit crabs, snails, and many others.
Native Bees Build it Better
NC Museum of Natural Sciences
A table showing how native bees nest, focusing on leafcutter bees. Contrasts solitary native bees with honeybees and wasps.
NCDA&CS
North Carolina Department of Agriculture & Consumer Services
Invasive pests are a huge threat to plants in North Carolina! Stop by to learn how to identify and join the fight against these bad bugs, plant diseases, and weeds!
NCSU Native Pollinator Research
NC State University
Discover the wonderful world of native pollinators! Learn more about the importance of native pollinators from NC State pollinator researchers and meet a live bumble bee colony!
Plants4Kids
North Carolina State University
Plants provide us with food, clothes, medicines, clean air, and building materials. But here come different bugs, some of them plant friends and some of them plant foes. We are an NC State research group that studies how plants grow and develop. Come and join us to learn about plants and how they interface with the bug world!
Scorpion Exams
Window on Animal Health, NC Museum of Natural Sciences
Join our Veterinary Sciences Team at the Window on Animal Health for Scorpion health check-up exams.
Exams take about 20 minutes and are scheduled throughout the day starting at: 10:30, 11:30, 12:30, 2:30, and 3:30.
Scorpions and Their Kin
The Santa Fe Reptile and Bug Museum
Did you know there are many other arachnids besides spiders? Come learn about the OTHER arachnids including scorpions, vinegaroons, whipspiders and more!
Steam Forged Studios
Our exhibit will include primarily many beaded spiders, drawer pull spiders and beaded scorpions with a few Steampunk art objects thrown in there as well.
Tar River Trading Post
Distributor of bioconversion technologies that reduce climate impacts using insects as the biological engine. By diverting food waste from the landfill, we eliminate methane generation, a potent greenhouse gas.
Tarantula Molting and Regeneration!
NC Museum of Natural Sciences
Learn about the fascinating molting process tarantulas go through and how they can regenerate limbs!
Tarantulas and Other Spiders
The Santa Fe Reptile and Bug Museum
Come face to face with live giant tarantulas from around the world as well as spiders you might meet in your own backyard.
That's a Bug Fact!
Climate Action NC
Test your bug knowledge and learn some bug facts by playing bug-themed Jeopardy with Climate Action NC!
The Vampires in Our Backyards: Ticks, Mosquitoes, and Other Blood Suckers
NC State University
An interactive display on arthropod vectors of human and animal disease.
Wonderful World of Orthoptera
NC Entomological Society
Leap into the world of Orthoptera and meet some amazing critters!  Fly with the grasshoppers, dig with the mole crickets, and sing with the katydids!
Arthropod Olympics
NC Museum of Natural Sciences
Become an Arthropod Olympian!  Participate in three events: Dung Ball Races, Ant Races and Bee Races and win a medal and all the glory a bug deserves!
Bug Bounce and Super Slide Inflatables
NC Museum of Natural Sciences
From hop to jump, kids will delight in bouncing like crickets and whooshing like dragonflies in the fabulous inflatables!
Stag Beetle Battles
NC Museum of Natural Sciences
Jump into a stag beetle costume and enter the arena!  When the battle begins,  see if you can triumph over your friend and win the day!
Paint Savvy Face Painters
Paint Savvy
Paint Savvy provides elaborate but quick face painting and airbrush tattoos. Creative and custom work to meet the theme! Fee.
Bug Bites! Bite Them Before They Bite You! (5pm-7pm)
NC Museum of Natural Sciences
Come join us for a meet-and-eat!  See bugs cooked right before your eyes and sample some delicious buggy treats.
Café Insecta
NC Museum of Natural Sciences
Celebrate entomophagy (bug eating) at Café Insecta! Sample bug-filled dishes prepared by local chefs and vote on your favorite dish! 10:30am-3pm (or while supplies last).
Protecting American Agriculture
USDA-APHIS
USDA-APHIS protects US fruits, vegetables, crops and environment from invasive insects.  There will be lots of insect boxes for show, and tattoos and hand stamps for kids.
Franklin County Beekeeper's Association
FCBA is a beekeeping club located in Franklin County.
Framed Insects and Jarred Butterfly Wings
The Artsy Arthropod
Take home a beautiful insect souvenir! Carefully curated insects are displayed in frames and jars and available for sale for your home or office.
Buzzing Hives: Unveiling the World of Beekeeping
Wake County Beekeepers Association
Step into the fascinating world of beekeeping and discover the secrets of these industrious pollinators. Explore this exhibit to learn about the art of beekeeping, witness the intricate process of honey production, and get up close to common tools such as bee suits, smokers, and hive frames, used by beekeepers to nurture and protect their buzzing companions.
Beekeeping and Honey Bee Education
5 County Beekeepers Association (5CBA)
The 5 County Beekeepers Association (5CBA) is a volunteer club that promotes beekeeping and honey bee education.  They are a chapter of the North Carolina State Beekeepers Association.
Accessories featuring "Ñanduti" (spider web) from Paraguay
Erin Alicia Studio
Bug-themed handmade accessories like hair bows, headbands, hats, and hair clips will be available for sale as well as wall decorations. Some items feature "Ñanduti" (spider web), an art form from Paraguay.
Yes, They're Real!
Stacy Lee Gallery
Insects, inverts & fish, oh my! Arthropod art like you've never seen, on painted backgrounds and coated in resin, so they last a lifetime.
Children's Books
PaperPie
Fun buggy and science books from award-winning publishers Usborne and Kane Miller. Hands-on outdoor science kits from SmartLab Toys.
Caterpillarology
NC Museum of Natural Sciences
Come see and learn about a variety of live, North Carolina-native caterpillars!
Master Gardener Volunteers Answer Home Gardening Questions
Extension Master Gardener Program
Master Gardener volunteers will answer home gardening and lawn questions and provide information to help homeowners have a healthy, enjoyable home landscape. Various materials on gardening will be available.
8-Limbed Martial Arts
Master Chang's Martial Arts
Hands, feet, elbows, & knees! Learn how we use "8 limbs" for self defense!
BASF
BASF Corporation
BASF Presents — Protecting Crops, Health and Home.  "At BASF, we create chemistry for a sustainable future and are proud to be a part of BugFest. Visit our display to learn about our organization and enjoy our butterfly tent where you can visit up close with monarch butterflies, one of our charismatic native pollinators."
Barn Spiders
Oberweis Dairy
Charlotte … the life of a barn spider!
Doodle Bugs Chalk Art
Paul Dumlao
Come see local artist Paul Dumlao create colorful, large-scale chalk renditions of spiders from around the world. Kids can take part and create their own chalk bug designs!
Bugs and Fire
North Carolina Prescribed Fire Council
Did you know some bugs need fire? Come see us to learn about how safely applied controlled burning can help North Carolina wildlife, bugs included!
Entomology Without Death
Vesal Cuts Paper
Entomology Without Death is a series of work created from 2D- and 3D-layered paper-cut art. Each piece is made from 1-100 layers of paper; special pieces can include up to 1000 pieces of paper.
Girl Scouts Explores Spiders
Girl Scouts — NC Coastal Pines
Girl scout staff or troop members will teach you about spiders!
What Is a Bug?
NC Museum of Natural Sciences
Know your arthropods! Arthropods range from insects to crustaceans to arachnids and more! Come learn their differences and similarities and meet some live critters on your entomological quest!
Funky Bug Antenna Crowns
NC Museum of Natural Sciences
Honor our buggy friends by dressing up like one! Make your very own Funky Bug Antenna Crown and proudly display your passion for arthropods!
Bed Bugs
NC Museum of Natural Sciences
Enter if you dare-the world of bed bugs!  Learn how these parasites have made humans their host!
There's a Bug in My Soup
NC Museum of Natural Sciences
You are what you eat…so you might be a bug!  Learn about the all the bugs that are allowed in everyday food products!
Spiders & More: Museum Collections 101
Naturalist Center, NC Museum of Natural Sciences
Come check out a variety of preserved specimens including spiders, scorpions, crabs and more spineless creatures from the Museum's Non-molluscan Invertebrates Collection, and learn how and why these collections are important!
Insect Photography
Entomopixel
Presentation of insect macrophotography, and equipment used to obtain the photos in the laboratory and in the field.
Dragonfly Landing Adventure Books
Helen O'Reilly, Author
Adventure novels featuring insect and animal characters.  Hanging insect habitats, insect prism suncatchers and insect fairy halos.
Weave a Web and High-Five Spiders!
Museum of Life and Science
The Museum will have live spiders for people to see and ask questions about as well as a spider craft activity.
The Fascinating World of Spider Diversity
Shaw University
Shaw will be displaying spiders from various phylogenetic groups and lifestyles to show how spiders differ from each other and live in many different ways.
NC State Arthropod Zoo
NCSU Entomology Graduate Student Association
Entomology graduate students from NC State will be showing off live arthropods and pinned specimens, and selling bug-themed merchandise.
Who Else Eats Your Food?
AgBiome
Welcome to the world of agricultural pests! Discover how AgBiome partners with the microbial world to develop biological products.
Termite Trails
North Carolina Entomological Society
Termites use smell to figure out where to go.  Can you draw a trail that real live termites will follow?
Shimmering Dragonflies: Mixed Media Painting Demonstration
Stacy Lewis Studio
Stacy Lewis will be demonstrating mixed media techniques to create colorful, textured paintings of dragonflies and other artistic arthropods.
Unwelcome Houseguests
NCSU Entomology and Plant Pathology
Get up close with the bugs that bug us! Cockroaches and bed bugs are insects that have developed close associations with humans and our homes.
If you would like to see these insects that have become world-wide pests in human dwellings, come visit this exhibit and learn more about their biology and management.
Battling Beetles
NC Museum of Natural Sciences
Delve into the violent world of large scarab beetles!  Learn how males duke it out to win the favor of a female.  Test your beetle ID skills at the beetle spinner game!
Understanding Entomology Protects All of us
Environmental Protection Agency
Learn to collect and pin insects like a scientist as EPA-RTP employees discuss entomology careers and ongoing research at the EPA!