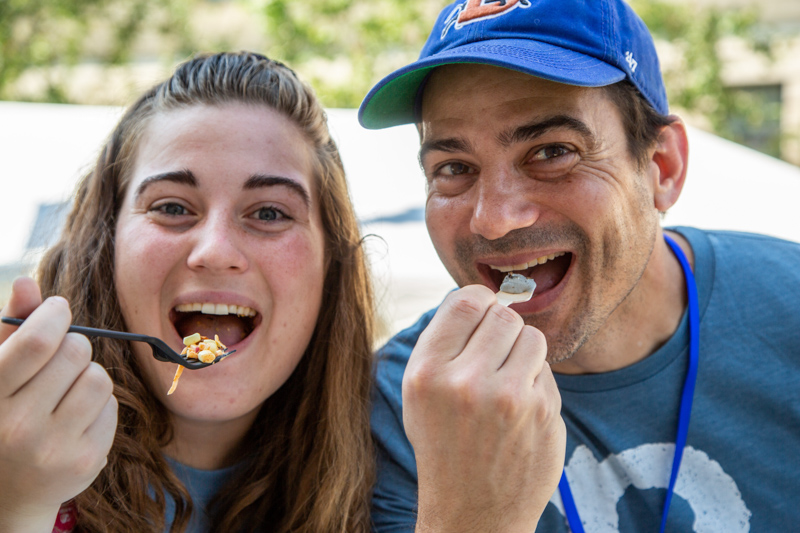 VIP PERKS FOR MEMBERS
Priority Parking. We are excited to offer a new BugFest benefit to our members, we have a limited number of parking spots available for our members. Skip the walk and park directly under the Museum, this spot is usually only available to our staff and volunteers. Register now!
Members get VIP status at BugFest. The first 500 Members to arrive will receive a Member VIP pass to unlock special benefits. But don't bug-out if you arrive late! Members can access their VIP perks with their membership card. VIP passes can be picked up at the Member tent, next to the t-shirt table.
Skip the line at Café Insecta with the Member Fast Lane and enjoy tasty bug-filled treats prepared by local chefs.
Plus, Members always FREE admission to our special exhibition Spiders: Fear to Fascination and get 10% off in our stores and cafes!
---
Free T-shirt if you join/renew your Membership
Purchase or renew your membership at BugFest or online September 2–16 with code "SpiderTee23" and receive a free BugFest T-shirt on the day of the event!
---
Come learn about some amazing arthropods and the work you support as a Member! Members help make events like this possible.
Not a Member?
---
VENTAJAS VIP PARA MIEMBROS
Estacionamiento prioritario. Estamos encantados de ofrecer un nuevo beneficio del BugFest a nuestros Miembros: tenemos un número limitado de plazas de estacionamiento disponibles para nuestros Miembros. Evita la caminata y estaciona tu auto directamente bajo el museo; este lugar normalmente solo está disponible para nuestro personal y voluntarios. ¡Regístrate ahora!.
Los Miembros adquieren estado VIP en el BugFest. Los primeros 500 Miembros en llegar recibirán un pase VIP que les permitirá disfrutar de beneficios especiales. ¡Pero no te preocupes si llegas tarde! Los Miembros pueden acceder a sus ventajas VIP con su tarjeta de membresía. Los pases VIP pueden solicitarse en la carpa de Miembros del Museo, junto a la mesa de camisetas.
Evita la fila para el Café Insecta con la vía rápida para Miembros y disfruta de sabrosas delicias llenas de insectos preparadas por chefs locales.
Además, los Miembros siempre tienen entrada GRATUITA a nuestra exposición especial "Arañas: del Miedo a la Fascinación" y un 10 % de descuento en nuestras tiendas y cafeterías.
---
Camiseta Gratis si te unes/renuevas tu Membresía
Compra o renueva tu membresía en el evento BugFest o en línea del 2 al 16 de septiembre con el código "SpiderTee23" y ¡recibirás una camiseta gratis del BugFest el día del evento!  Las camisetas solo se podrán recoger en el evento BugFest.
---
¡Ven a aprender sobre algunos artrópodos asombrosos y el trabajo que apoyas como Miembro! Los Miembros ayudan a que eventos como este sean posibles.
¿No eres miembro?