SECU Daily Planet Theater — 1st Floor, Nature Research Center
10:30am: Who's Your Crawdaddy? Capturing Crayfish While Saving the World's Baitfish
Anthony L. Dellinger, PhD, Kepley BioSystems Inc.
A story on the convergence of science and nature, highlighting how a tiny crayfish is helping advance sustainable research to restore the ocean's most vital resource — forage fish.
---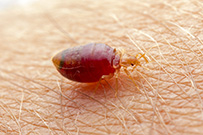 11:30am: Nip & Suck: Biting Bugs and Mystery Bumps
Dr. Matt Bertone, NC State University
"Bug bites" seem to be a common experience for many people, but what arthropods in North Carolina can actually bite people? Which ones do so regularly? This talk will address the many-legged creatures in the state that can, and do, bite humans.
---
12:30pm: Live Tarantula and Scorpion Feeding!
Wade Harrell, Harrell House Bug Museum
Predators in action! Join us as we feed live tarantulas and scorpions on stage and learn about their predatory habits.
---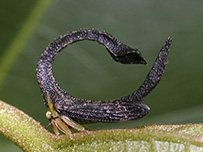 1:30pm: Mild-Mannered Mini-Monsters: The Earth's Coolest Bugs
Jason Cryan, PhD, NC Museum of Natural Sciences
There's a whole world of amazing animal biodiversity all around us. Insects, particularly, include many species that have shapes, colors, and lifestyles that defy explanation, yet some of the most amazing insects are unknown to most people. Entomologist Dr. Jason Cryan studies some of the most charismatic and bizarre insect species on Earth. He will introduce you to some of the most fantastic insects in this presentation for all ages.
---
2:30pm: What's on Your Crayfish? Hidden Diversity in Our Streams
Bronwyn Williams, Research Curator of Non-Molluscan Invertebrates, NC Museum of Natural Sciences
Crayfishes are nearly ubiquitous in freshwaters of North Carolina and much of North America. Join Dr. Williams to learn about the incredible diversity of crayfishes in these habitats … and the hidden diversity that lives on these organisms.
---
3:30pm: Bugs on Film! Insect Behavior Up Close and in Slow Motion
Dr. Adrian Smith, NC Museum of Natural Sciences
Join insect behavioral ecologist Dr. Adrian Smith, Head of the Evolutionary Biology & Behavior Research Lab, as he takes you through dramatic videos of unseen insect behaviors.
WRAL 3-D Theater— 1st Floor, Nature Exploration Center
Monarch Migration Event
11:45am:  Flight of the Butterflies shown in Spanish
12:45pm:  Performance by dance group Baile Folclórico Vicky
1:00pm:  Monarch Migration Program
Opening remarks
Emlyn Koster PhD, Director, North Carolina Museum of Natural Sciences
Remedios Gómez Arnau, Consul, General, Consulate General of Mexico
Nadia Theodore, Consul General, Consulate General of Canada in Atlanta
Presenter Dr. Robert Healy, Professor Emeritus of Environmental Policy and Public Policy Studies, Nicholas School of the Environment, Duke University
Presenter Chris Goforth, Head of Citizen Science, North Carolina Museum of Natural Sciences
Flight of the Butterflies shown in English
Flight of the Butterflies Film
This film follows the year-long annual migration cycle of monarch butterflies in their remote overwintering sanctuaries in Mexico and also along their migratory routes from Canada, across the  U.S. and into Mexico. You will be immersed in the astounding migration experience as two generations of monarch butterflies migrate north and then a Super Generation miraculously finds its way from Canada to a few isolated mountaintops in Mexico – to a place it has never been!
Windows on the World — 3rd Floor, Nature Exploration Center
10:30am: Eight-Legged Freaks
Wade Harrell, Harrell House Bug Museum
Arachnids are feared by many, but most are harmless to humans. Wade Harrell will be showing off and talking about a variety of live, strange-but-gentle creatures, including tarantulas, scorpions, vinegaroons, whipspiders and more.
---
11:30am: Cicadas of NC
Bill Reynolds, Head of the Arthropod Zoo, NC Museum of Natural Sciences
Cicadas are are among the most familiar of insects and their calls are the essence of summer, especially in the East.  This talk is recommended for visitors 8 years old and older.
---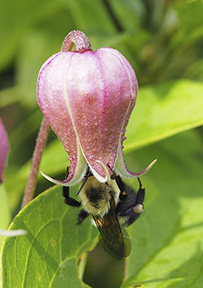 1:30pm: Meet Our Wonderful Native Bees!
Nancy Lee Adamson, Senior Pollinator Conservation Specialist, Xerces Society and USDA Natural Resources Conservation Service
Meet some of the native bees who help keep our plants growing and watersheds healthy! You may already know about bumble bees, mason bees, leafcutter bees, and the brilliant green metallic bees, but there are so many more — about 500 in North Carolina! We'll also learn why bees and wasps do not usually sting.
---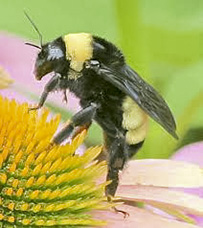 2:30pm: NC Bumblebees: Are They All the Same?
Bob Palmatier, NC Environmental Educator and Nature Illustrator
Bob Palmatier was teaching a nature illustration class featuring North Carolina pollinators when he decided to look more closely at bumblebees. Palmatier says, "As far as I was concerned, all bumblebees were alike… was I surprised! Let me share with you the adventures of creating a pinned scientific collection of bumblebee species of Piedmont NC that includes species collected in Northern California."
---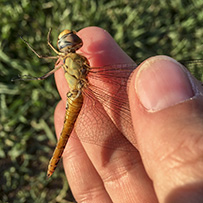 3:30pm: The Great Dragonfly Migrations
Chris Goforth, NC Museum of Natural Sciences
Did you know that one of the longest animal migrations on Earth is a species of dragonfly we can find right here in North Carolina?  Learn more about how and why dragonflies migrate and how YOU can help scientists learn more about this important and interesting behavior.
---
Main Stage — Jones Street
11:00am: Viva la Muerte
Viva la Muerte is psychedelic Americana, a spiritual walkabout, from the front porch to the desert to the magnolia — thoughtful music that doesn't forget to have fun.
1:00pm: Curtis Stith
Curtis Stith is an independent folk/pop singer songwriter with influences ranging from Ed Sheeran to Billy Joel.
2:30pm: Loos Change
Loos Change is an acoustic trio based in Raleigh that plays a wide range of material from the 1960s to today. From the British invasion to Americana, classic country, R&B, and pure pop, Loos Change has something for everybody.
Wandering Band — Outside
11:00am: Bloomsbury Boys
The Bloomsbury Boys are four seasoned musicians; Randy Callahan plays Washtub Bass and Washboard; Jim Riley, the tenor banjo; Mike Minguez, the soprano saxophone and clarinet and Frank Mesich, trombone.
Bloomsbury Boys play Dixieland in the style of the early New Orleans jazz musicians, with a repertoire derived from the popular songs of the 1920's and 30's, gospel music, marches, and even a few country songs.
---