WRAL 3D Theater — 1st Floor, Nature Exploration Center
5:00pm: Double Feature
Free Screening
The Quest to Save Parasites (11 minutes)
Followed by:
Tarantula (1955, 80 minutes)
A spider escapes from an isolated Arizona desert laboratory experimenting in giantism and grows to tremendous size as it wreaks havoc on the local inhabitants.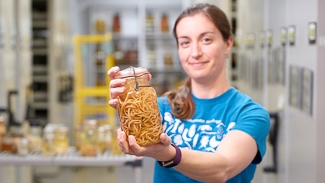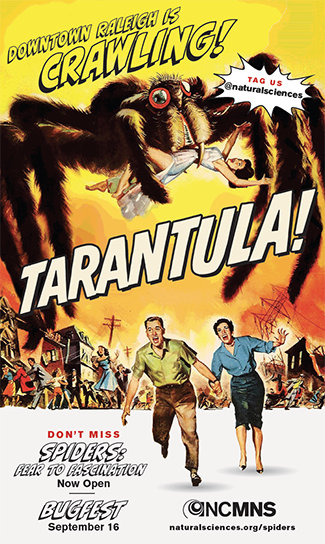 ---
Windows on the World — 3rd Floor, Nature Exploration Center
10:30am: Along Came a Spider
John Gerwin; Research Curator of Ornithology & educator, NC Museum of Natural Sciences
Our Piedmont homes and yards are host to many species of spiders. We will view photos of many and discuss some natural history elements.
Ages 8 & up
Noon: Spiders as Pets!
Wade Harrell, The Santa Fe Reptile and Bug Museum
Wade Harrell will be showing off and talking about spiders and other arachnids that make easy and rewarding pets in the home or classroom!
All Ages
1:00pm: Beyond Their Eight Legs: A Deep Dive Into Arachnid Anatomy
Nick Allen, Educator
What makes spiders so special? Come learn about the anatomy of arachnids, what makes them unique and how they differ from insects. It's a lot more than just the number of legs!
All Ages
2:00pm: Spider Venom: Reality and Myth
Dr. Eric Butler, Shaw University
In this presentation, we will discuss spider venom. Which spiders are dangerous to humans? Which spiders have undeservedly bad reputations? And what are spiders doing with that venom in the wild, anyway?
All Ages
3:00pm: The Very Loving Caterpillar
Sean Browne, Author
Number-one bestselling and award-winning author Sean Browne will read his children's book, "The Very Loving Caterpillar," and showcase elements of nature from his home in Antigua & Barbuda in the Caribbean.
All Ages
---
Main Stage — Jones Street
10:30am: Komodo
Komodo is a progressive rock/metal band that incorporates funky jams, eclectic guests and a reptilian nature into their music and performances.
Noon: Old Play
Based in the Triangle, Old Play has been performing crowd-pleasing classics for four years. Their shows are high-energy entertainment featuring honest musicianship of the most-loved songs of the past four decades. But don't expect just the top 100 cover songs. Old Play digs out some deeper cuts from those albums and CDs you've overlooked for a while. Like taking a spin down the FM dial of your favorite classic rock stations, Old Play is sure to bring back some memories and get your fist pumping and feet moving. Old Play covers Tom Petty, Green Day, ZZ Top, The Beatles, John Mellencamp, The Ramones, U2, Rush and even Garth Brooks — and many more!

1:30pm: Siren
Siren, a four-piece rock band from the Raleigh area, plays retro and modern rock, pop, R&B and country favorites. They also throw in a few original songs to keep it interesting. The band, created eight years ago, is comprised of veteran musicians who have played in many original and cover bands around the world. Siren brings old and new favorites to the crowd, enticing people to dance and sing along to the music.
3:00pm: Loos Change
Loos Change is an acoustic quartet based in Raleigh that plays a wide range of material from the 1960s to today. From the British invasion to Americana, classic country, R&B and pure pop, Loos Change has something for everybody.
4:30pm: BASF Band
The BASF Band is a local RTP group that was formed in 2019 to provide musical entertainment for BASF employee events and select community events. They play a collection of party songs from the 60s to the 90s that are bound to get everyone up and dancing. The band consists of vocalists, guitarists, bass, drummer, saxophone, harmonica and other guest instruments. This band creates musical chemistry!
6:00pm: Monometrics
Established in 2022, Monometrics is a five-piece band based out of the Triangle that plays original tunes, covers funk and soul staples, and puts their own groovy twist on well-loved country classics.