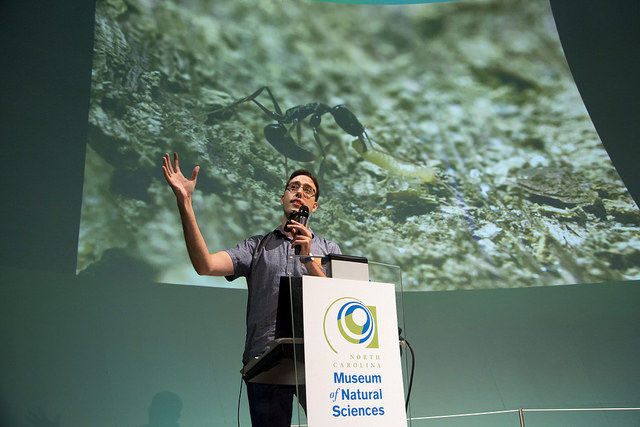 SECU Daily Planet Theater — 1st Floor, Nature Research Center
10:30am: Tree-killing Beetles on the Loose!
Kelly Oten, PhD, North Carolina Forest Service
Here in North Carolina, we love our trees. That's why when beetles come to attack, we try to stop them. Come hear the stories of some of the worst tree-killing beetles and what YOU can do to help stop them.
11:30am: Unseen & Incredible! The Secret World of Insect Behavior
Dr. Adrian Smith, NC Museum of Natural Sciences
Research on insect behavior has revealed new and unseen worlds all around us. Museum researcher Dr. Adrian Smith will share new research insights and incredible video of the lives of ants and other insects.
12:30pm: The Peculiar Lives of the Leafcutters
Ryan Garrett, Ant Biographer, Leaf House Scientific LLC
A deep look into the inner workings of a superorganism; from child rearing to warfare and agriculture, leaf-cutting ants are as familiar as they are alien.
1:30pm: Silent Sparks: The Wondrous World of Fireflies
Dr. Sara Lewis, Tufts University
All around the world, their ethereal beauty inspires wonder and delight. Yet for most of us, fireflies remain shrouded in mystery: How do these creatures make light? What are they saying with all their flashing? Are fireflies disappearing? In this talk, noted biologist and firefly expert Sara Lewis reveals the secret lives of these beloved beetles.
2:30pm: Dung Beetles: Do They Really Eat That Stuff?
Clyde Sorenson, Professor of Entomology, North Carolina State University
Clyde will discuss the diversity and natural history of North Carolina's dung beetle fauna, both native and exotic, and will also describe the ecological significance of these fascinating beetles.
3:30pm: Beetles (Coleoptera) of the NC State Insect Collection
Ashley Moreira, MSc. Research Specialist, NCSU Insect Collection
Ashley will talk about some of the most interesting beetles in NCSU's insect collection and relate fun facts and interesting stories about them.
---
ECC — 4th Floor, Nature Research Center
11:00am & 2:00pm: Members-only Animal Feeding
Would you like to see how animals eat up close? Catch a live feeding demonstration of animals that eat bugs and get all of your questions answered by our expert staff. Not a member yet? Join today!
---
WRAL 3D Theater— 1st Floor, Nature Exploration Center
10am–4pm: 3D Movies (Buy tickets at the Box Office.)
10:00am: Amazing Mighty Micro Monsters 3D
11:00am: Flight of the Butterflies 3D (20-min.)
noon: Amazing Mighty Micro Monsters 3D
1:00pm: Great White Shark 3D
2:00pm: Amazing Mighty Micro Monsters 3D
3:00pm: Dinosaurs Alive! 3D
4:00pm: Amazing Mighty Micro Monsters 3D
5:00pm: Kubo and the Two Strings — Free Screening
Young Kubo's peaceful existence comes crashing down when he accidentally summons a vengeful spirit from the past. Now on the run, Kubo (Art Parkinson) joins forces with Monkey (Charlize Theron) and Beetle (Matthew McConaughey) to unlock a secret legacy. Armed with a magical instrument, Kubo must battle the Moon King (Ralph Fiennes) and other gods and monsters to save his family and solve the mystery of his fallen father, the greatest samurai warrior the world has ever known.
---
Windows on the World — 3rd Floor, Nature Exploration Center
11:00am: Solitary Bees & Wasps Can Use Your Help!
Nancy Lee Adamson, Senior Pollinator Conservation Specialist, Xerces Society & NRCS East National Technology Support Center
Join Nancy to learn about solitary vs. social bees and wasps, why most are not defensive (do not sting), and how you can both learn about and help document the natural diversity of insects in our communities using your phones and apps such as iNaturalist and Seek by iNaturalist. If you have not already done so, please download the apps before joining the program.
12:30pm: The Fascinating World of Spiders
Dr. Eric Butler, Shaw University
Have you ever wondered how big spiders get, what they eat, how they make silk or how they get from place to place? Find out in this presentation!
1:30pm: Raising Monarch Butterflies
Helen Yoest, Director/Founder, Bee Better Naturally
The monarch population has declined by 90% in the last 20 years. We can help the monarchs by raising them to increase their survival rate from just 5% to nearly 95%. A wonderful education program for children and adults alike.
2:30pm: When Your Bugs Have Bugs: Common Diseases of Pet Invertebrates
Ashley Emanuele, DVM, CertAqV, Avian and Exotic Animal Care
You can absolutely keep bugs and other invertebrates as pets … and they can get sick! Let's talk about how to tell if your pet "invert" isn't well, and what a veterinarian can do to help.
3:30pm: Let's Make North Carolina Buzz!
Phyllis Stiles, Bee City USA Founder & Pollinator Champion, Xerces Society/Bee City USA
Vital pollinators are in decline and you can help!  Phyllis Stiles will share stories of how North Carolina's Bee City USA and Bee Campus USA affiliates are transforming ornamental landscapes into healthy pollinator habitats.
---
Bicentennial Mall
Whizzpop's Fantastic Fleas with Professor Whizzpop
TIMES:
10:45pm
NOON
3:00pm
6:00pm
Professor Whizzpop's Fantastic Fleas is an amazing show featuring mighty mites and fabulous fleas performing feats of daring and death-defying stunts. Meet our resident strongman; Hercu-flea and watch as he lifts two hundred times his own body weight! Be awe inspired by our juggling fleas or the incredible Rosa Flea; our high diver!
---
Main Stage — Jones Street
11:00am: Tyler Power and the Atomic Bombs
High energy rock and roll band from the Triangle Area.
1:00pm: Old Play
Based in the Triangle, Old Play has been performing crowd-pleasing classics for four years. Their shows are high-energy entertainment featuring honest musicianship of the most loved songs of the past four decades. But don't expect just the top 100 cover songs. Old Play digs out some deeper cuts from those albums and CDs you've overlooked for a while. Like taking a spin down the FM dial of your favorite classic rock stations, Old Play is sure to bring back some memories and get your fist pumping and feet moving. Old Play covers Tom Petty, Green Day, ZZ Top, The Beatles, John Mellencamp, The Ramones, U2, Rush, and even Garth Brooks — and many more!

2:30pm: Loos Change
Loos Change is an acoustic trio based in Raleigh that plays a wide range of material from the 1960s to today. From the British invasion to Americana, classic country, R&B and pure pop, Loos Change has something for everybody.
5:30pm: Honey Magpie
Honey Magpie is four-piece indie folk band from the Triangle. Honey Magpie's sound is both traditional and modern, blending old-time string instruments and three part harmonies with pop, rock, and indie influences. Singer-songwriters Rachael Hurwitz (guitar, piano) and Pippa Hoover (cello) contribute to the group's set of original songs. Their lyrics, often nature-inspired, are supported by catchy melodies, intricate string parts and piano riffs. Kati Moore (violin) and Joe Ristaino (drums, mandolin) fill out Honey Magpie's sound, adding melodic layers and rhythm.
Wandering Bands — Outside
11:00am: Bloomsbury Boys
The Bloomsbury Boys are four seasoned musicians; Randy Callahan on washtub bass and washboard, Jim Riley plays the tenor banjo, Mike Minguez on soprano saxophone and clarinet and Frank Mesich playing trombone. They play Dixieland in the style of the early New Orleans jazz musicians with a repertoire derived from the popular songs of the 1920s and 30s, gospel music, marches … even a few country songs.  Randy and Jim are the principal vocalists with Frank and Mike joining in from time to time. They have all enjoyed playing and performing this music for many years at jazz festivals, on cruises and innumerable private and public gigs.  Jim Riley has been honored for his role in education and banjo performance by being elected to the Banjo Hall of Fame.  Frank was named "Jazz Ambassador" by World Jazz Recording. Each of them has left a history of many recording and television appearances and, as a group, appear locally on a frequent basis at community events, church functions, retirement homes and private parties.
2:30pm: Athens Drive High School Band
---