Can't visit us? Use the resources below to learn from home! From citizen science projects to educational videos, find what you need to stay connected with NCMNS and the natural world.
Help us keep science education and research going strong. Donate now.
---
Highlight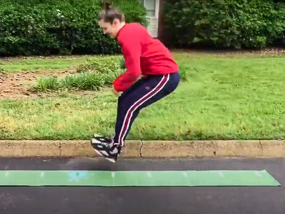 Take a Child Outside Activity
Frogs have some amazing adaptations. One you're probably familiar with is their ability to jump long distances. You can go outside and …
Jump Like A Frog! (Facebook)
Find out which frog you'd be if you could jump 1 … 2 … 3 … 4 … 5 … or 6 feet!
Additional simple activities are available at takeachildoutside.org.
---
Live, online experiences with the Museum.
A Complete list of Virtual Museum programs is on the Events calendar.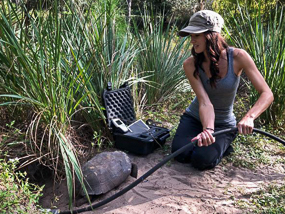 Thursday, March 4
7–8pm
It's Science Tonight with Chris Smith! Tonight, we're celebrating Reptile & Amphibian Days talking with wildlife biologist and tortoise expert, Amanda Hipps.
Amanda is a wildlife biologist and science communicator who has conducted research and helped people appreciate the importance and value of conserving landscapes from Madagascar to Florida.
Science Tonight (formerly the Science Cafe) is a livestream show for people who want to know more. Host Chris Smith talks with interesting people making exciting, everyday discoveries in science, nature, tech and more. Watch every Thursday night to grow your brain and get the latest stories in the science world.
Science Tonight on the Events Calendar
---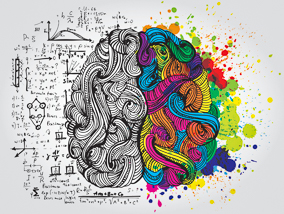 Virtual Trivia Tuesday
Tuesdays at 6pm
Register for interactive Virtual Trivia Tuesdays! This is a great opportunity to virtually mingle with friends, compete for bragging rights and perhaps even learn something cool. Questions feature a mix of science facts, current news, pop culture and scientific discoveries.
Trivia Tuesdays on the Events calendar
---
Homeschool Classes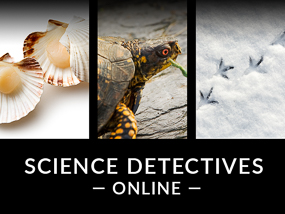 Each live program is taught by a Museum educator and includes a thematic kit of natural specimens or scientific tools for the child to use during the class and beyond. All activities encourage the development of skills in scientific observation and thinking. Small classes give each student the best possible experience.
April 6, 2021:
Hummingbirds, ages 6–7, 9:30–10:30am
Sensational Trees, ages 8–10, 11:30am–12:30pm
Tools for Veterinary Medicine, ages 11–13, 2:00–3:00pm
May 13, 2021:
Butterflies in your Backyard, ages 6–7, 9:30–10:30am
Sand Dollars and Sea Stars: Exploring Echinoderms, ages 8–10, 11:30am–12:30pm
From Colonists to Computers: Coded Messages, ages 11–13, 2:00–3:00pm
Science Detectives – Online! Series — Spring 2021:  Now you have the option to register for the Spring 2021 program series, which includes four Science Detectives programs for the same age group.  Series registration is available as an option when registering for any program listed above.  Spring 2021 Series Registration is closed, but you may continue to register for individual programs.
---
DIY Activities, Virtual Tours and more, to do at your own pace.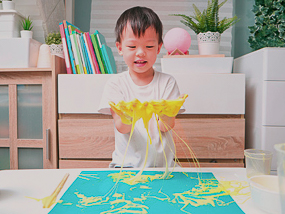 There are many intermolecular forces at play when it comes to sticky materials, and water plays a major role in it. Not only can water stick flat surfaces together, but it can also be used to make gooey non-Newtonian fluids and any type of bio-glue. Explore how nature makes bio-adhesives and try some of these activities to learn more about sticky science!
---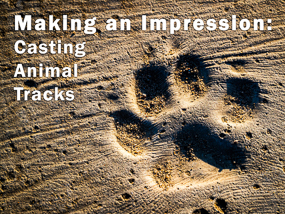 In nature, wild animals are often secretive and difficult to see, especially for we loud and clumsy humans. Fortunately for us, these creatures often leave visible clues of their travels behind them. Animal tracks offer fantastic but temporary clues to the wildlife in your area. In this video we will learn how to create a lasting record of the animal tracks you find during your outdoor excursions using easy-to-find, easy-to-carry materials.
---
---

Earn credit through free, online workshops that get you exploring nature in your own backyard. Each workshop contains videos, activities, and materials that you can step through at your own pace. Get ideas and resources to encourage your students to explore their nature neighborhoods!
---
---
Got a Question? We Have Answers!
Ask a Naturalist Blog — From Black Widow Spiders to identifying a Buckeye, you'll find answers to some of our most fascinating questions here!
---
Follow Us on Social