Can't visit us? Use the resources below to learn from home! From citizen science projects to educational videos, find what you need to stay connected with NCMNS and the natural world.
Help us keep science education and research going strong. Donate now.
---
Highlight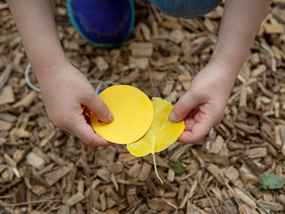 Take a Child Outside week is September 23-30 annually, but we encourage you to go outdoors year-round! This week, enjoy the autumn colors with this activity:
Shapes and Colors and Textures, Oh My!
Age Range: all ages, but ideal for 3-year-olds to second graders.
Location: a natural area such as backyard or park.
Special Materials: paint chips, wallpaper samples, or pieces of color paper cut in various shapes. You can also use the colors and textures in the clothes you and your child are wearing.
What To Do: Challenge kids to walk outside and find colors or shapes or textures in nature that match their paint chips or other selected color/shape choices. Record their findings in a journal with words or pictures. A digital camera can also be used to document the findings.
Additional simple activities are available at takeachildoutside.org.
---
Live, online experiences with the Museum.
A Complete list of Virtual Museum programs is on the Events calendar.
Thursday, October 29
7–8pm
For over a century in popular culture, "survival of the fittest" has sometimes been interpreted to mean that some human lives are more valuable than others. Join Brian Hare and Vanessa Woods to discuss their new book, "Survival of the Friendliest: Understanding Our Origins and Rediscovering Our Common Humanity."
Science Cafes on the Events Calendar
---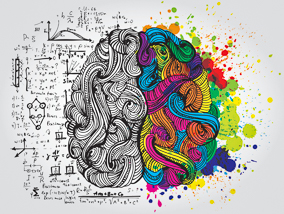 Virtual Trivia Tuesday
Tuesdays at 6pm
Register for interactive Virtual Trivia Tuesdays! This is a great opportunity to virtually mingle with friends, compete for bragging rights and perhaps even learn something cool. Questions feature a mix of science facts, current news, pop culture and scientific discoveries.
REGISTER AT THIS LINK TO PLAY OCTOBER 27
Trivia Tuesdays on the Events calendar
---
Homeschool Classes —
New!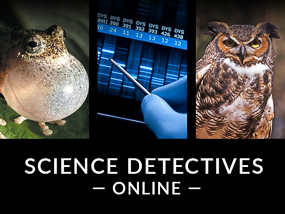 November 18
Frog Calls, ages 6–7; 9:30–10:30am
Owls: Our Nocturnal Neighbors, ages 8–10; 11:30am–12:30pm
Biotech Tools: Gel Electrophoresis, ages 11–13; 2:00–3:00pm
Each live program is taught by a Museum educator and includes a thematic kit of natural specimens or scientific tools for the child to use during the class and beyond. All activities encourage the development of skills in scientific observation and thinking. Small classes give each student the best possible experience.
---
DIY Activities, Virtual Tours and more, to do at your own pace.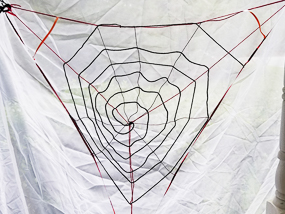 Most orb weavers build a vertical, flat web between two structures. To stretch the distance between two surfaces, the spider uses wind to drag a silk line from one anchor point to the other in a process called "kiting." It then secretes different kinds of silk through its spinnerets to create the framework and sticky and non-sticky spirals of the web.
Learn how to build your own orb weaver spider web in this DIY activity!
---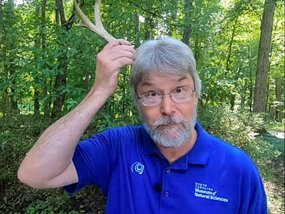 The creatures of the woods are everywhere! Birds flying overhead, squirrels scrambling up tree trunks, and deer frolicking between trees. They are born here, live their lives here, and of course, die here. Yet where are their bones? Join award-winning educator Bob Alderink to discover the answer to this skeletal mystery.
---
---

Earn credit through free, online workshops that get you exploring nature in your own backyard. Each workshop contains videos, activities, and materials that you can step through at your own pace. Get ideas and resources to encourage your students to explore their nature neighborhoods!
---
---
Got a Question? We Have Answers!
Ask a Naturalist Blog — From Black Widow Spiders to identifying a Buckeye, you'll find answers to some of our most fascinating questions here!
---
Follow Us on Social