Can't visit us? Use the resources below to learn from home! From citizen science projects to educational videos, find what you need to stay connected with NCMNS and the natural world.
Help us keep science education and research going strong. Donate now.
---
Highlight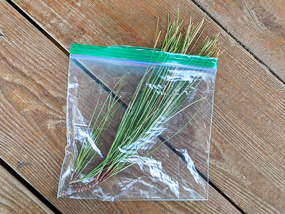 Take a Child Outside Activity
You may know what some plants look like. And maybe you know what they feel like. But do you know what they smell like? We're used to smelling fragrant flowers, but for many plants, their leaves have a distinct smell, too! This time of year you can still find pine, cedar, wild onion and other plants when you Take a Child Outside to…
Peek & Feel, Listen & Smell
Special Materials: Ziploc bag; fragrant leaves or plants.
What To Do: Place a non-toxic plant such as a wild onion into the Ziploc bag and then pinch the plant (with your fingers outside the bag). Open the bag and sniff. You can then try this out with rosemary and pine needles. How do they smell? Which do you like best?
Additional simple activities are available at takeachildoutside.org.
---
Live, online experiences with the Museum.
A Complete list of Virtual Museum programs is on the Events calendar.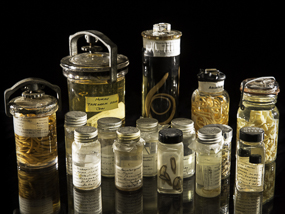 Thursday, January 21
7–8pm
While on its surface the idea of parasite conservation might seem counterintuitive, a deeper dive reveals just how important it is to global biodiversity. This might be surprising, because we don't often hear about positive impacts of parasites like worms, lice and mites, but parasites can actually benefit communities of wildlife to which they belong. There is even evidence that controlled exposure to parasites is beneficial to human health! Join Dr. Kelly Speer to discuss the importance of parasites to healthy ecosystems and find out for yourself why parasite conservation matters so much.
Science Tonight (formerly the Science Cafe) is a livestream show for people who want to know more. Host Chris Smith talks with interesting people making exciting, everyday discoveries in science, nature, tech and more. Watch every Thursday night to grow your brain and get the latest stories in the science world.
Science Tonight on the Events Calendar
---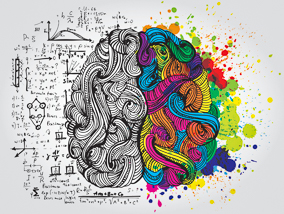 Virtual Trivia Tuesday
Tuesdays at 6pm
Register for interactive Virtual Trivia Tuesdays! This is a great opportunity to virtually mingle with friends, compete for bragging rights and perhaps even learn something cool. Questions feature a mix of science facts, current news, pop culture and scientific discoveries.
Register at this link to play January 19!
Trivia Tuesdays on the Events calendar
---
Homeschool Classes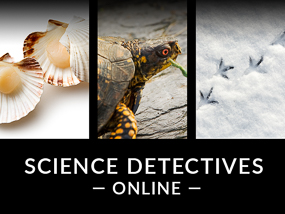 Each live program is taught by a Museum educator and includes a thematic kit of natural specimens or scientific tools for the child to use during the class and beyond. All activities encourage the development of skills in scientific observation and thinking. Small classes give each student the best possible experience.
February 16, 2021:
Who Goes There? Tracks and Scat, ages 6–7, 9:30–10:30am
Turtle Tactics, ages 8–10, 11:30am–12:30pm
Nature's Design, ages 11–13, 2:00–3:00pm
March 12, 2021:
Exploring Dinosaurs, ages 6–7, 9:30–10:30am
Rattlesnakes Rock, ages 8–10, 11:30am–12:30pm
CSI: Rhinos, ages 11–13, 2:00–3:00pm
April 6, 2021:
Hummingbirds, ages 6–7, 9:30–10:30am
Sensational Trees, ages 8–10, 11:30am–12:30pm
Tools for Veterinary Medicine, ages 11–13, 2:00–3:00pm
May 13, 2021:
Butterflies in your Backyard, ages 6–7, 9:30–10:30am
Sand Dollars and Sea Stars: Exploring Echinoderms, ages 8–10, 11:30am–12:30pm
From Colonists to Computers: Coded Messages, ages 11–13, 2:00–3:00pm
Science Detectives – Online! Series — Spring 2021:  Now you have the option to register for the Spring 2021 program series, which includes four Science Detectives programs for the same age group.  Series registration is available as an option when registering for any program listed above.  Spring 2021 Series Registration Deadline:  February 4 at 8:00am.
---
DIY Activities, Virtual Tours and more, to do at your own pace.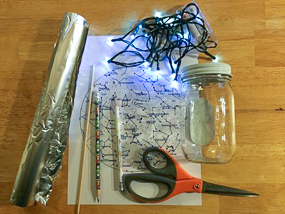 Do you have a favorite constellation or just like finding shapes in the stars? Here is a way to capture the star patterns in your own home.
---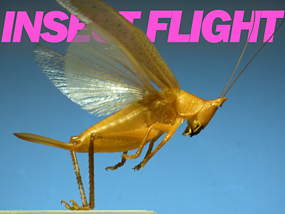 Dr. Adrian Smith, Head of the Museum's Evolutionary Biology & Behavior Research Lab, has posted a new video showing insect flight close up and in slow motion in 11 species, from the Acorn Weevil to the Spined Assassin Bug. Dr. Smith says, "Takeoff and flight sequences of insects spanning 5 different taxonomic orders captured at 3,200 fps!" See the video on YouTube for more details.
---
---

Earn credit through free, online workshops that get you exploring nature in your own backyard. Each workshop contains videos, activities, and materials that you can step through at your own pace. Get ideas and resources to encourage your students to explore their nature neighborhoods!
---
---
Got a Question? We Have Answers!
Ask a Naturalist Blog — From Black Widow Spiders to identifying a Buckeye, you'll find answers to some of our most fascinating questions here!
---
Follow Us on Social