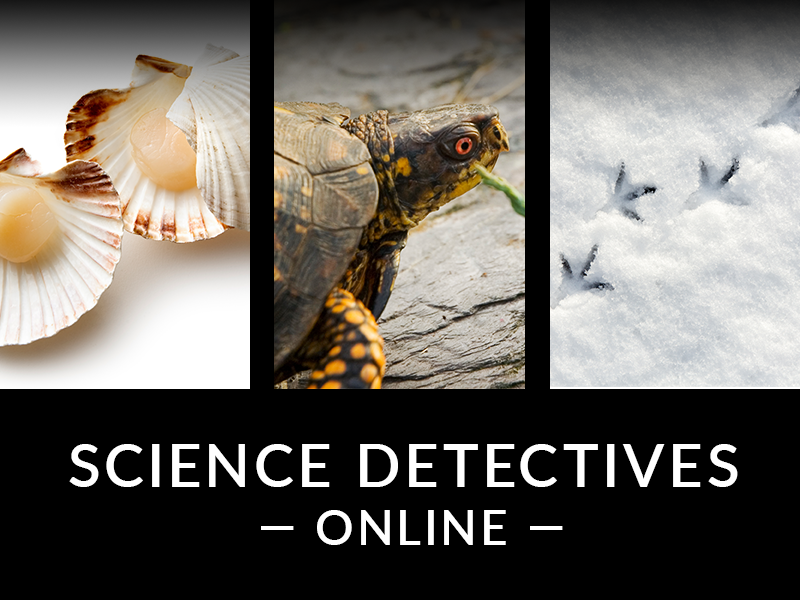 Science Detectives – Online! is a live, virtual program for homeschool and track-out students. It is designed to be interactive and will include hands-on activities that can be done with common household items. Registrants will receive a list of items to gather and printable resources prior to the program. The program will be conducted on Zoom and will not be recorded or available for later viewing. 
Each live program is taught by a Museum educator. All activities encourage the development of skills in scientific observation and thinking. Small classes give each student the best possible experience.
Accessibility accommodations, such as an ASL Interpreter or captioning services, can be requested upon registration.  Please contact outreach@naturalsciences.org, if your child can benefit from any modification and/or support. We ask that requests be made at least one week before the program so that we can provide the best accommodations to you.
Registration is first come, first served. Programs traditionally fill quickly.
Science Detectives – Online! Spring 2022 Classes:
February 23, 2022: Shiver me critters
April 14, 2022: Topic TBD
Ages 7-10, 10:00-11:00am
Ages 11-13, 1:00-2:00pm
QUESTIONS
Is there a waiting list if a program is full?
Yes! Send an email to Melissa.Chernick@naturalsciences.org with name of child, name of guardian and phone number. There is no cost to be added onto the waiting list.
What age level should I sign my child up for? 
Register for the program that corresponds to your child's actual age. We cannot make exceptions. Our instructors have designed their programs with age-appropriate and developmental stages in mind. Falsified registrations will be canceled.
When is my payment due and what forms of payment are accepted?
Payment is due in full at the time of registration and required to secure a spot. MasterCard, VISA, Discover and American Express are accepted. Checks or cash payment cannot be accepted or dropped off at the Museum.
When will I receive confirmation?
Your confirmation will be emailed upon submitting the online registration. The confirmation receipt, along with additional information will be sent to the email address provided during online registration. A reminder email will also be sent before the start of your program.
Refunds
The Museum can grant refunds only when a cancellation is received before the refund deadline. Cancellations received after the deadline will not be eligible for a refund. If we are alerted as soon as possible of a child's illness or family emergency immediately before a program begins, we will do our best to provide a refund.
| | |
| --- | --- |
| Program Date  |  Registration & Refund Deadline |
---
February 23, 2022                          Feb. 18th, 2022
---
April 14, 2022                                  April 8, 2022
Cancellation
The Museum's primary goal is to keep programs safe for participants and staff. While not anticipated, programs may need to be canceled, rescheduled, or modified to meet current safety guidelines. You will be notified if this becomes the case. A full refund will be issued if the Museum cancels the program.
Programs with low enrollment are subject to cancellation by the Friday before the program date. Guardians will be contacted to investigate the possibility of enrollment in another program.  A full refund will be issued if the Museum cancels the program.
How will the virtual program work?
All programs are interactive virtual experiences using the Museum's Zoom account. Information about the program, how-to documents, Zoom link and password will be emailed to you before the start of the program. 
Programs will feature hands-on activities based around a theme. Museum staff will lead each program. Participants are allowed to turn on their cameras and un-mute their microphones during the program. We encourage participants to interact with our instructors in the way that is most comfortable for them, including using the chat, audio or visual responses. Disruptive behavior will be redirected. Significant disruptive behavior may lead to the moderator or instructor muting, turning off the child's camera or removal from the program.
Each program will come with a kit list of supplies for program activities. Supplies will be common household items that are easy to find. Some activities may include printable documents.
What technology and supplies will my child need?
Participants will need the following materials:
Computer or tablet with a microphone and camera

Internet connection

Access to Zoom

Area in front of the computer to do activities on a table

A pencil

A notebook or paper for observations

Additional materials may be needed for specific classes
Does a guardian or adult need to be present?
We ask guardians to help their child login to Zoom 5–10 minutes before the start of each program to address technical issues such as raising and lowering the volume, positioning the equipment and opening the chat feature.
Activities are designed to be completed with virtual assistance from Museum educators and require little guardian oversight. Guardians should be in the same house with a mobile phone on for notifications. If the name and phone number of the adult at home with the child during the program is different from the adult registering the child, please send an email to Melissa.Chernick@naturalsciences.org.
What if my child misses the program?
We encourage participants to be able to attend the entire program. Refunds will not be given if a participant misses the program or a portion of the program. Video recordings of the program will not be available.
Are siblings allowed to participate together under one registration?
Only one participant per registration may participate. We encourage our participants to replicate and share what they have done at the end of the program. Our activities can easily be duplicated with siblings or family members after the end of each program.
For more information about virtual programs for families, please visit the Natural Sciences Classroom Livestream page or Science at Home.