For immediate release ‐ October 12, 2020
Contact: Jessica Wackes, 919.707.9850. Images available upon request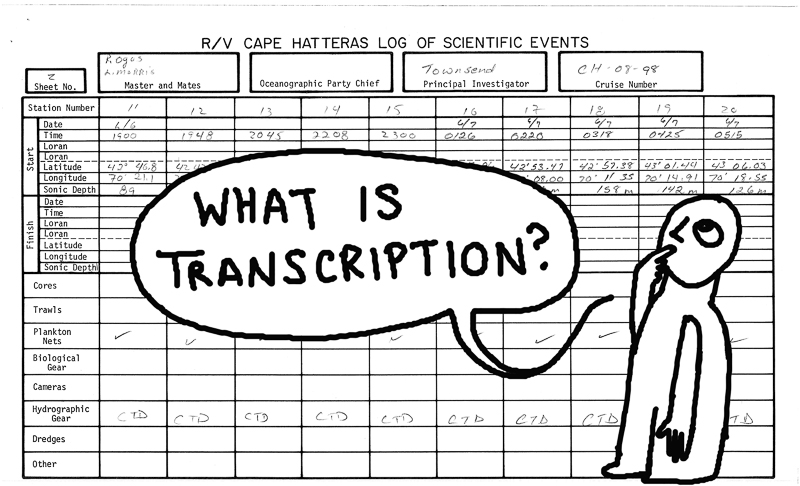 Natural history collections are essential in helping researchers learn about past populations, ecosystems, climates, and how these have changed over time. Through written observations and logs, and collected and preserved specimens, individuals have collectively amassed a vast body of written knowledge that chronicles the recent history of our planet and informs much of our understanding of the natural world today. As we strive to understand our rapidly changing environments, some key information remains hidden from view. Vast amounts of data collected by past researchers and recorded on paper are still unstudied because they remain undigitized. Without digitization and global accessibility, only those who possess these paper documents can learn what they contain.
To uncover and make accessible the knowledge held in these paper documents requires a process called transcription, in which people read the information contained in paper records and re-record it in a digital format. Through transcription, the data contained in original manuscripts, field notes and other paper documents can finally be made globally accessible, contributing missing information to our understanding of species, ecosystems, and how these are changing. Such transcription is being carried out all over the world by citizen scientists. Like so much in science, transcription cannot be done alone. Instead, it requires a whole community of citizen scientists—people like you and I who are curious about the natural world and motivated to uncover the unknown. Through this communal, collaborative endeavor we can now uncover the hidden treasures locked within these records.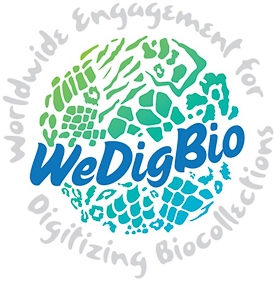 One way to get involved in transcription is through WeDigBio, a global citizen science initiative that highlights transcription-based citizen science projects focused specifically on biodiversity collections. For four days in October (15–18), WeDigBio will host a massive online transcription and outreach event which virtually connects people from around the world through transcription. From contributing to our understanding of past atmospheres to analyzing photos of fossil plant cells to recording the notes of 19th century astronomers, WeDigBio connects people to projects through which they make invaluable contributions to our understanding of the world.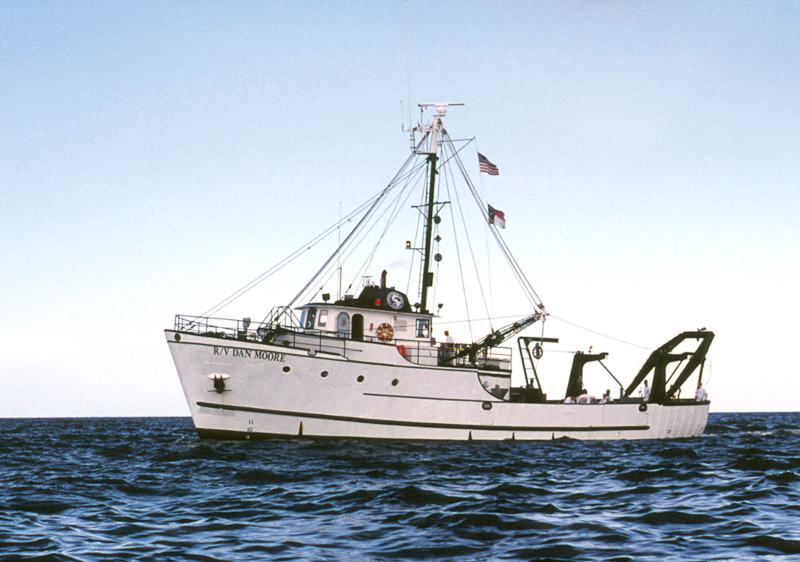 Photo of the research vessel Dan Moore.
Here at home, we will be joining this WeDigBio event with our project, Castaway. Named for research vessel logs that were almost lost, Castaway aims to digitize the data contained in these logs and thus chronicle the expeditions of three research vessels. Beginning in the late 1950s, the vessels — Eastward, Cape Hatteras, and Dan Moore — sailed on hundreds of expeditions throughout the Atlantic Ocean. These ships and their crews collected hundreds of fish specimens over the years, many of which are now housed in the Museum's Ichthyology Research Collection. The transcription of these logs gives us an amazing opportunity to fill in gaps in the data that we have about these specimens. Specifically, we are discovering more detailed distributional data and information about the environmental conditions at the time of collection, offering insights into population and ecological dynamics as well as climatic trends. More importantly, through Castaway, these data will be made globally accessible for research, education, conservation and management.
This project cannot be done alone … and we don't want it to be! Embark with us on Castaway's voyage and become a vital part of uncovering the past.
Join Castaway and citizen scientists from across the globe for WeDigBio, October 15–18.
This article was contributed by Lucie Ciccone and Cayla Casucci, Fall 2020 Ichthyology Unit Interns.
Castaway is partially funded by a grant from the Institute of Museum and Library Services.