For immediate release ‐ October 07, 2021
Contact: Micah Beasley, 919.707.9970. Images available upon request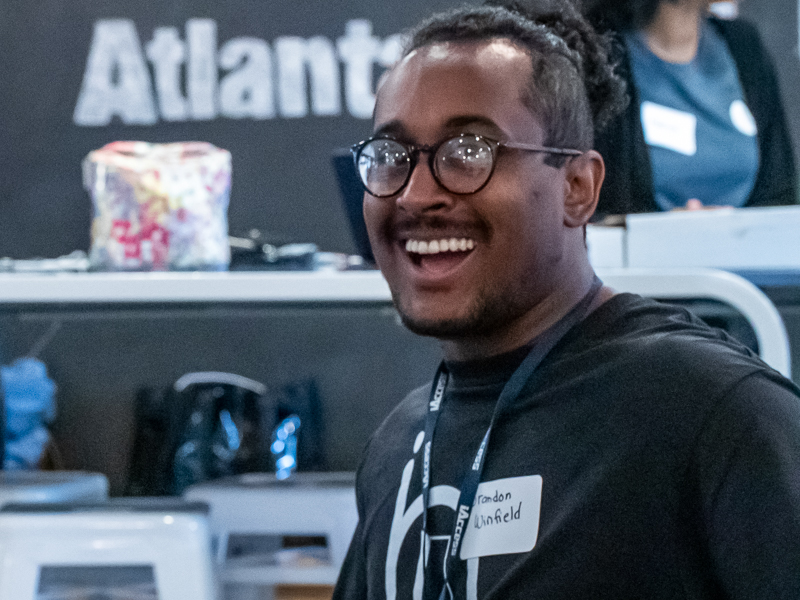 The Museum is happy to welcome Brandon Winfield (he/him) as our keynote speaker for the STEAM Career Showcase for Students With Disabilities. Last year, Brandon served as a panelist for the program.
In 2008, Brandon was injured in a motocross accident that left him with a thoracic spinal cord injury (paralyzed from the chest down). He was 14 years old at the time and was faced with the decision to either let this dramatic event stop him from truly living the life he wanted or to turn it into an opportunity to triumph in the face of tragedy — Brandon chose the latter.
He continued his love of racing, this time of four-wheeled vehicles, entered sprint kart racing, and won numerous events across the country. As he traveled, he realized that although some places he visited were compliant according to the Americans with Disabilities Act (ADA), many areas were grandfathered in and never forced to retrofit to accommodate the mobility impaired.
These experiences sparked the idea for iAccess, a mobile app that would allow people with disabilities to rate and review the accessibility of venues such as restaurants, lounges, clubs and bars.
Q&A with Brandon
Q1: What inspired you to seek a career in STEAM?
I would have to say I didn't choose the STEAM life; the STEAM life chose me! I will say that math and science came naturally to me and really caught my attention in school. I loved figuring out an equation, working through it and ending up with a definite answer. I believe if things had been different, and my life didn't go the way it did, I would've ultimately ended up in a STEAM-focused career.
Q2: Why do you hope students participate in the STEAM Career Showcase?
I hope students participate so that they discover and fall more in love with the possibilities that STEAM careers create. I believe it's a vertical that never stops evolving and changing.
Q3: Why do you think it's important for people with disabilities to consider careers in STEAM?
I think it's important because it's a non-limiting space. There is a lot of room to grow, learn and create solutions to some of your pain points in life. When you do that you ultimately end up helping so many others by default and there's nothing more fulfilling than making someone's day!
Q4: What has been one of your favorite moments within your field? 
One of my favorite moments in this field must have been my trip to San Francisco to be a part of a fellowship. There were 60 other incredible social impact start-up founders that I got to interact with over the weekend. Their stories were inspiring and reminded me that there are amazing people in the world who have devoted their time to help others. I think my favorite thing in general about this field is getting to meet very inspiring people in new places around the country.
Q5: Why is it valuable for institutions and businesses to prioritize accessibility and inclusive programs?
I read a TechCrunch article the other day that explains this better than I believe I can. To quote them, they said, "At its core, accessibility means making your product as usable as possible to the greatest number of people. The appeal and efficiency that entails correlates to higher revenue." Other than the altruistic benefits of valuing accessibility and inclusivity, at the end of the day, businesses want more revenue. Making your product for EVERYONE to access will make that possible.
Q6: Why is the connection to community meaningful while pursuing your educational and professional path?
I always encourage the early-stage start-ups that I work with to come to our building and sign up for our meetups and events. Connecting with the community is the most underrated form of building a successful business or career. The ecosystem is smaller than you think, when you show up, interact and provide value to others, they will remember your face and acknowledge your passion. A lot of people come and go in my professional path so just being consistent is game changing.
Join Brandon and our wonderful slate of panelists at the 9th Annual STEAM Career Showcase for Students with Disabilities on October 19. Check out the schedule of events and more!
---
For more information about our upcoming activities, conservation news and ground-breaking research, follow @NaturalSciences on Instagram, Twitter and Facebook. Join the conversation with #visitNCMNS.