For immediate release ‐ June 18, 2018
Contact: Jon Pishney, 919.707.8083. Images available upon request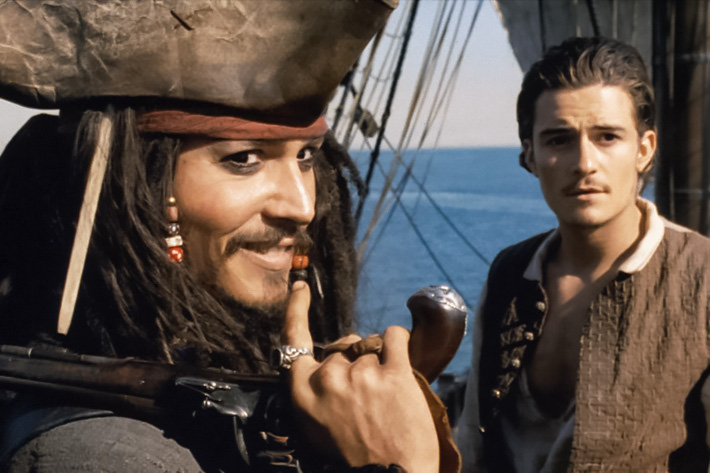 (RALEIGH, N.C.) — Over 3000 Islands of Paradise. For some it's a blessing. For others, it's a curse. If your money's on blessing, don't miss "Pirates of the Caribbean: The Curse of the Black Pearl" when it boards the big screen at the North Carolina Museum of Natural Sciences on Friday, June 29 at 7 p.m. Come early to see swashbucklers from The Sword Conservatory demonstrate various fighting styles used by pirates, as well as members of the Royal Navy, in the 18th and 19th centuries.
"Pirates of the Caribbean" (2003, PG-13) follows the adventures of eccentric pirate "Captain" Jack Sparrow (Johnny Depp) and blacksmith Will Turner (Orlando Bloom) as they attempt to rescue Turner's love interest Elizabeth Swann (Keira Knightley) from Jack's former pirate allies, the undead and cursed crew of the Black Pearl. [Natural Science Note: The names of the three main characters are all linked to birds. Jack Sparrow, Elizabeth Swann and William Turner, who was a famous ornithologist.]
From Freddy fodder in "A Nightmare on Elm Street" (1984) to undercover cop Tommy Hanson in the popular TV series "21 Jump Street" (1987-90) to the title role in Tim Burton's classic weird tale "Edward Scissorhands" (1990), Depp rose to stardom quickly. He has been a Hollywood staple ever since (and the inimitable Capt. Sparrow in five-and-counting "Pirates of the Caribbean" films). For Bloom, a chance meeting with director Peter Jackson in 1999 turned into steady work as the supreme fighting elf Legolas in "The Lord of the Rings" trilogy and "The Hobbit" films, followed by numerous entertaining roles. While Knightley's first big role in a major film was in "Pirates," some of her earliest roles included Jules in the good but under-the-radar "Bend it Like Beckham" (2002) and (secretly) Padmé, the decoy to Natalie Portman's Queen Amidala, in "Star Wars: Episode I — The Phantom Menace" (1999).
Prior to the movie, beginning at 5:30, enjoy live music from Loos Doubloons (aka Loos Change), learn to fight like a pirate from members of The Sword Conservancy, and check out movie-themed science stations to learn about the science behind sea monsters, mythical creatures, pirates, treasure maps, ship navigation and much more. Plus, hear from an expert who will help separate the facts from the flotsam following the screening.
This event features the A/V Geeks' Skip Elsheimer guiding a fun night of trivia and tongue-in-cheek commentary on popular science-themed movies as well as samples from his vault of 24,000+ short films. Movies are also complemented by experts and hands-on science stations related to each night's theme. Dinner (such as sliders or tacos), drinks (including NC beer and wine) and popcorn will be available for purchase before the show. Doors open at 5:30 p.m., movies and presentations begin at 7 p.m. Admission: $5/person. For more information or to buy tickets, visit naturalsciences.org/calendar/finally-friday/.
---
The North Carolina Museum of Natural Sciences in downtown Raleigh (11 and 121 W. Jones St.) is an active research institution that engages visitors of every age and stage of learning in the wonders of science and the natural world. Hours: Monday–Saturday, 9 a.m.–5 p.m., and Sunday, noon–5 p.m. General admission is free. Emlyn Koster, PhD, Director. For more information, visit naturalsciences.org.