For immediate release ‐ October 11, 2022
Contact: Micah Beasley, 919.707.9970. Images available upon request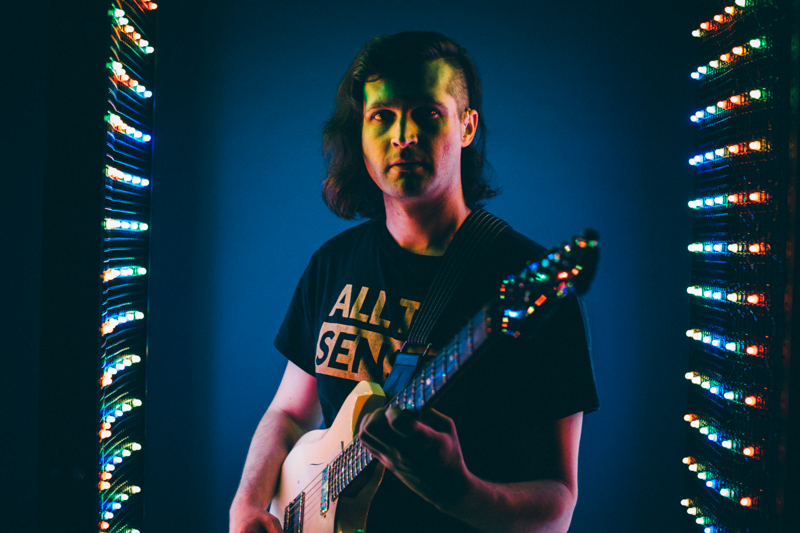 Myles de Bastion. Photo: Sam Gehrke.
By Micah Beasley, PR & Marketing Coordinator
The Museum is pleased to welcome Myles de Bastion as our keynote speaker for the 10th annual STEAM Career Showcase for Students with Disabilities this year.
Myles is an artistic director, musician and creative-altruist who develops technology and art installations that enable sound to be experienced as light and vibration. His search for ways to bridge his passion for music with his Deaf identity led him to found CymaSpace, a non-profit that facilitates arts and cultural events that are inclusive of the Deaf and Hard-of-Hearing.
Q&A WITH MYLES
What inspired you to seek a career in STEAM?
I enjoy problem solving and exploring the intersection of different disciplines. I use science to inspire my art, then I see what technology I can use to engineer my ideas and usually I have to learn a little math along the way!
Why do you hope students participate in the STEAM Career Showcase?
STEAM careers can be really rewarding. You get to learn how the world works from multiple points of view, which can help us understand the perspectives of people and cultures who are different to us.
Why do you think it's important for people with disabilities to consider careers in STEAM?
Often, when I join a team to work on a project, I appear to be the only person with a disability, therefore I feel that there is not enough disability representation in STEAM careers. There can be fears of challenges working with people who do not understand what it's like to have a disability, but the more disabled people who apply for and get jobs in STEAM careers, the more understanding there will be from our non-disabled peers.
Why is it valuable for institutions and businesses to prioritize accessibility and inclusive programs?
When institutions and businesses create more accessible and inclusive spaces as well as apply universal design principles to their products and services, those considerations often help everyone, not just people with disabilities.
What has been one of your favorite moments working within your field?
I really enjoyed building a piano that was able to visualize the vibration that it made while being played. It made me feel especially proud of the project when I saw children and families play the piano and watched as their faces lit up with joy as well as the colors and patterns that the piano produced in response to the notes they chose.
---
Get to know more about Myles and our panel of experts, and find out how to register by visiting the STEAM Career Showcase page.
---
For more information about our upcoming activities, conservation news and ground-breaking research, follow @NaturalSciences on Instagram, Twitter and Facebook.