For immediate release ‐ January 14, 2022
Contact: Jon Pishney, 919.707.8083. Images available upon request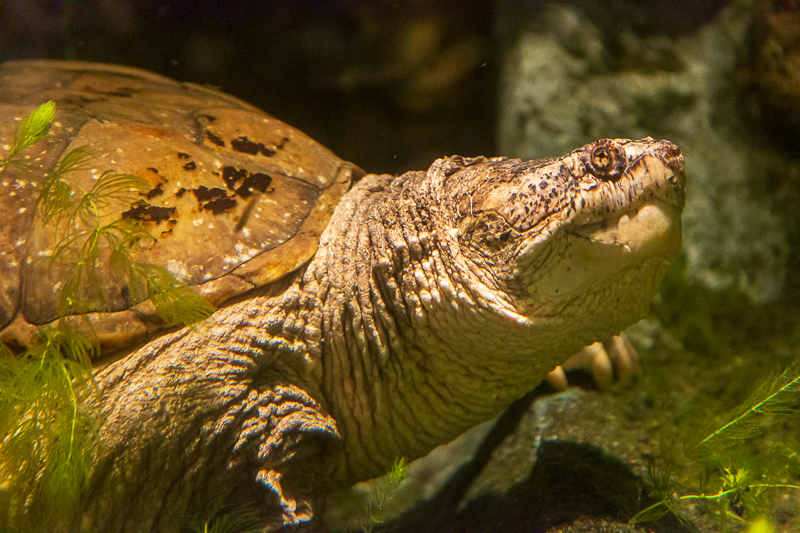 The state record snapping turtle on exhibit in 2015. Photo: Karen Swain/NCMNS.
After a lengthy battle with myriad health issues, the largest specimen of Chelydra serpentina (Common Snapping Turtle) known from North Carolina was humanely euthanized by the Museum's Veterinary Sciences team on January 4, 2022.
The specimen, a large (69.8 pounds) and probably very old male, was originally taken on a trotline in a farm pond in Rockingham Co. in 2012. The collector, who was trapping snappers for food, did not want to eat such an impressively large and old turtle, and did not want him to be caught and eaten by anyone else, so he was happy to donate him to the Museum where he could enjoy an easy life for his final years.
The giant snapper was maintained by the Museum's Living Collections staff and was on public display in the Mountains to the Sea exhibit on the second floor of the NEC for much of that time. A smaller but still impressive snapping turtle was moved to that exhibit in July 2020 while the giant was moved behind the scenes where he was closely monitored and accessible for veterinary exams and treatment.
But the story doesn't end with his passing; the turtle was swiftly preserved in fluid, and is now the largest such specimen in the Museum's research collections. Additionally, tissue samples from the turtle were collected and sent to the North Carolina State University College of Veterinary Medicine's Exotic Species Cancer Research Alliance. The goal, according to Dr. Tara Harrison, Associate Professor of Zoo and Exotic Animal Medicine, is to find out how the turtle's cancer is similar to humans' and ultimately to test the cancer cells' response to various types of cancer treatments.
"This was a special animal," added Jeff Beane, the Museum's Collections Manager for Herpetology. "A lot of staff were sad to see him go."