For immediate release ‐ September 24, 2021
Contact: Jon Pishney, 919.707.8083. Images available upon request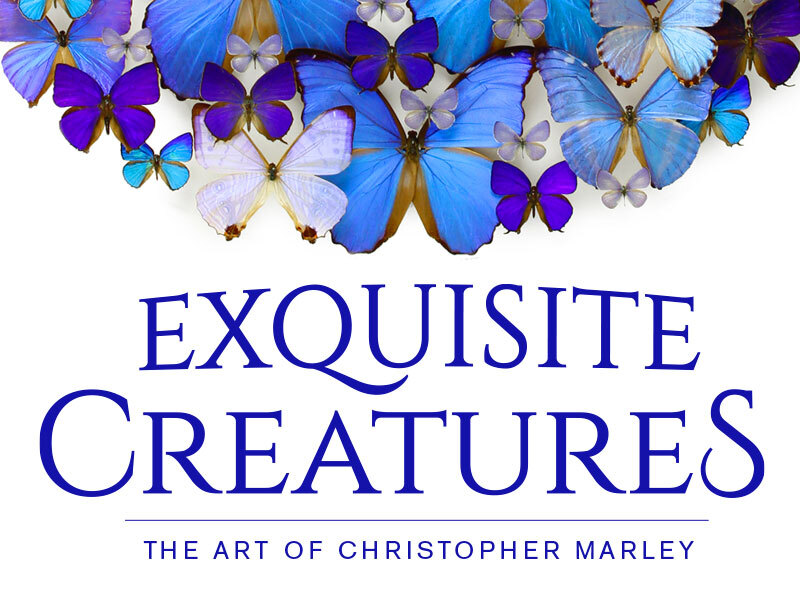 [RALEIGH, N.C.] — What is it about the natural world that calls to us? Is it the color of the macaw's feathers? The vibrant sheen of the beetle's carapace? Is it the overwhelming diversity of life, or the repetitive patterns that nature has conjured? The North Carolina Museum of Natural Sciences invites you to experience how awe-inspiring the natural world can be when it hosts "Exquisite Creatures: The Art of Christopher Marley," a new special exhibition running Oct. 16, 2021 through March 20, 2022.
"Exquisite Creatures" is a collection of 350 stunning three-dimensional displays of rare (and real) organisms from all over the world, including a goliath birdeater tarantula from French Guiana, the largest spider species in the world; a Gaboon viper from Tanzania, sporting the largest fangs of any venomous snake in the world; zebra mantis shrimp from South China Sea, known to use their claws as hammers to bludgeon their prey; plus minerals and crystals including black chalcedony from India and vanadinite from Morocco. Each piece celebrates the conjunction of art, science and nature, and according to Marley, "The exhibition as a whole creates a universal entrée to unfamiliar elements of the natural world that has power to seduce even the most hesitant or squeamish visitor."
"Exquisite Creatures" also marks the return of special exhibitions to the Museum for the first time in three years. Since beginning his role in January 2020, Museum Director and CEO Eric Dorfman has been keen on not only bringing special exhibitions back to the museum, but this exhibition in particular. "Art and science are both very close to my heart," he says. "'Exquisite Creatures' deftly combines art and science in a way that we hope will compel guests to discover their own, unique connections to the natural world." Additionally, all exhibition panels will be fully translated into Spanish, a first for the museum and an important initiative similarly spurred on by Dorfman.
Christopher Marley is an Oregon-based artist, naturalist and photographer whose work uses preserved specimens to shine a light on the incredible diversity of nature. Over the course of his career, Marley has held solo exhibits in a variety of galleries, museums and retail spaces — including the Stamford Museum & Nature Center, the Houston Museum of Natural Science, and Saks 5th Avenue. He has also published several popular books — most notably "Pheromone: The Insect Artwork of Christopher Marley" and the 2015 New York Times bestseller "Biophilia." He currently maintains studios in Willamette Valley, Oregon and Kuala Lumpur, Malaysia.
All the vertebrates used in this artwork are reclaimed, meaning they passed of natural or incidental causes, most often in captivity. As Marley notes, "When organisms die in the care of the institutions or individuals dedicated to their husbandry, they can either be disposed of or they can be preserved and incorporated into lasting tributes to their masterful design." Smithsonian.com reiterates this concept: "Christopher Marley has used his skills as a designer, conservator, taxidermist and environmentally responsible collector to make images and mosaics that produce strong, positive emotional responses in viewers."
Tickets are now on sale at naturalsciences.org/exquisitecreatures. Tickets: Members, Free; Adults, $10; Senior/Student/Military, $8; Children Ages 3-12, $6; Children 2 & Younger, Free. Exhibition Hours: Tuesday–Sunday, 10 a.m.–5 p.m. (last entry at 4 p.m.).
Exquisite Creatures is sponsored by Merz Aesthetics with additional support from Our State Magazine, PBS North Carolina and WUNC / North Carolina Public Radio.
---
About the NC Museum of Natural Sciences
The North Carolina Museum of Natural Sciences in downtown Raleigh (11 and 121 W. Jones St.) is an active research institution that engages visitors of every age and stage of learning in the wonders of science and the natural world. In addition to two downtown buildings showcasing seven floors of world-class exhibits, the Museum runs Prairie Ridge Ecostation, a 45-acre outdoor education and research facility in west Raleigh, as well as satellite facilities in Whiteville, Greenville and Grifton (Contentnea Creek). As a whole, our mission is "to illuminate the natural world and inspire its conservation." Downtown Raleigh Hours: Tuesday–Sunday, 10 a.m.–5 p.m. General admission is free. For more information, visit www.naturalsciences.org.
About the North Carolina Department of Natural and Cultural Resources
The N.C. Department of Natural and Cultural Resources (NCDNCR) is the state agency with a vision to be the leader in using the state's natural and cultural resources to build the social, cultural, educational and economic future of North Carolina. NCDNCR's mission is to improve the quality of life in our state by creating opportunities to experience excellence in the arts, history, libraries and nature in North Carolina by stimulating learning, inspiring creativity, preserving the state's history, conserving the state's natural heritage, encouraging recreation and cultural tourism, and promoting economic development.
NCDNCR includes 27 historic sites, seven history museums, two art museums, two science museums, three aquariums and Jennette's Pier, 39 state parks and recreation areas, the N.C. Zoo, the nation's first state-supported Symphony Orchestra, the State Library, the State Archives, the N.C. Arts Council, State Preservation Office and the Office of State Archaeology, along with the Division of Land and Water Stewardship. For more information, please visit www.ncdcr.gov.
---
For more information about our upcoming activities, conservation news and ground-breaking research, follow @NaturalSciences on Instagram, Twitter and Facebook. Join the conversation with #visitNCMNS.