For immediate release ‐ September 06, 2023
Contact: Jon Pishney, 919.707.8083. Images available upon request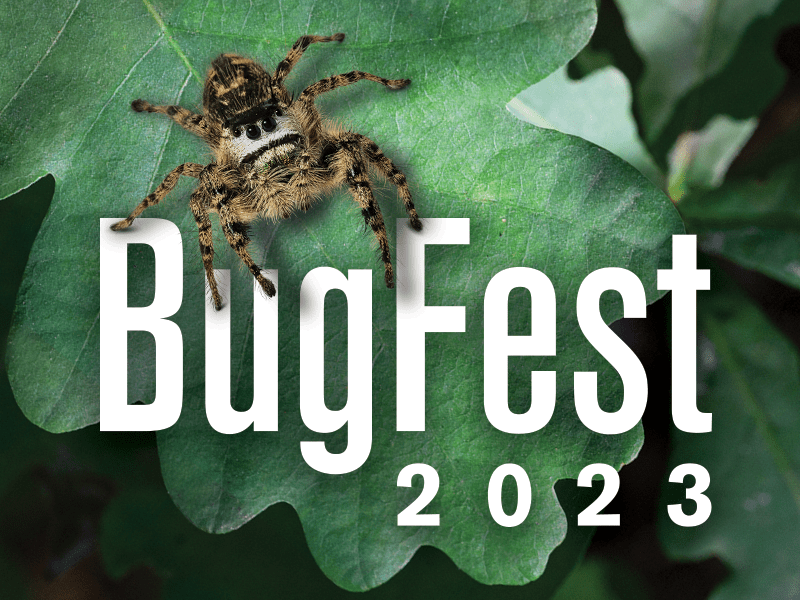 (RALEIGH, N.C.) — It's time to get buggy with the North Carolina Museum of Natural Sciences as they host BugFest, the largest one-day bug-centric event in the country. Satisfy all your web weaving, wing flapping, dungball rolling, creepy crawling and (of course) bug munching pursuits in one day: Saturday, Sept. 16, 10 a.m.–7 p.m. It's free!
This year, BugFest spotlights spiders with a particular close-up on tarantulas. Learn about the fascinating molting process tarantulas go through and how they can regenerate limbs. You can also come face to face with live giant tarantulas from around the world (ever see a Mexican fireleg tarantula?) as well as spiders you might meet in your own backyard.
Throughout the day, BugFest visitors can talk to bug experts, enjoy games and activities (like Stag Beetle Battles and live cockroach racing at the Roachingham 500), or take in live music and presentations designed to entertain and educate the entire family.
If looking at all the live and preserved insects makes you hungry, you can grab a plate of unique food at the Café Insecta, where local restaurants offer a variety of free bug-filled fare, which this year ranges from Bugnana Pudding to Kickin' Cricket Chicken Salad.
At 5 p.m., enjoy a free screening of the B(ug)-movie classic "Tarantula" (1955). After a spider escapes from an isolated Arizona desert laboratory experimenting in giantism, it grows to tremendous size and wreaks havoc on the local inhabitants.
Don't forget to take time to see "Spiders: Fear to Fascination," the Museum's immersive and amusing special exhibition that reveals the secrets — and the lighter side — of these enigmatic critters through interactive games, augmented reality, hundreds of preserved specimens and dozens of live spiders. Tickets are on sale at the Box Office and online.
BugFest is sponsored by BASF with additional support from Murphy's Naturals and Syngenta.
---
For more information about our upcoming activities, conservation news and ground-breaking research, follow @NaturalSciences on Instagram, Twitter and Facebook.