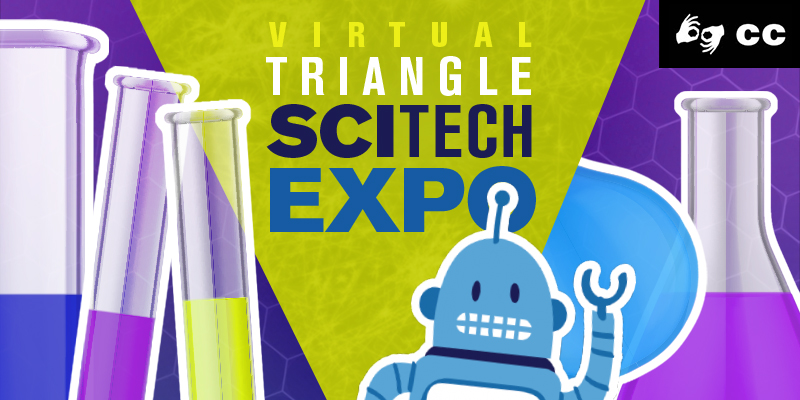 Monday, April 19–Saturday, April 24
9am–6pm
We're going virtual!  Triangle SciTech Expo is a unique event that assembles scientists and technical professionals from universities, organizations and industry to engage visitors of all ages in the excitement of science and technology. We provide leaders in SciTech fields a prominent opportunity to showcase innovations and research while engaging visitors in interactive programs that actively spark their interest in STEM fields.
Experts, researchers, and specialists developing new technologies will engage with participants; programs are designed for all ages and stages of learning, and families are encouraged to attend.
Join us for six days of fun, interactive, virtual programming!  Thursday, April 22 is Earth Day and programming on that day will be devoted to sustainability and how STEM is helping us create a more sustainable future for the Earth!
Made possible since 2014 by presenting sponsor The Biogen Foundation and in partnership with the North Carolina Science Festival
If you have questions or registration issues regarding this event, please contact Miranda Dowdy at: miranda.dowdy@naturalsciences.org or 919.707.9885
---
Lunes 19 de Abril – Sábado 24 de Abril
9am – 6pm
¡Este año es virtual! El Triangle SciTech Expo es un evento único que reúne a científicos y profesionales técnicos de universidades, organizaciones e industrias para compartir  con nuestros visitantes de todas las edades la pasión por la Ciencia y la Tecnología.
Ofrecemos una oportunidad única  en la que líderes y pioneros en diferentes campos científicos presentan y exhiben sus investigaciones y creaciones al público de una manera interactiva, despertando el interés en nuestros visitantes por el mundo STEM.
Todo el mundo está invitado ya que los programas están diseñados para todas las edades y etapas en el aprendizaje. Tenemos de todo… ¡para todos!
¡Únete a nosotros durante seis emocionantes días de programas online, interactivos y divertidos! Y no te pierdas "El Día de la Tierra", durante el jueves 22 de Abril, la programación estará dedicada a la sostenibilidad y cómo los programas STEM nos están ayudando a crear un futuro más sostenible para nuestro planeta.
Patrocinado desde 2014 por Biogen Foundation y en colaboración con el NC Science Festival
Este evento es enteramente en inglés.
Para más información sobre el evento, por favor ponte en contacto con: hugo.sanchez@naturalsciences.org
Sponsored by