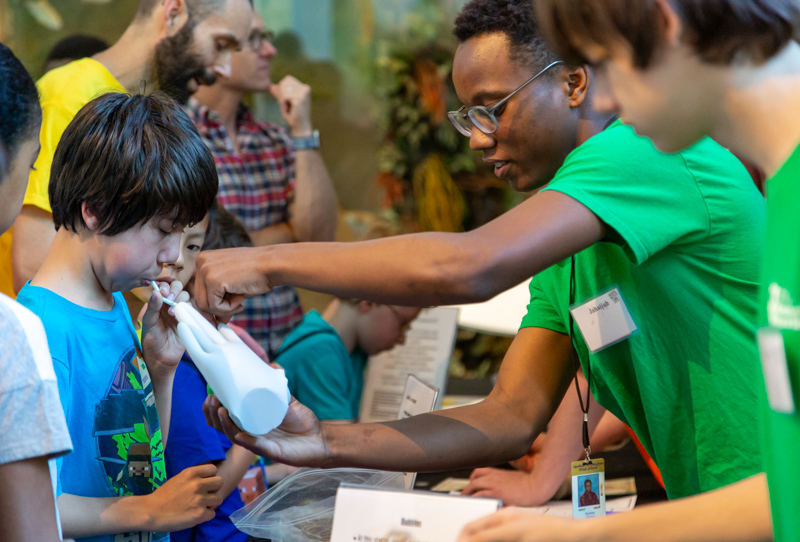 Saturday, April 23, 2022
10:00am–5:00pm
Want to be part of SciTech? Volunteer with us! Volunteer jobs span logistics (set up, breakdown, meal service, surveys, etc.), running educational stations and kids' crafts and activities! It's loads of fun and you get an in-depth experience of the event and science! Volunteers who work two or more shifts get free lunch.
Volunteers must be at least 13 years old to volunteer without a parent. Volunteers must be at least 10 years old to volunteer with a parent (please note on form who your parent/guardian is).
---
As per Executive Order 224, due to the continued threat of COVID-19 and variants of the virus, all volunteers performing duties in person at any Museum location are required to:
Be fully vaccinated. Fully Vaccinated means it has been at least two weeks after the person has received the second dose in a two-dose COVID-19 vaccine series (Pfizer or Moderna) or that it has been two weeks after the person has received a single-dose COVID-19 vaccine (Johnson & Johnson). Participants in the Novavax trial who are two weeks after having received both doses in the series will also count as Fully Vaccinated.
If a volunteer is not Fully Vaccinated, the volunteer must provide a negative result from a COVID-19 test taken in the last seven days before the beginning of the volunteer's shift.
---
Questions? Contact Miranda Dowdy.