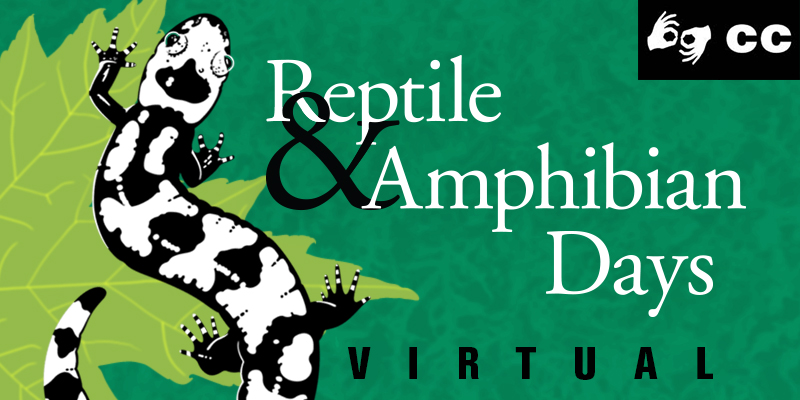 Monday, March 8–Saturday, March 13
9am–6pm
Join us virtually to celebrate the twenty-sixth annual Reptile and Amphibian Day, the nation's largest and most popular event dedicated to hopping, slithering, crawling critters! This year's theme is SALAMANDERS!
There will be six days of programs about our favorite ectotherms, from crafts to lectures to close encounters of the virtual kind!  This event is perfect for all ages — from the youngest tadpoles to the oldest tortoises.
---
Celebre con nosotros el vigésimo-quinto Día de los Reptiles y Anfibios. El evento más grande y popular de la toda la nación destinado a todas las criaturas que saltan, se deslizan y arrastran. ¡El tema de este año son LOS SAPOS! Contaremos con presentaciones durante todo el día tanto en nuestro escenario del Daily Planet Theatre como en Windows on the World, así como docenas de exhibiciones con animales vivos, actividades científicas y manualidades. El evento está destinado para todas las edades, ¡desde los renacuajos más pequeños hasta las tortugas más viejas! Exhibiciones y presentaciones son en inglés, pero contamos con un elevado número de voluntarios que hablan en español.
Para cualquier información en español de este y otros grandes eventos en el museo, por favor póngase en contacto con Hugo Romero-Sánchez vía email, hugo.sanchez@naturalsciences.org o en el teléfono 919.707.9965.