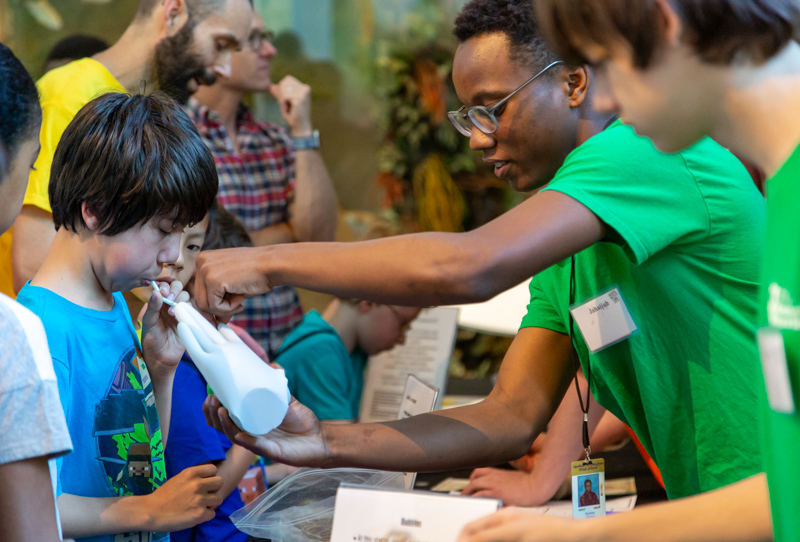 Saturday, March 11, 2023
10:00am–5:00pm
Want to be part of Reptile and Amphibian Day? Volunteer with us! Volunteer jobs span logistics (set up, breakdown, meal service, counting visitors, T-shirt sales, etc.), running educational stations and kids' crafts and activities! It's loads of fun and you get an in-depth experience of the event! Volunteers who work two or more shifts get free lunch.
Volunteers must be at least 13 years old to volunteer without a parent. Volunteers must be at least 10 years old to volunteer with a parent (please note on form who your parent/guardian is).
Questions? Contact Kari Wouk.
---
¿Quieres formar parte de nuestro equipo de Reptile & Amphibian Day? ¡Participa como voluntario con nosotros! Existen muchas actividades para nuestros voluntatios, desde la logística (ayuda con la colocación y la recogida de las estaciones, servicio de comidas, conteo de visitantes, venta de camisetas, etc.), hasta participar en estaciones educativas , de manualidades y actividades para niños. ¡Una manera muy divertida de conocer a fondo el evento! Los voluntarios que trabajan dos o más turnos reciben almuerzo gratis.Para ser voluntario hay que tener al menos 13 años de edad. Si tienes entre 10 y 13 años, puedes ser voluntario pero deberás estar acompañado en todo momento de un adulto (el formulario deberá rellenarlo uno de los padres o tutores).
¿Tienes preguntas? Ponte en contacto con Kari Wouk.