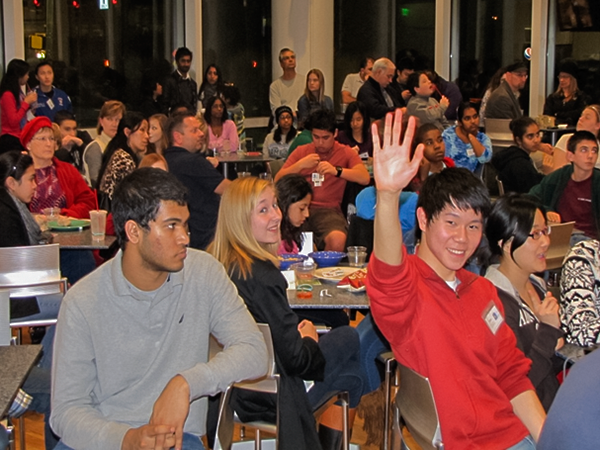 Open Minds
Teen Science Cafés bring teens together in an informal setting to learn about science and technology. Each café will include a scientist presentation, an interactive activity relating to the discussion, and time to meet other teens that enjoy science. The cafés are led by our Café Coordinator group, so it is truly a teen event. This nationwide program is funded by a grant from the National Science Foundation. The North Carolina network partners include the North Carolina Museum of Natural Sciences, Morehead Planetarium and the North Carolina Museum of Forestry.
All teens are welcome to join us for our FREE Teen Science Cafés at the Museum.
Time: First Fridays, 6-7pm.
Location: The Daily Planet Café in the Nature Research Center at 121 West Jones St, Raleigh.
Upcoming Cafés:
September 4, 2015

6-7pm

October 2, 2015

6-7pm

November 6, 2015

6-7pm

December 4, 2015

6-7pm

February 5, 2016

6-7pm

March 4, 2016

6-7pm

April 1, 2016

6-7pm
Visit the Museum Events Calendar for additional information about upcoming Cafés.
---
Past Cafés
Talk With the Animals
April 1, 2016
In the 2009 Pixar film, "UP," a man befriends a fun-loving pup who can speak to him through the use of a special collar that translates barks to words. It might seem far-fetched, but Dr. Dave Roberts, a professor at NC State, has done it! Roberts and his team have developed technology that really can let us "talk" with the animals. Join us for the next Teen Science Cafe as Dr. Roberts presents his technology with the help of a few furry friends.
---
The Bone Detective
March 4, 2016
When homicide investigations come up empty and cold cases need solving, "bone detective" Dr. Ann Ross gets the call. Forensic anthropologists like Dr. Ross study the bones of the deceased in order to determine how that person died. In this Teen Science Café, Dr. Ross discussed the science of forensics and her involvement in solving mysterious murder cases. Ann Ross is a forensic anthropologist and the director of the Forensic Sciences Institute at North Carolina State University.
---
Birds are Fly: Avian Adaptations
December 4, 2015
Dr. Irene Lui, postdoc in the Department of Biology at Duke University, answers the question, "what makes a bird a bird?" Check out the café replay to see what evolutionary adaptations make birds so fly!
---
Sacred Groves: India's Pockets of Culture and Conservation
November 6, 2015
Respect for nature is deeply seated in the religion and culture of India. Across the country, local people have isolated small patches of forest, defining them as sacred and protecting them from development. Not only are these trees valued for their traditional ancestry, but their genetic ancestry as well. Many species of wildlife have integrated into this old growth habitat and also merit conservation. Dave Grace will discuss the link between culture and conservation among the diverse network of urban sacred groves.
Speaker
Dave Grace is a masters' candidate at the Nicholas School of Environment as well as the Duke Divinity School, both at Duke University. Currently he is serving as ministry intern at Western Boulevard Presbyterian Church and an inquirer with the Presbyterian Church, PC (USA). Dave utilizes his dual knowledge of conservation and theology to coordinate the Youth Faith Conservation Network as well as host a blog through the Nicholas School called Faith and Ecology.
---
"GHOST" Stories: Lemurs of Madagascar
October 2, 2015
Lemurs are Madagascar's spirits of the forest. Did you know that lemurs get their name from the Latin word for "ghost" or "spirit?" Some lemurs are cute, and some lemurs are creepy. Some lemurs are so creepy they're cute. Scientists at the Duke Lemur Center study lemurs to learn about what make these primates so special. Lemurs are also threatened with extinction — the scariest story of all. The Duke Lemur Center is the world's largest colony of lemurs outside Madagascar, and Chris Smith will introduce everyone to the world of cute and creepy lemurs. You might even get some great Halloween costume ideas!
Speaker
Chris Smith wants to save lemurs. He is the education specialist at the world's largest center for lemurs, the Duke Lemur Center in Durham, NC. Chris has worked up-close with lemurs for six years as a lemur keeper and an educator. He studied biodiversity conservation at Duke for his Master's degree and now talks to everyone about the importance of lemurs, science and conservation.
---
What's in Your Pantry? The Price of Palm Oil
March 6, 2015
Palm oil is an industrial vegetable oil used in many of the processed foods and cosmetics we have in our homes. But what are the effects of this industry on the world's tropical ecosystems? At this Teen Science Cafe, Varsha Vijay will discuss the impacts of harvesting palm oil – including deforestation, habitat degradation and biodiversity loss – and the efforts being made to produce a more sustainable product. Join us in learning about forest conservation and practice some of the techniques that scientists like Varsha use to monitor deforestation and habitat loss.
Speaker
Varsha Vijay is a PhD student at Duke University in Stuart Pimm's Conservation Biology Lab. She has worked in Madagascar and the Ecuadorian Amazon. She currently works on global conservation issues. She has received the Brower Youth Award for her work in the Amazon and her graduate work is supported by the NSF Graduate Research Fellowship Program. In her spare time Varsha enjoys reading, traveling, cooking and gardening.
---
African Lions: Good Fences Make Good Neighbors
February 6, 2015
Known for their colorful dress and semi-nomadic cattle-herding lifestyle, the Maasai of East Africa are one of the most easily recognized tribes in the world. But in the savannah, a dependence on cattle can be tremendously difficult when hungry lions are your neighbors. Scientists like Alexa Sutton are working hard to stop the human-lion conflict; protecting both the lions and the cultural traditions of the Maasai. Learn about Alexa's work in the Maasai Mara National Reserve and hear some cool stories about predator encounters!
Speaker
Alexandra Sutton is a doctoral student at Duke University, where she works with Professor Stuart Pimm to study predator conservation in East Africa.
After growing up in Baltimore, Maryland, Alexandra received her B.S. in Biology at Howard University. During her time there, she studied the ecology of the mangrove oyster in Cape Coast, Ghana —a project which launched her career in conservation and her interest in African ecology. She received an M.S. in Wildlife & Fisheries Sciences from Texas A&M University, then went on to work in science communication & government affairs at the Consortium for Ocean Leadership in Washington, D.C. before beginning her doctoral studies at Duke. Her work focuses on resolving predator-human conflicts in mixed occupation landscapes, and you canread more about her project here.
---
Painted Buntings: Birds of a Colorful Feather
January 2, 2015
Eastern Painted Buntings are a small, colorful Neotropical songbird that migrates to North Carolina's southern coastline during the summers to breed. These birds use maritime forest edges and thrive in places like Baldhead Island, where homeowners delight to see this species on their bird feeders. Learn about these beautiful birds, and what research is being conducted in order to learn more about them and what they need to survive.
Speaker
Liani Yirka is the Curator of Special Populations for the North Carolina Museum of Natural Sciences where she works to create educational and visitor experiences that remove barriers to audiences with disabilities or those that might not otherwise be able to enjoy the Museum's resources.
Liani is also a Master's student at North Carolina State University where her research focus is on the Eastern Painted Bunting, with an interest in their breeding ecology.
---
Lionfish: Invaders in Our Waters
December 5, 2014
Lionfish are a topic of concern for the marine ecosystems in the Atlantic, Caribbean, and Gulf of Mexico. Come learn what makes these beautiful fish so problematic. Meredith Bayer, Coordinator of Fish and Invertebrates, will discuss the background of the lionfish invasion and touch on the basics of keeping this fish in aquariums. Dr. Julia Stevens will discuss her work on the bacteria that live on lionfish skin and how they may have helped lionfish become such successful invaders.
Speakers
Meredith Bayer, Coordinator of Fish and Invertebrates, and her team maintain the living fish and aquatic invertebrate collection at the Museum. The collection is made up of many fresh and saltwater species that are native to North Carolina, with the exception of two lionfish! Be sure to take time to check out the 15 exhibits found throughout the Museum.
Dr. Julia Stevens got her PhD from the University of Alabama where she traveled all over the world collecting lionfish from their native and invasive ranges. Now she is studying host microbe interactions in the Genomics and Microbiology Lab at the Museum. When not working on her research, she can be found running through the streets of Raleigh, walking her dog, or strolling through the farmers' market.Read about Dr. Stevens before she was a scientist here.
---
Cicadas: The Perfect Bug
November 7, 2014
We hear about cicadas on the news, and we hear their song all summer long, but how much do you really know about these bugs? Bill Reynolds, the Curator, Coordinator & Containment Director of the Arthropod Zoo at the Museum, knows a lot! Come to the November Teen Science Café and learn why he considers cicadas the perfect bug, and how to distinguish the 21 species that live in North Carolina.
About the Speaker
Bill Reynolds is the Curator, Coordinator and Containment Director of the Arthropod Zoo at the North Carolina Museum of Natural Sciences where he maintains a living collection of arthropod and invertebrate species. His favorites are members of well-known and readily recognized groups, like cicadas and scarab beetles. Reynolds is also a contributing editor at BugGuide.net. Follow him on Twitter @NCbugs.
---
African Forest Elephants
October 3, 2014
How do you study an animal difficult to see? Elephants are the largest land animals, yet surprisingly there is a hidden species that we know very little about. This species, the African forest elephant has been understudied because it can easily hide in dense forests. Therefore scientists have to be creative and use a combination of methods to study this difficult creature. In this Teen Science Café, Dr. Stephanie Schuttler talks about using the DNA from elephant dung to study these magnificent animals.
About the Speaker
Stephanie Schuttler is a mammalogist interested in the intersections between animal behavior and conservation biology. She is a scientist in the Biodiversity Lab focusing on the eMammal project, in which citizen scientists use camera traps to understand the distribution and behavior of mammal populations. Her position focuses on integrating eMammal into middle school curricula and she is working with schools from North Carolina to Mexico and India. Her previous research focused on African elephants, raccoons, and also the behavior of human eco-tourists. When she's not working on research, she enjoys painting, fashion, and decorating her house. You can learn more about Dr. Schuttler at her staff page.
---
Getting from A to B: Making Ocean Connections
April 4, 2014
Marine creatures use an array of strategies to move throughout the ocean; to move is vital to finding food, habitat, and mates. The path marine creatures use to get from A to B is a source of fascination for many scientists, but directly tracking organisms across vast spatial and temporal scales is daunting. To approach this question, marine scientists can study known populations and use genetics and computer models to predict what factors influence the distribution of life throughout the sea. In this Teen Science Café, Doreen uses her study organisms, cownose rays and deep-sea invertebrates, to explain the fascinating ways organisms move and connect with each other.
About the Speaker
Doreen McVeigh is a doctoral student in Marine Science at North Carolina State University. Her current work looks at larval dispersal of deep-sea invertebrates throughout the Atlantic Ocean using modeling and molecular tools. Originally from Chicago, Doreen received her B.Sc. in Biology from Sweet Briar College, and M.Sc. in Environmental Biology from Hood College, studying the population genetics of cownose rays in the Chesapeake Bay and Gulf of Mexico. In her spare time, Doreen is a hunter/jumper equestrian, competitive Irish Dancer, and SCUBA diver.
---
Wearable Robotics
March 7, 2014
Scientists from the Human PoWeR (Physiology of Wearable Robotics) Lab at NC State University demonstrated a thought-controlled, lightweight, air-powered exoskeleton. This device, designed to assist or enhance human movement, uses a non-invasive technique called surface electromyography (EMG) to turn motor commands from the spinal cord into controlled muscle movement of the legs. Attendees could even "test-drive" our thought-controlled artificial muscles!
About our Speakers
Ben Robertson graduated from Emory University in 2008 with a degree in Applied Physics. During his undergraduate studies, he did research in bio-inspired robotics and single molecule biophysics. Following graduation, he had a two-year fellowship at the Walter Reed Army Institute of Research in the Division of Brain Dysfunction and Blast Injury studying the mechanics of traumatic brain injury. Ben is currently a PhD student in the Human Physiology of Wearable Robotics (PoWeR) Laboratory at the North Carolina State University. In the PoWeR Lab, he has been able to combine his love of physics, robotics, and neuroscience to study the neuromechanics of functional gait, and the impact/effects of wearable robotic exoskeletons.
Dr. Kota Takahashi received his doctorate degree in Biomechanics & Movement Science at the University of Delaware. He is currently a postdoctoral scholar in the Human Physiology of Wearable Robotics (PoWeR) Laboratory at the North Carolina State University. He studies the design of prosthetics, orthotics, and robotics to improve walking ability in people with limited mobility.
---
Lions and Tigers in Trees: How Insect Predators Protect Our Urban Forests
February 7, 2014
The most famous quote about entomology is attributed to Einstein (though we don't know if he really said it!): "If the bee disappears off the surface of the globe, man would have no more than four years to live." We rely on bees for food, and we know that without them, most of us would die of starvation. But insect predators, like parasitic wasps, are our less-celebrated superheroes, protecting the crops and trees that we need in order to survive from other insect pests. In this Teen Science Café, Emily talked about why we can't live without insect predators and what we know about how we are changing their well-being — and, therefore, our own — as we change the Earth. She discussed her current research on scale insects and the effects of urban heat islands.
About the Speaker
Emily Meineke is from Greenville, North Carolina. She is currently pursuing her PhD at NC State University in Entomology and spends a lot time staring at tiny insects in the trees. Learning about insects is both her work and her hobby. She loves sharing her passion for insects with kids and often visits schools to talk about them. She also keeps a blog about her work and interests and contributes to other blogs as a guest writer. When she isn't teaching, writing, or thinking about insects, she's reading, running, or cooking, usually with her fiancé Joe.
---
Starry Translators: How Telescopes Help Astronomers Interpret the Universe
January 3, 2014
On the most remote mountaintops sit some of the world's most advanced technological marvels. Telescopes dot the globe, collecting light that has travelled billions of years to reach us. But what happens to the light after it hits these enormous mirrors? How do telescopes turn that light into information that astronomers use to decode the universe? In this Teen Science Café, Josh will discuss how telescopes work and collect light, and you will have a chance to practice and see for yourself the different ways astronomers use light. He will also talk about his recent trip to the Southern Astrophysical Research Telescope in Chile, which is the telescope he uses for his research at the University of North Caroliina (UNC).
About the Speaker
Josh Fuchs is a graduate student at UNC at Chapel Hill pursuing a Ph.D. in Astrophysics. He got his undergraduate degree in Physics from Rhodes College in Memphis, TN. This spring he will receive his Masters in Astrophysics from UNC. His research involves a type of binary star system called a cataclysmic variable. His interest in astronomy developed in college when he started tinkering with a camera and a telescope in his free time. Though he never successfully got a good picture, his desire to study the physics of the universe grew. In his free time he plays percussion in the Chapel Hill Philharmonia and enjoys playing soccer and ultimate Frisbee with friends.
---
Brain Messages: How Neurons Communicate with Each Other, Our Bodies, and the World
December 6, 2013
Our brains enable us to perceive, think, and act. How do individual neurons, the cells that make up every brain, work together to carry out such complex jobs? At this Teen Science Café, Caroline Drucker will explain how neurons communicate and how scientists study these special cells. We'll discuss and explore neuronal signaling by trying to send messages among our group as effectively as neurons! Caroline will also discuss some of her own research in monkeys investigating how numbers are processed in the brain and how we can alter brain activity from the outside.
About the Speaker
Caroline Drucker is a graduate student in Duke University's Center for Cognitive Neuroscience pursuing a PhD in Neurobiology. She earned her Bachelor of Science at Yale in Psychology and Mathematics, and now combines those two interests by studying how the brain processes numbers. Caroline's primary research subjects are rhesus monkeys. While these intelligent animals perform mathematical tasks, Caroline can use transcranial magnetic stimulation to alter their brain function non-invasively, and also record their neural activity. Outside the lab, Caroline enjoys cooking, running, and attending many of the Triangle area's theater and sporting events.
---
The Science Behind the Sniff: What Does the Dog's Nose Know?
November 1, 2013
Dogs have been trained to sniff out explosives, illegal drugs, missing people, human remains and much more. Working dogs' abilities may seem magical or mysterious, but in this Teen Science Cafe, Cat Warren shows the multifaceted science, the rigorous training, and the skilled handling that underlie the amazing abilities of dogs who work with their noses.
We'll look at training samples, watch video of scent dogs working, and consider some recent rigorous scientific studies that both explode myths and confirm what we know: under the right conditions, the dog's nose has amazing capabilities.
About the Speaker
Cat Warren is an associate professor at North Carolina State University, where she teaches science journalism, editing, and reporting courses. She has an admittedly odd hobby: She and her German Shepherd have spent the last seven years searching for the dead. Solo is a cadaver dog. What started as a way to harness Solo's unruly energy and enthusiasm soon became a calling that introduced Warren to the hidden and fascinating universe of working dogs, their handlers, and their trainers.
Her new book What the Dog Knows: The Science and Wonder of Working Dogs chronicles her experiences training Solo to be cadaver dog, stories about other working dogs and the people who love and manage them, and of her research into how dogs smell and why that matters.
She lives with her husband, David, and two German Shepherds, Solo and Coda, in Durham, North Carolina.
---
How Many Raccoons Are There? Counting animals with Mark-Recapture
October 4, 2013
One of the most important pieces of information that a wildlife biologist seeks is how many animals there are in a given population. This information can tell us if a population is increasing or decreasing over time and the effect of human activities such as conservation efforts, global warming or habitat destruction. Mark-recapture is arguably the most accurate method for estimating population size in mammals. Join Arielle Parsons as she explains the method and shares findings from her own work with raccoons on the Outer Banks. Then, she will lead us through our own mark-recapture study to see how accurately we can estimate the population of teens at the Open Minds: Teen Science Café.
About the Speaker
Arielle Parsons is a researcher in the Museum's Biodiversity and Earth Observation Research Lab where she coordinates eMammal, a citizen-science camera trapping project to survey mammal species. Arielle is interested in mammalian and avian ecology and human-wildlife interactions but her particular expertise is raccoons. Most of her work has involved measuring population dynamics such as abundance and survival through different methods. Her work has taken her to the wilds of Canada, the mangrove swamps of West Africa, the Australian outback and the Outer Banks of North Carolina. When she's not working, Arielle relaxes by practicing martial arts and running around with her dogs.
---
Simple Rules to Move By: Coordinated Movement in Groups of Animals and Teenagers
May 3, 2013
New research on animal movement is revealing how the amazing coordinated movements of animal groups, such as schools of fish or flocks of birds, are an emergent property of each individual following a few simple decision rules. At our May 3rd Open Minds Teen Science Café, Dr. Roland Kays will review these recent findings, and explain how he is testing some of these results in primates, for the first time, with a new baboon tracking program in Kenya. Then, he will lead us through an exercise to see if we can use flocking behavior like animals to effectively move through space and avoid predation!
About the Speaker
Dr. Roland Kays is the Director of the Museum's Biodiversity and Earth Observation Research Lab. He is also a Professor in the Fisheries, Wildlife & Conservation Program at NC State University, and a Research Associate at the Smithsonian. Roland is interested in how, where, and why animals move, and his research typically involves bringing the latest technology into the wild parts of the world to discover new things. His work has allowed him to explore tropical rainforests, African savannas, and suburban woodlots. His primary expertise is with mammals, and he has published papers on lions, coyotes, sloths, agoutis, ocelots, and kinkajous. However, he feels that any species can lead to good research if the scientific question is interesting, and he has also worked on toucans, egrets, orchid bees, and even the movement of plant seeds. His field work often involves running around in the woods chasing after animals, and to stay in shape between projects he plays ultimate Frisbee, rides off-road unicycles, and tries to keep up with his two young sons.
---
Plague: New Lessons from an Ancient Disease
April 5, 2013
At our April Open Minds: Teen Science Café, Dr. Bill Goldman from the University of North Carolina will talk about plague, the deadly disease that changed the course of European history during the Middle Ages. Why do scientists continue to study this disease, and what can it tell us about the evolution and emergence of highly virulent pathogens? Dr. Goldman will provide insight into modern research on the bacteriumYersinia pestis and how we can continue to learn about new diseases by understanding old ones.
About the Speaker
Bill Goldman is Professor and Chair of Microbiology and Immunology at the University of North Carolina at Chapel Hill. Prior to that appointment in 2008, he was on the faculty of Washington University in St. Louis for 25 years. His laboratory's research focus has been on the pathogenesis of several infectious respiratory diseases, including histoplasmosis, pertussis, and pneumonic plague. With interests spanning both fungal and bacterial pathogens, Dr. Goldman has served as Editor of the journal Molecular Microbiology (2001-2008) and has also been elected to chair conferences on microbial pathogenesis, including a FASEB Summer Research Conference (2000) and a Gordon Research Conference (2002). He is a Fellow of the American Academy of Microbiology (since 2002) and a Fellow of the American Association for the Advancement of Science (since 2012). Dr. Goldman enjoys talking about his lab's research and has been invited to give more than 200 lectures at international conferences, research institutions, and regional meetings in the U.S. and 16 other countries.
It was a high school biology course that got Dr. Goldman fascinated with microbiology, and this interest grew in college (at Indiana University in Bloomington) and graduate school (at UNC-Chapel Hill). He is excited to be back in North Carolina, though he misses Major League Baseball and his beloved Cardinals. His wife, Virginia Miller, is also a microbiologist at UNC-Chapel Hill, and he has a college-age daughter who is firmly committed to a non-science career. Dr. Goldman plays ragtime and classical piano, and he enjoys photography, bicycling, and making pizza from scratch every weekend.
---
WAAZM Adventures of a Museum Veterinarian
March 1, 2013
In the vast field of veterinary medicine, WAAZM is the acronym for Wildlife, Avian, Aquatics & Zoo Medicine, and it refers to all the critters that fly, swim, creep, crawl, prowl or prance across any given habitat in the wild or in a zoo. Join Museum veterinarian Dr. Dan Dombrowski for a fun review of veterinary medicine as it applies to this diverse group of animals. We will discuss the similarities and differences between common and unusual species and review real strange and bizarre cases such as surgery on a fish in the water and exoskeletal repair of a millipede. Then we will test your animal knowledge with a trivia game!
About the Speaker
Dr. Dombrowski is currently the chief veterinarian at the North Carolina Museum of Natural Sciences (NCMNS) and Adjunct Faculty at the North Carolina State University (NCSU) College of Veterinary Medicine. He grew up in Hampton, Virginia, where he met his wife of over 20 years and best friend in high school biology class. They now have 2 great kids and lots of pets, and have lived in Raleigh since 1998.
From 1990 to 1996, Dr. Dombrowski attended Virginia Commonwealth University, where he earned his Bachelor's and Master's degrees in Biology.
Dr. Dombrowski then worked for eight years as a Research Laboratory Technician in a pharmacology lab at the Medical College of Virginia and for three years at the Museum as Curator of the Tropical Conservatory. From 2002 to 2006 he attended vet school and earned his D.V.M. from NCSU. In 2006, he received the Wildlife, Avian, Aquatic, and Zoological Medicine (WAAZM) Proficiency in Zoological Medicine Award.
Dr. Dombrowski has been an author and coauthor of several publications in pharmacology, natural history, and two book chapters focusing on invertebrate medicine. His interests include wildlife health and conservation, science education and veterinary medicine. He also enjoys collecting geodes and building with Star Wars Lego kits.
---
Assembling the Tree of Life
February 1, 2013
How do we know birds are modern-day dinosaurs? At our February Teen Science Café, Dr.Daniel Ksepka from the National Evolutionary Synthesis Center in Durham will talk about how scientists reconstruct evolutionary trees using the physical characteristics of organisms, and then we will try our hands at creating a tree for a set of mysterious metal organisms.
About the Speaker
Dr. Daniel Ksepka is a paleontologist at the National Evolutionary Synthesis Center on Duke Campus. He grew up in New Jersey, home of the first American dinosaur skeleton, and studied geology at Rutgers University as an undergraduate. Later, he earned a PhD in paleontology at the American Museum of Natural History, where he counted himself among the luckiest people in the world to walk past a giant millipede, a life-size blue whale model, and the original Tyrannosaurus rex skeleton every morning on the way to his office.
Dr. Ksepka's research focuses on the evolution of birds, and has brought him to Peru, South Africa and New Zealand in search of new fossils. In the past few years, he has taught classes in paleontology and evolution at North Carolina State University. Many NCSU students have worked in his lab and have discovered giant fossil turtles, created rapid prototypes of extinct bird brains, and surveyed the microscopic structure of fossil penguin bones. In his spare time, Dr. Ksepka enjoys bird watching, grazing his pet tortoises and rooting for the New York Giants. You can learn more about Dr. Ksepka's research at his blog "March of the Fossil Penguins" and you can follow him at KsepkaLab on Twitter.
---
What's in My Water?
January 4, 2013
At our January Teen Science Café, Dr. Heather Patisaul from North Carolina State University will talk about where our drinking water comes from, the difference between tap and bottled water, the pros and cons of the different types of containers our water comes in, and the environmental and health impacts of our water consumption choices. Then, we will put your taste buds to the test in blind taste-tests to see if you can tell the difference between different types of water and liquids stored in different types of containers.
About the Speaker
Heather Patisaul is an Associate Professor of Biology at NC State University. She grew up on the beaches just south of the Kennedy Space Center in Florida, and got her Bachelors in Zoology at the University of Florida. She then got her Ph.D. in evolution and ecology at Emory University in Atlanta, and did field work with lemurs in Madagascar before moving to North Carolina. She has always been interested in how our environment, from what we eat, to what we drink, and how we live, shapes our brain and behavior. She is also very concerned about how human activity impacts the planet and the environment.
Her current work explores the potential health consequences of exposure to chemical contaminants such as plasticizers and flame retardants, found in our homes, food and water. Heather is also an avid runner, and her first race of 2013 will be the Krispy Kreme Challenge. Last year she managed to eat only one doughnut. This year she's hoping to double that rate of consumption, and still finish ahead of her 13 year old son without getting sick.
---
Looking for Life in Outer Space
November 2, 2012
Dr. Rachel Smith, Director of the Astronomy & Space Observation Research Laboratory at the Nature Research Center and Assistant Professor at Appalachian State University. Tour of astronomy exhibits to follow.
---
What Makes a Zebrafish Nervous?
October 5, 2012
Fear, anxiety, and stress responsiveness in animals, just in time for the most fearful month of the year. NC State University Department of Zoology professor Dr. John Godwin.
---
Going, Going, Gone?
September 7, 2012
Status of Earth's rainforests, what teens can do to help conserve them, and methods scientists use to delve into their secrets. Nature Research Center director "Canopy" Meg Lowman, a pioneer of tree-top exploration and conservation.
---

Teen Science Cafes are funded by a grant from the National Science Foundation.
---
Staff