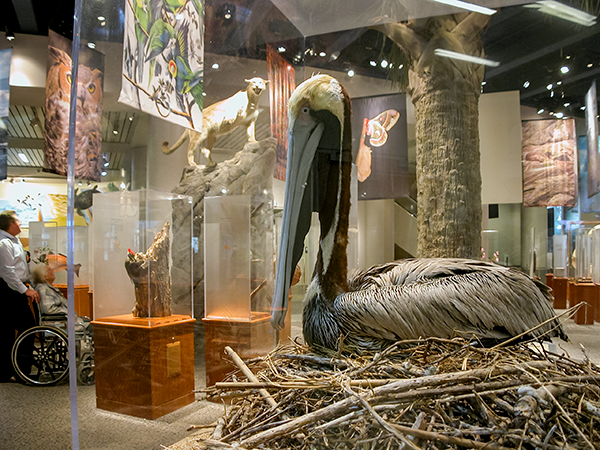 Services Available
Wheelchairs may be checked out at the front desk, free of charge.
Programs or tours for special needs groups.
Persons with disabilities desiring assistive services and other special accommodations should call Liani Yirka at 919.707.9887, Monday–Friday, 9 am–5 pm.
Museum Guide App
The North Carolina Museum of Natural Sciences has a new, fully accessible app available for FREE for all Apple devices. NC NatSci is designed to provide all visitors with a multimedia experience of the entire Museum's exhibits, a navigational map, and direct access to the Museum's website. More information and download link.
What if I don't own an Apple device?
The Museum has a set of 15 loaner devices that can be borrowed by visitors wishing to use this app. The devices are available in the Museum's Nature Exploration Center Gift Store on a first-come, first-served basis. If you have a large group visiting and wishing to use these devices, please contact the Curator of Special Populations to secure accommodations.
Prairie Ridge Ecostation
All of the facilities at Prairie Ridge are outdoors. With adequate notice (minimum 72 hours in advance of visit), staff will make reasonable accommodations in all programs to enable participation by an individual with a disability. For more information, please call 919.707.9887, Monday–Friday, 9 am–5 pm.
With adequate prior notification, Prairie Ridge staff will make every reasonable effort to accommodate individuals with mobility impairments wishing to use the trails.

Any "other power-driven mobility device" that an individual wishes to use must not cause damage to the trail surface and be able to be safely operated for the volume of visitation currently at Prairie Ridge. For more information, please contact the Director of Prairie Ridge, Charles Yelton at 919.707.8879.