For immediate release ‐ March 01, 2017
Contact: Jon Pishney, 919.707.8083. Images available upon request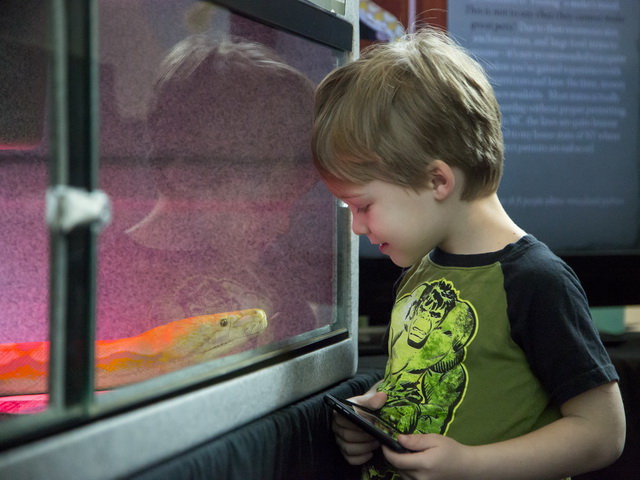 RALEIGH, N.C. ― Enjoy presentations, exhibits, craft tables and hundreds of live animals from North Carolina and around the world — including bearded dragons, venomous Gila monsters and giant alligator snapping turtles — when the North Carolina Museum of Natural Sciences celebrates its 23rd annual Reptile & Amphibian Day, Saturday, March 11, 9 a.m.–5 p.m. Free.
Event visitors can learn: the difference between reptiles and amphibians, how to identify the most common snakes in North Carolina (including the venomous copperhead), how Museum veterinarians help sea turtles that are "cold-shocked," and all about the evolution of the rattlesnake rattle. Additionally, kids can make their own "fantastic frogs" to take home, and regular or reluctant snake handlers can observe live snakes closely, or even touch them!
Special presentations include a live virtual tour of the Georgia Sea Turtle Center at 11:30 a.m.; a review of some of the stranger prehistoric turtles, from razorbacks to vacuum faces and even ninjas at noon; and a revealing look at the weird ways of the eastern chicken turtle at 1:00 p.m. Plus, hear the amazing true story of how a female Burmese python named George found her way from war-torn Vietnam to become the most popular exhibit in the Museum's history. Meet the U.S. Army vet that brought George into the states, and the author/artist couple that recounted the story in their recently published graphic novel, "An Unlikely Refugee: The Story of a Python Named George," at 1:30 p.m. And don't miss the fan favorite: live snake feeding at 2:30 p.m.
Reptile and Amphibian Day is co-sponsored by the North Carolina Herpetological Society, who will be exhibiting throughout the Museum the day of the event. The Museum will have special sea turtle T-shirts for sale to support Museum educational events. The Museum is located in downtown Raleigh at 11 West Jones Street. Free street-side and lot parking is available on weekends.