Canceled
The Museum has canceled Reptile and Amphibian Day – scheduled for Saturday, March 14 – as the health and safety of Museum visitors, volunteers and staff are our top priority. While Reptile and Amphibian Day is canceled, the Museum will be open for regular hours of operation.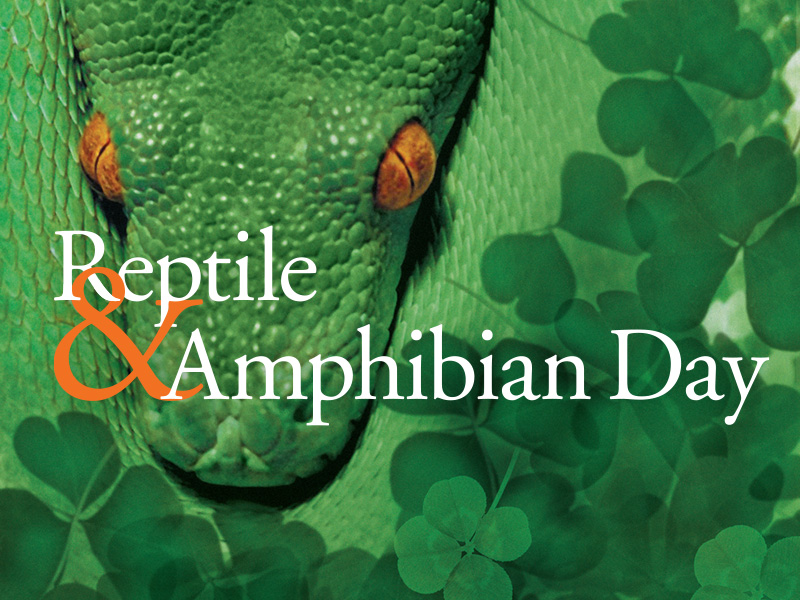 Come out to the Museum to celebrate the twenty-fifth annual Reptile and Amphibian Day, the nation's largest and most popular event dedicated to hopping, slithering, crawling critters!
There will be presentations in the Daily Planet Theater and the Windows on the World stage throughout the day, as well as dozens of exhibits featuring live animals, crafts and activities! This event is perfect for all ages — from the youngest tadpoles to the oldest tortoises.
Membership Special Offers
Free Reptile & Amphibian Day T-shirt when you join or renew Museum Membership at the Box Office on Saturday, March 14. Plus, new members enjoy a special 20% discount in Museum Stores that day!
Viper Illustration Contest
Kids 18 and under are invited to create their best and most realistic version of a viper (venomous snake) in its natural habitat for a chance to win a prize and have their drawing displayed in the Museum Store window.
Details about the Viper Illustration Contest

Sábado, 14 de Marzo
9am-5pm
¡Venga al Museo a celebrar el vigésimo quinto Día Anual de los Reptiles y los Anfibios, el evento más grande y popular del país dedicado a esas pequeñas criaturas que saltan o se arrastran!
Contaremos con presentaciones especiales durante todo el día en el Daily Planet y en Windows on the World, así como decenas de estaciones con animales vivos, manualidades y actividades! Este evento es perfecto para todas las edades, desde los renacuajos más jóvenes hasta las tortugas con más años.
Aunque el "Reptile & Amphibian Day" es enteramente en inglés, disponemos de un gran número de voluntarios bilingües repartidos por todo el evento. Busquen en sus camisetas los pines con los diferentes idiomas. Si desea más información en español sobre el Triangle SciTech Expo, por favor póngase en contacto con Hugo Romero-Sanchez en hugo.sanchez@naturalsciences.org o en el 919.707.9965.
CONCURSO DE DIBUJO: VÍVORAS
Artistas de hasta 18 años están invitados  a crear su mejor y más realista versión de una vívora (serpiente venenosa) en su hábitat natural. Podrán ganar premios además de ver su dibujo expuesto en la tienda del Museo.
Detalles sobre el Concurso de Dibujo de Vívoras