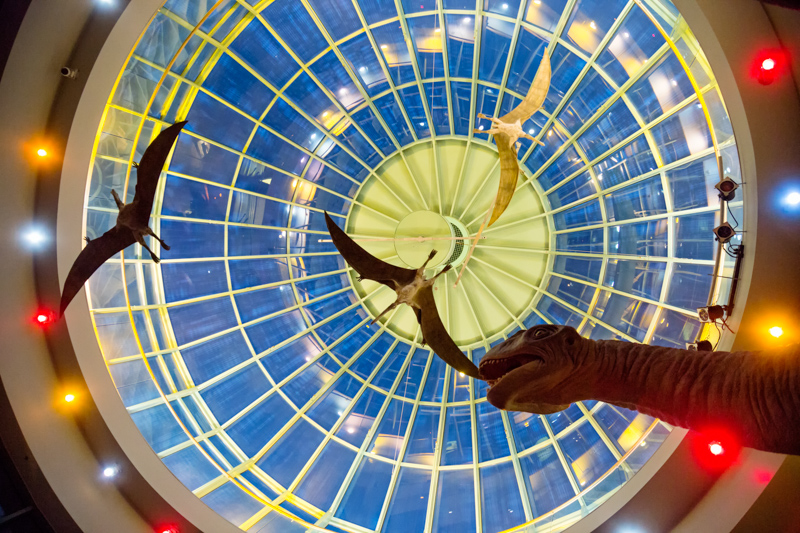 ---
Nocturnal by Nature :: Activities | Food & Drink
---
All activities are from 7 to 10pm unless otherwise noted.
Dance With Dinosaurs
Got scary good dance moves? Head to the dance floor inside the Terror of the South exhibit on the 3rd floor with DJ Chocolate Rice.
Costume Contest
Register your costume at the 1st floor station by the Museum Store for the chance at fabulous prizes!
Mechanical Bull Shark
Channel your inner Chief Brody, test your endurance on the mechanical "bull shark." Due to device constraints, riders must be over 4' tall and under 250 lbs.
Spirits
Learn how our third chemical sense adds to our sense of taste by sampling a commonly consumed "spirit."
Creatures from the Bones!
Paleontologists find bones and may have a limited idea of what the live animal looked like. That's where paleo-artists come in. Pick a skeleton, pretend it's a fossil and use the art materials to draw what YOU think this creature would look like.
S.O.S – Save Our Sharks
Meet shark experts from the NC Aquarium at Fort Fisher with bio-facts and images of sharks found along the NC coast and find out how the NC aquariums are serving to protect shark species.
Science, Society & the Strange, NC State University
Many strange or anomalous phenomena are outside the mainstream of scientific investigation, yet still remain of strong popular interest. NC State's Darby Orcutt teaches and carries out research on "Science, Psi, Sasquatch and Spirits."
Over the Moon Photo Booth
Get a photo of your Halloween costume at the photo booth and take home a souvenir print.
Science Fact/Spooky Fiction Trivia – 8:30pm in the Acro Cafe
Do you have Ludophobia, the fear of games and trivia? Gather your team and overcome your fear for the chance to win cool prizes. The game begins on the 4th floor in the Acro Cafe at 8:30 PM.
And more to come!