For immediate release ‐ January 08, 2019
Contact: Jon Pishney, 919.707.8083. Images available upon request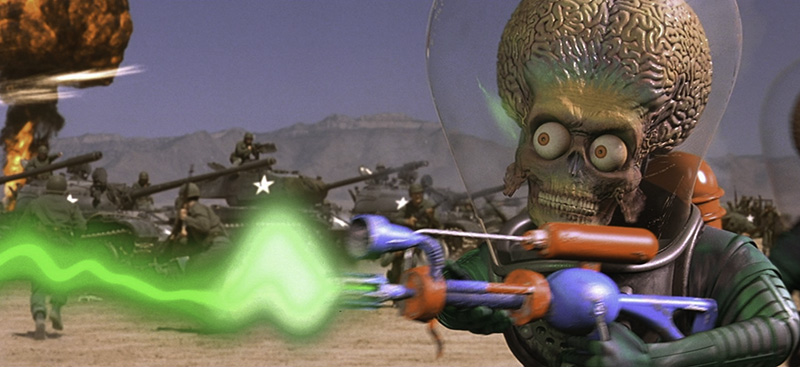 (RALEIGH, N.C.) — Once you believe, once you rise above fear, then you will be invited to meet with a new people more powerful than the might of America, more advanced than the brains of Britain. But be prepared for a few changes to what we know and love, as we must learn to dance to a new tune when "Mars Attacks!" takes over the big screen at the North Carolina Museum of Natural Sciences, Friday, Jan. 18 at 7 p.m.
If it's a Tim Burton film it must be quirky, but "Mars Attacks!" (PG-13, 1996) ramps "quirky" up to 11 in this campy spoof of a '50s-era sci-fi flick. After little green Martians with exposed brains and bulging eyes land on Earth, it soon becomes apparent that peace is not on their agenda, and that they have entirely too much fun melting Earthlings with their ray guns. The film features an awesome ensemble cast of good actors acting badly. From Jack Nicholson as President James Dale to Pierce Brosnan as the ever-hopeful Professor Kessler to Danny DeVito as the "rude gambler." Also getting in on the fun are Glenn Close, Annette Benning, Natalie Portman, Rod Steiger, Martin Short, Michael J. Fox, Sarah Jessica Parker plus cameos by Tom Jones and Jim Brown.
"Mars Attacks!" also pays homage to a series of Topps trading cards of the same name that came out in 1962 and featured artwork by science fiction artists Wally Wood and Norman Saunders. The cards proved popular with children, but depictions of explicit gore and implied sexual content caused an outcry, leading the company to halt production. The cards have since become collectors' items.
Prior to the movie, beginning at 5:30 p.m., check out movie-themed science stations. Plus, museum astronomer Patrick Treuthardt will help separate the facts from the fiction following the screening.
Finally Friday movie nights feature the A/V Geeks' Skip Elsheimer guiding a fun night of trivia and tongue-in-cheek commentary on popular science-themed movies as well as samples from his vault of 24,000+ short films. Movies are also complemented by experts and hands-on science stations related to each night's theme. Dinner (such as sliders or tacos), drinks (including NC beer and wine) and popcorn will be available for purchase before the show. Doors open at 5:30 p.m.; movies and presentations begin at 7 p.m. Admission: $5/person. For information or tickets, visit naturalsciences.org/calendar/finally-friday/.
---
The North Carolina Museum of Natural Sciences in downtown Raleigh (11 and 121 W. Jones St.) is an active research institution that engages visitors of every age and stage of learning in the wonders of science and the natural world. Hours: Monday–Saturday, 9 a.m.–5 p.m., and Sunday, noon–5 p.m. General admission is free. Jason Cryan, PhD, Interim Director. For more information, visit naturalsciences.org.