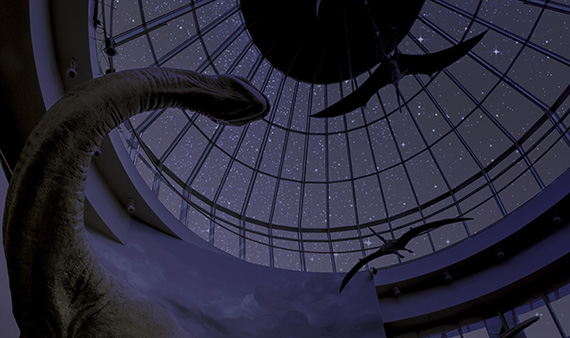 Night at the Museum :: Sleepover Basics :: Registration & Rules
The Museum's staff is committed to making the evening a fun experience for everyone. Please help us maintain a safe environment for all guests and collections by picking up after yourself, respecting Museum rules, and keeping an eye on the children in your group. If you see something amiss, please alert a staff member.
Buy Tickets for Night at the Museum
Booking Policies
This is a family-friendly event that is ideal for ages five and older. Youths under the age of 17 must be accompanied by an adult, adhering to a ratio of up to three youths per adult.
Registration is required and will close approximately two weeks prior to the event date. No walk-ins will be admitted.
Tickets are non-refundable and non-transferable.
Sleeping arrangements are assigned by the Museum based on the capacity of the sleeping areas. A request for a couple or group to sleep in one area may be made at time of booking, but fulfillment is not guaranteed.
Sleepover Rules
Check-in begins at 7:00pm and closes at 8:00pm. Late entry will not be permitted after 8:00pm.
All belongings must be cleared from the building before the Museum opens at 9:00am the following morning.
Water bottles are permitted, however, no additional outside food or drink is permitted inside the Museum. If anyone in your group has any dietary requirements or restrictions, please contact catherine.starek@naturalsciences.org before booking.
Alcohol and drugs are not permitted. Smoking is also not allowed anywhere on property. Anyone found to be in possession of, or under the influence of, any of these substances will be asked to leave immediately without refund.
Shoes must be worn at all times inside the Museum and may only be removed to sleep.
Adults and chaperones must take responsibility for supervising children and adhering to all Museum rules.
Have additional questions about this event? Contact the Membership Office at 919.707.9296 or catherine.starek@naturalsciences.org.