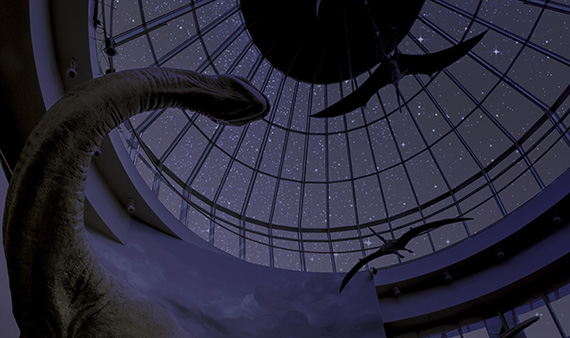 Night at the Museum :: Sleepover Basics :: Registration & Rules
NC Museum of Natural Sciences
Nature Exploration Center
11 W. Jones Street, Raleigh, NC 27601
Where to Park: Parking is available in several public decks and lots within walking distance of the Museum.
MAP AND DIRECTIONS
Check-in begins at 7:00pm and closes at 8:00pm. No entry will be permitted after 8:00pm.
Lights Out is at 11:30pm. Lights On is at 7:00am. Please respect Quiet Time between 11:30pm and 7:00am.
Quiet time in the early-to-bed zone will begin at 9:00pm.
All belongings must be cleared from the Museum by 9:00am.
Guests are encouraged to continue exploring all of the Museum's wonders during the light of day when we open to the public at 9:00am.
What to Bring:
Sleeping bag, pillow, and sleeping pad.
Air mattresses are permitted; however, access to outlets is regulated by the Museum, and guests are responsible for bringing their own pumps.
Pajamas and toiletries. (Note: Restrooms are limited. Please expect to share sink space.)
Water bottle.
Flashlight.
Ear plugs (optional).
Where to Sleep: Guests will sleep either in our Coastal North Carolina Hall on the 1st floor or in our Mountain Cove, Tropical Connections, or Prehistoric North Carolina Halls on the 3rd floor. Make sure to indicate your preferred sleeping area when prompted during checkout. Prompt arrival is recommended for guests wishing to secure a specific location within these halls.
An upgraded sleeping experience in our "Terror of the South" exhibition (nicknamed "The Acro Dome," pictured above) is also available for an additional fee and can be purchased at the time of booking. Space is very limited, and will be filled on a first-come, first-served basis. (Note: The Acro Dome sleeping area SOLD OUT as of 6/15/17.)
Where to Eat:  Guests should eat before arriving at the event. The Daily Planet Café will be open from 5-7pm on Friday, August 11, for guests who are interested in having dinner at the Museum. Due to the sensitivity of our collections, no outside food or drink is permitted. A continental breakfast will be available between 7-8am in the Acro Café. Guests with food allergies or dietary restrictions should contact catherine.starek@naturalsciences.org before booking with us.