PROGRAMS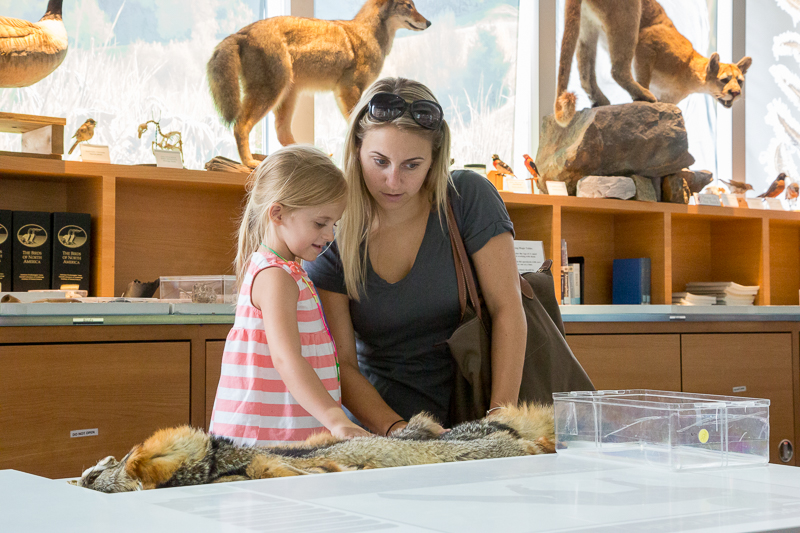 Guided Tactile Tours
Free but registration is required.
Join us for a sensory exploration of North Carolina's diverse natural habitats and discover the variety of creatures who call North Carolina home. This interactive tour engages your senses to investigate the textures, sounds and smells of the natural world that surrounds us. Highlights include a variety of specimens like Atlantic Ocean whales, a giant salamander of the Appalachian Mountains, and the Terror of the South — the Acrocanthosaurus!
Outreach programs can be tailored to meet the needs of any audiences, including Spanish language speakers, at-risk youth, students and adults with disabilities, pediatric patients and their families, and seniors.
EVENTS
STEAM CAREER SHOWCASE FOR STUDENTS WITH DISABILITIES
Held annually in the fall, the STEAM Career Showcase for Students with Disabilities is an educational event where attendees meet role models with disabilities who have thriving careers in STEAM fields. Students leave with a better understanding of the many professional possibilities available and the inspiration to pursue STEAM careers.
For information regarding the annual event, see the STEAM Career Showcase for Students With Disabilities on our Program and Events Calendar.
Interested in past events? Watch the archived recordings here.
Annual Sensory-friendly Event at the Museum
Held once a year for anyone to enjoy the Museum in a calmer, quieter atmosphere featuring Museum scientists, live animals and their keepers, and a host of other activities.
Check back soon for more information regarding our upcoming 2023 Sensory-friendly Event at the Museum!
GENERAL EVENTS
The North Carolina Museum of Natural Sciences aims to provide a friendly, accessible experience for all visitors at our general events. The Events Access Guide provides a comprehensive list of available accommodations at our large public events.
---
Staff
Samantha Frigerio
Coordinator of Accessibility and Inclusion