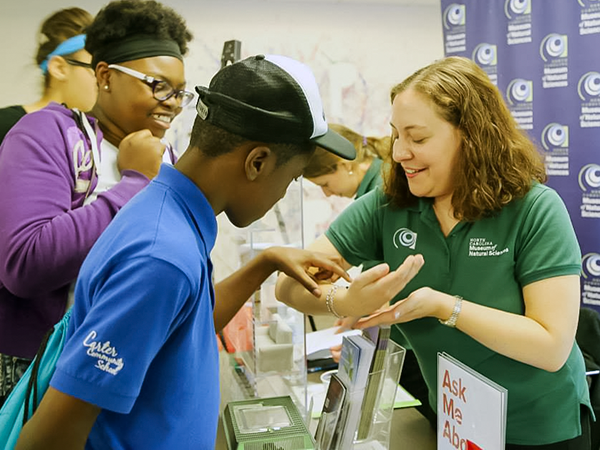 The Museum comes to you with interactive programs featuring specimens, activities and live animals that connect participants with the natural world.
Programs are flexible and can be taught at many locations, including but not limited to: schools, camps, libraries, community festivals and early childhood or senior centers. Presentations can be adapted for all ages and abilities.
SCHEDULING INFORMATION
To schedule, please fill out the Offsite Outreach Request Form. Scheduling requests must be made at least six weeks prior to the program date.
If you have questions, please contact Martha Fisk and Laura Beth Speer at outreach@naturalsciences.org.
Cancellations: A minimum two-week notice (in writing) is required for a refund.
Cancellations due to weather: If Wake County schools are canceled or delayed due to weather, programs will be rescheduled as the Museum's calendar permits. If we are unable to reschedule your program, we will offer a credit or refund as appropriate.
---
Festival Programs
Museum educators bring a variety of materials to provide an interactive, educational experience at your event. We offer a variety of themes, including state symbols, scientific tools and more. Availability of live animals may be limited due to weather and other set-up conditions at the time of the event.
Fee: $120 per hour (Prices include tax.)
Note: This is not a structured lecture for large groups.
---
Small Group Programs
Group size: Minimum of 8; maximum of 30. For more than 30 participants, you must schedule additional programs.
Note: An adult from your organization must be present during programs.
Fee: $120 per program (Prices include tax).
Program length: 60 minutes
***Programs with asterisks feature live animals. These Animal Ambassador programs have limited availability on evenings and weekends. Please note that we cannot guarantee animals will be able to be touched during your program.
---
Animal Tracks and Signs***
Grade levels: all ages
Learn how to use your senses and interpret clues that animals leave behind. Compare frog and bird calls, identify tracks and scat, and meet some of the animals you might encounter in your own backyard.
Science Curriculum Correlations: 4.L.1, 5.L.2
Birds of a Feather
Grade levels: all ages
Discover the world of birds using replicas and study specimens to learn about their adaptations and become familiar with the songs and behaviors of common North Carolina species.
Fossils and Prehistoric Life
Grade levels: 2nd grade and up
How do scientists use fossil clues to uncover the world of the distant past? Explore real fossils and replica specimens to learn about fossil formation and paleontology.
Science Curriculum Correlations: 4.E.2, 8.L.4
Other Curriculum Correlations: ELA.G2:M2
Meet the Animals***
Grade levels: all ages
Meet some of the Museum's live animal ambassadors and learn about their characteristics, adaptations, and the roles they play in our environment. We offer a large variety of themes, including reptiles, NC natives, tropical animals and more.
Science Curriculum Correlations: K.L.1, 1.L.1, 1.L.2, 4.L.1, 5.L.2
Rocks and Minerals
Grade levels: Kindergarten and up
Investigate the properties of rocks and minerals through hands-on activities and observations.
Science Curriculum Correlations: 1.E.2, 4.P.2
Story Time***
Grade levels: Pre-k (ages three and up), K–1st grade
Children's literature comes to life when you combine story time with the natural sciences. Each program features a children's book accompanied by specimens and live animals. We offer a large variety of themes, including dinosaurs, life cycles, seasons and more.
Tools of the (Scientific) Trade
Grade levels: 3rd grade and up
Learn the importance of scientific tools and how to use them. Experiment with a variety of tools used every day by scientists around the world, including calipers, micropipettes, scales and more.
---
Staff