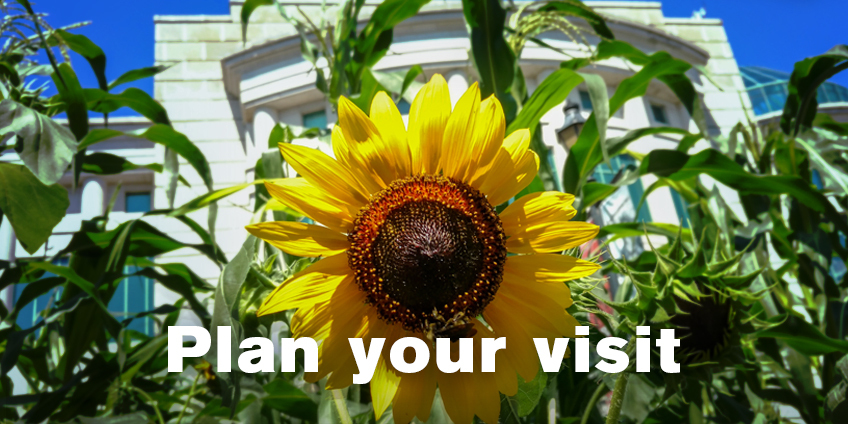 The North Carolina Museum of Natural Sciences in downtown Raleigh is open Tuesday–Sunday, 10am–5pm, with procedures and plans in place to help ensure the safety of visitors and staff.
To help make your experience the best it can be, please Know Before You Go.
A cloth mask covering your nose and mouth is strongly recommended for individuals who are unvaccinated. We appreciate your cooperation!
Se recomienda encarecidamente el uso de mascarillas de tela que cubran nariz y boca para aquellas personas que no han sido vacunadas. ¡Agradecemos su cooperación!
When is the best time to visit NCMNS in downtown Raleigh?
Tuesday through Friday is a great time to visit. Typically the Museum is less busy, and the only line you may experience is at 10:00am prior to the Museum opening.
We are busiest on Saturday and Sunday. Wait times are usual on weekends. Last entry is at 4:45pm. The building closes at 5:00pm.
Please check this page before visiting, and follow the Museum on Twitter, Facebook and Instagram for the most up-to-date information. For additional questions email info@naturalsciences.org or see the FAQs. We look forward to seeing you soon!
Hours
---
Know Before You Go
Per Gov. Cooper's Executive Order 215, face covering requirements are lifted in most settings while indoors.
In compliance with Executive Order 215, face masks are no longer required for visitors in most settings outdoors or indoors at our facilities. We strongly encourage those who have not yet been vaccinated for COVID-19 to continue wearing masks and practicing social distancing while visiting our facilities.
Cloth face coverings are available for purchase in the Museum Store.
Enhanced cleaning of the facilities will take place multiple times throughout the day.
Hand sanitizer stations are accessible throughout the Museum.
Water fountains will not be in use.
The Museum's daily onsite programming is temporarily postponed.
If you are experiencing symptoms of illness, we ask that you postpone your visit.
---
Download the Museum's Reopening Map
Temporarily Closed Areas
Areas within the downtown Museum that will remain closed during the initial opening period include:
WRAL 3D Theater (3D movies)
Windows on the World (Storytime and Meet the Animals)
Living Conservatory (aka "the butterfly room")
Discovery Room
The hands-on Investigate Labs and the Naturalist Center
Additional small permanent exhibits (areas)
Top of page
---
Prairie Ridge
Prairie Ridge Ecostation in west Raleigh will be open Tuesday through Saturday, 9am to 4pm (closed on Sunday and Monday). The Bird Blind remains closed to the public at this time. Visit Prairie Ridge's Facebook page for the latest information.
Top of page
---
Whiteville
Outdoor spaces at the NC Museum of Natural Sciences at Whiteville will be open Tuesday through Saturday, 10:00am–4:00pm (closed on Sunday and Monday). Restrooms available. Visit the Whiteville Facebook page for the latest information.
Top of page
---
Contentnea Creek
Contentnea Creek is now open to the public Saturdays from 10am to 2pm. Groups are still welcome to book reservations. Please fill out the form on this page to arrange a group visit or contact Maria McDaniel, maria.mcdaniel@naturalsciences.org for more information. Keep an eye on our events calendar and our Facebook page for special events happening at NCMNS Contentnea Creek.
Top of page
If you are looking for additional activities or resources, please visit the Museum's Programs and Events Calendar or NCDCR.gov for complete event listings and information.