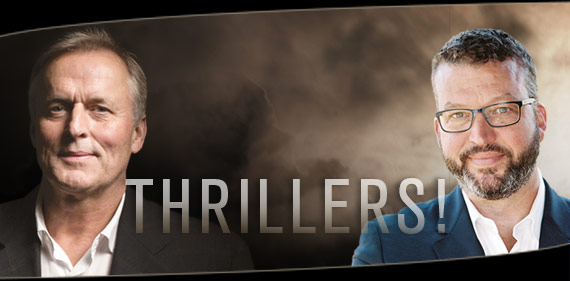 Thrillers! An Evening with John Grisham and John Hart
February 23, 2018, 7:30pm, Meymandi Concert Hall
Enjoy a candid conversation with #1 New York Times bestselling authors JOHN GRISHAM and JOHN HART about the imagination and creativity of writing thrillers, hosted by D.G. Martin of UNC-TV's North Carolina Bookwatch.   
HART was the first to win two consecutive Edgar Allen Poe Awards for Best Mystery Novel – Down River and The Last Child. Building on the world first seen in The Last Child, The Hush explores friendship, persistence and forgotten power. A signed copy of The Hush is included with admission. 
GRISHAM's novels have been translated into 48 languages and sold more than 300 million copies. Nine of his novels including The Firm, The Client, The Pelican Brief, and A Time to Kill have been adapted into feature films. His newest legal thriller The Rooster Bar takes you inside a law firm that's on shaky ground. 
---
Standard Admission tickets are still available. All event tickets (except student) include a signed copy of Hart's newest release, The Hush in advance of its Feb. 27 release. Museum Members receive 10% discount on all tickets. Doors open for Standard Admission at 6:30pm.  
Sponsored by WRAL-TV, Business North Carolina magazine and the North Carolina Humanities Council. 
Event proceeds will benefit the non-profit Friends of the N.C. Museum of Natural Sciences in support of dinosaur research and education at the Museum. These organizations gratefully acknowledge the complimentary participation of Grisham and Hart, and additional support from The Umstead Hotel and Spa.
Please note: Ticketmaster is Duke Energy Center's only official online ticketing service. Tickets purchased from websites other than DukeEnergyCenterRaleigh.com or Ticketmaster.com may be stolen or counterfeit, and often carry service charges that greatly inflate the overall price of your tickets. When purchasing tickets online you should only purchase from websites you can trust, DukeEnergyCenterRaleigh.com and Ticketmaster.com.
---
Enter for a chance to become a named character in New York Times bestselling author John Hart's next novel! 
One winner will be drawn at random and announced on stage at the event. You need not be present to win. Entry deadline is February 22.
Proceeds benefit the Friends of the NC Museum of Natural Sciences to support paleontology research and education.