For immediate release ‐ September 25, 2018
Contact: Jon Pishney, 919.707.8083. Images available upon request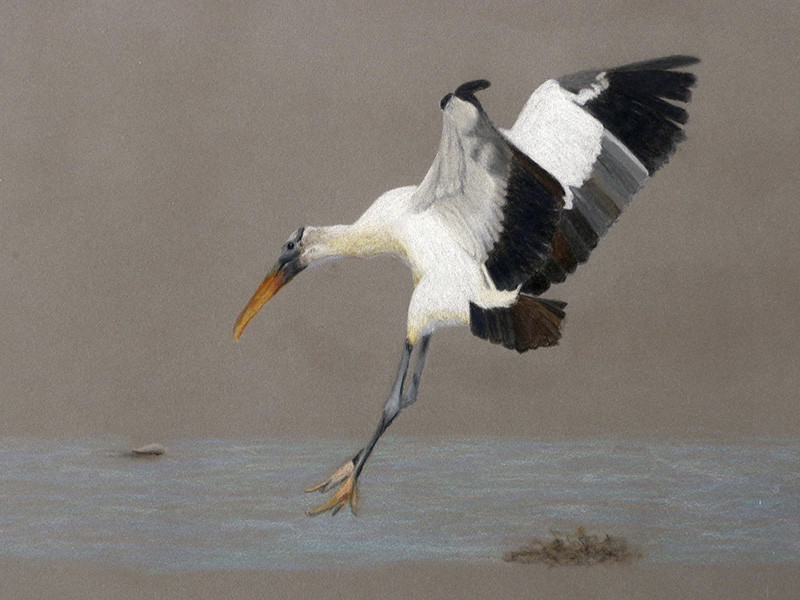 (RALEIGH, N.C.) — The North Carolina Museum of Natural Sciences' Nature Art Gallery presents "Wildlife Art," paintings and artwork by Pinehurst resident and lifelong artist Betty Hendrix. The show runs Oct. 5–28, with a Gallery reception Saturday, Oct. 6, 2–4 p.m. All exhibited art is for sale.
Hendrix' main mediums are colored pencil and pastel, but she also enjoys watercolor, ink drawing and scratchboard. She is also a founding member of the Artists League of the Sandhills in Aberdeen, N.C., and teaches pastel, colored pencil and ink classes there. "I have been drawing and painting all my life," she says. "I love photography as well and have been developing my skills at getting good photos of birds in the wild. I have some favorite locations in both the Carolinas where I can anticipate some of the action My artworks are done from my own photos or from life. Since wildlife does not sit still for the artist, this show is all done from my own photos. My studio overlooks a nice local lake called Spring Valley Lake. Drawing and painting give me the chance to 'relive' my experiences and visions. Artwork is to me a form of meditation."
Hendrix has had her works juried into more than 75 National and International Exhibitions around the country and online. She has had several solo exhibitions and two-artist shows in North Carolina. In 2010 she was awarded signature status in the Colored Pencil Society of America. In 2009 she received an Honorable Mention Award from Artist's Magazine in their national online competition in the Drawing Category. She is also an invited member of Miniature Painters, Sculptors and Gravers Society of Washington, D.C., and a member of the Pastel Society of North Carolina, as well as the national and local Colored Pencil Society.
The Nature Art Gallery is located inside the Museum Store. Hours are Monday through Friday, 10 a.m. to 4:45 p.m.; Saturday, 9 a.m. to 4:45 p.m.; and Sunday, noon to 4:45 p.m. Admission to the Gallery is free. All exhibited art is for sale. For more information about the Nature Art Gallery, call 919.707.9854.
---
The North Carolina Museum of Natural Sciences in downtown Raleigh (11 and 121 W. Jones St.) is an active research institution that engages visitors of every age and stage of learning in the wonders of science and the natural world. Hours: Monday–Saturday, 9 a.m.–5 p.m., and Sunday, noon–5 p.m. General admission is free. Emlyn Koster, PhD, Director. For more information, visit naturalsciences.org.