For immediate release ‐ July 23, 2021
Contact: Micah Beasley, 919.707.9970. Images available upon request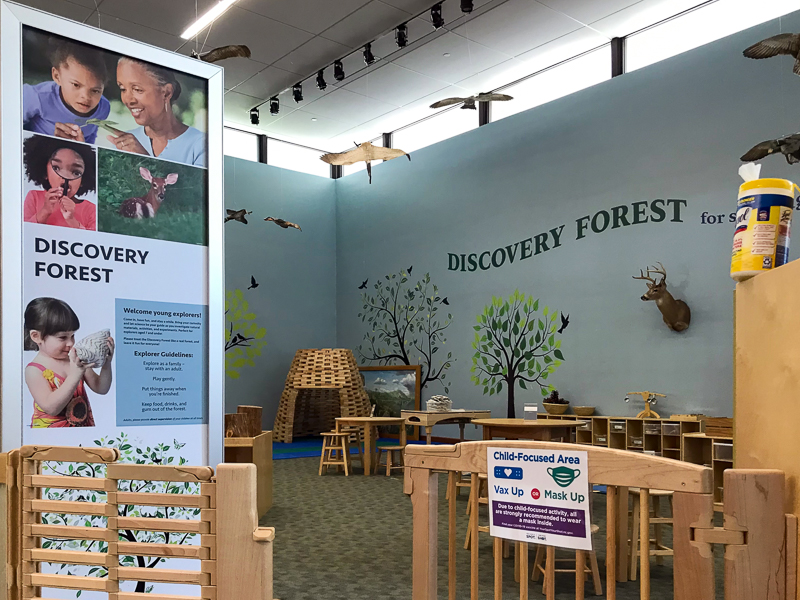 The Museum's Whiteville location is pleased to announce the return of a popular, interactive experience: The Discovery Forest.
The ideal place for intergenerational learning, The Discovery Forest is filled with natural items and activities designed for young children and adults to enjoy together. Guests can read a science story in the book nook, perform an animal puppet show or engage in sensory play with natural items such as shells or wood.
As a child-focused area, face masks are requested and hand sanitizer is available for use. High-touch surfaces are cleaned daily. Each group is invited to enter the space after a brief orientation from one of our friendly Whiteville Museum staff members or volunteers.
Whiteville staff report, "It is so heartening to hear the exclamations, laughter and the other sounds that make up the language of learning through play returning to The Discovery Forest."
In addition to the return of The Discovery Forest, Whiteville guests can enjoy the new "Check Out Nature" backpack program. These backpacks are loaded with activities that takes visitors on an exploration of Museum grounds. Topics include birds, animal tracks, signs and "life long ago."
Get more information about the Museum's Whiteville location.
---
For more information about our upcoming activities, conservation news and ground-breaking research, follow @NaturalSciences on Instagram, Twitter and Facebook. Join the conversation with #visitNCMNS.