For immediate release ‐ October 08, 2019
Contact: Jon Pishney, 919.707.8083. Images available upon request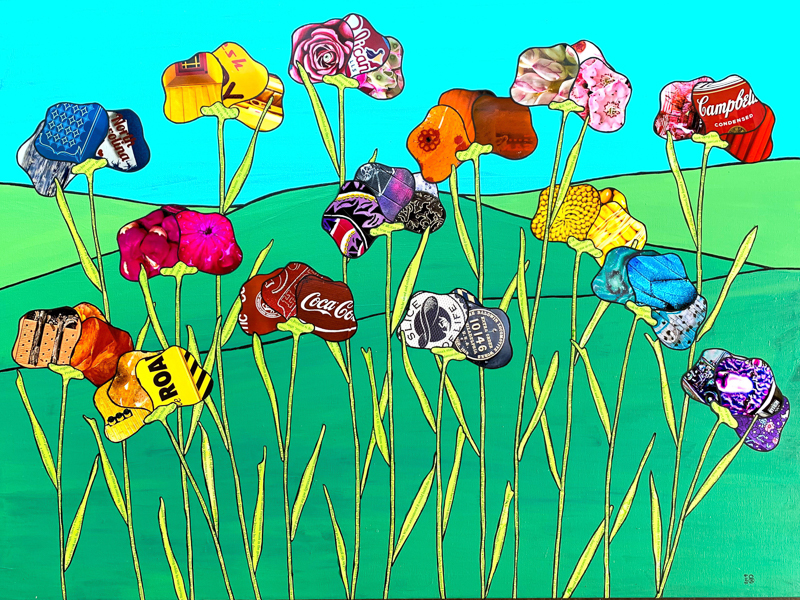 (RALEIGH, N.C.) — The North Carolina Museum of Natural Sciences' Nature Art Gallery presents "Hidden Treasures," artwork by Sara Roberts. The show runs Oct. 4–27, with a Gallery reception Saturday, Oct. 5, 2–4 p.m. All exhibited art is for sale.
Roberts grew up in Franklin, North Carolina, just west of Asheville. She spent most of her time in the woods: picking blackberries, climbing trees, hunting crawfish and identifying plants. Her love for the beauty of North Carolina has served as artistic inspiration from childhood on. Self-taught and influenced by area artist Jane Filer, Roberts began making her own art in 2011, using vibrant images from all over the state in her acrylic, watercolor and photo collaged mixed media paintings.
"My work incorporates photographs of places and objects both popular and obscure that highlight texture and color throughout the state of North Carolina," Roberts says. "Each piece contains between five and 150 or more photographs. If the viewer looks closely, they will find Hidden Treasures from our state.
Roberts' work has been shown at North Ridge Country Club in Raleigh, Ameriprise in Raleigh, Morgan Street Food Hall in Raleigh, and can be found for sale at the Sugar Magnolia in Wake Forest, Extraordinaire at Triangle Town Center in Raleigh and The North Carolina Museum of History gift shop. She has also written and illustrated a book about our state folk artist, Vollis Simpson, completed in 2019, which is currently up for review to publish at Pelican Publishing Company. Two more books are currently in the works with artists Jane Filer and Lisa Oakley of Cedar Creek Gallery in Creedmoor, NC. She also currently teaches visual art and printmaking at Wake Forest High School in Wake Forest, North Carolina.
The Nature Art Gallery is located inside the Museum Store. Hours are Monday through Friday, 10 a.m. to 4:45 p.m.; Saturday, 9 a.m. to 4:45 p.m.; and Sunday, noon to 4:45 p.m. Admission to the Gallery is free. All exhibited art is for sale. For more information about the Nature Art Gallery, call 919.707.9854.
The North Carolina Museum of Natural Sciences in downtown Raleigh (11 and 121 W. Jones St.) is an active research institution that engages visitors of every age and stage of learning in the wonders of science and the natural world. Hours: Monday–Saturday, 9 a.m.–5 p.m., and Sunday, noon–5 p.m. General admission is free. For more information, visit naturalsciences.org.