For immediate release ‐ September 13, 2023
Contact: Jon Pishney, 919.707.8083. Images available upon request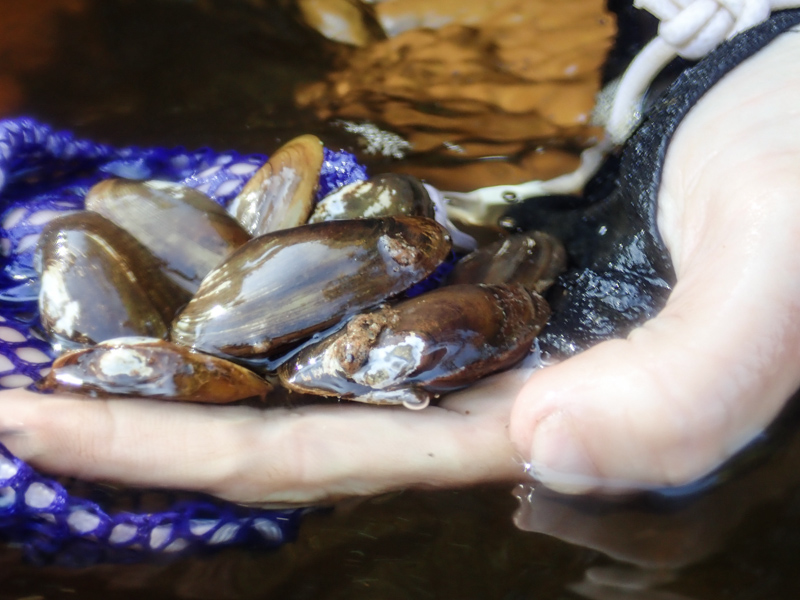 A biologist holds a handful of salamander mussels (Simpsonaias ambigua). Photo: Megan Bradley/USFWS.
The Museum's Research Curator of Mollusks, Dr. Art Bogan, was interviewed by Pittsburgh's NPR station WESA.  The article begins:
A species of freshwater mussel found in pockets of the Allegheny River might soon be protected under the Endangered Species Act, as proposed by the U.S. Fish and Wildlife Service.

Salamander mussels are relatively small: their dark brown, oval shells grow to just two inches. Some biologists liken the ecological role of salamander mussels — and other freshwater mollusks — to a river's liver as they filter bacteria, algae, detritus and even heavy metals from the water. Though perhaps the invertebrates could be considered a river's spine — mussels provide structure to a river's bottom as their colonies burrow into sand and gravel beds, which prevents silt, clay and sand from shifting.
---
For more information about our upcoming activities, conservation news and ground-breaking research, follow @NaturalSciences on Instagram, Twitter and Facebook.