For immediate release ‐ October 27, 2017
Contact: Jon Pishney, 919.707.8083. Images available upon request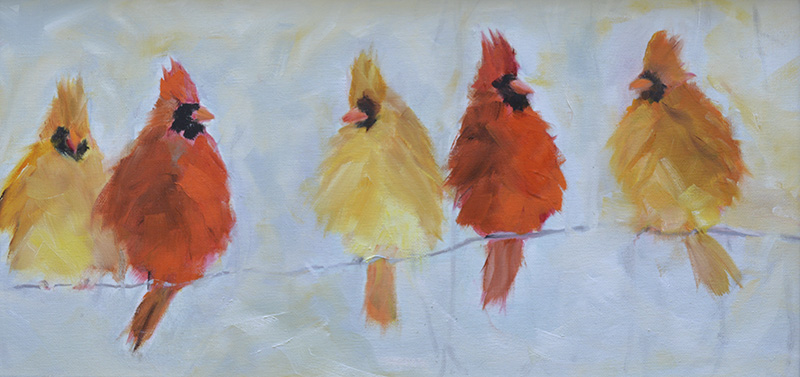 (RALEIGH, N.C.) — This November, the North Carolina Museum of Natural Sciences' Nature Art Gallery presents "Nature's Enchantment," paintings by Chatham County-based artist and commercial orchid grower Rita Baldwin. The show runs Nov. 3-26, with a gallery reception Saturday, Nov. 4, from 2 to 4 p.m. Admission to the Gallery is free. All exhibited art is for sale.
"Most of my paintings are inspired by the beauty and moodiness of nature," Baldwin says. "Many of the landscapes are representations or impressions of scenes in Chatham County, where I live, or scenes from surrounding counties." As a native Floridian, she often travels to rivers of central Florida for inspirational water scenes. "I could spend days and days painting song birds and water birds."
Baldwin's painting style is often dictated by her subject or the mood it presents. "Over the years, I have discovered that I do not have a preference for one particular style of painting. Sometimes it calls for the soft effects of brushes, others for the textured effect of a palette knife. I also enjoy using various surfaces and seeing how paint behaves differently depending on the smoothness or texture of the substrate."
While Baldwin considers herself to be mainly self-taught, she says she has received valuable guidance from Catherine Martin of Apex and during workshops with well-known artists who have helped her refine her skills. Baldwin's work has been shown in several exhibitions in Chapel Hill and Pittsboro and she has been a regular contributor to the Chatham Artists Guild studio tour since 2008.
The Nature Art Gallery is accessible through the Museum Store. Hours are Monday through Friday, 10 a.m. to 4:45 p.m.; Saturday, 9 a.m. to 4:45 p.m.; and Sunday, noon to 4:45 p.m. For more information about the Nature Art Gallery, call 919.707.9854.
---
The North Carolina Museum of Natural Sciences in downtown Raleigh (11 and 121 W. Jones St.) is an active research institution that engages visitors of every age and stage of learning in the wonders of science and the natural world. Hours: Mon.–Sat., 9 a.m.–5 p.m., and Sun., noon–5 p.m. General admission is free. Emlyn Koster, PhD, Museum Director. For more information, visit naturalsciences.org.