For immediate release ‐ May 22, 2017
Contact: Emelia Cowans-Taylor, 919.707.9837. Images available upon request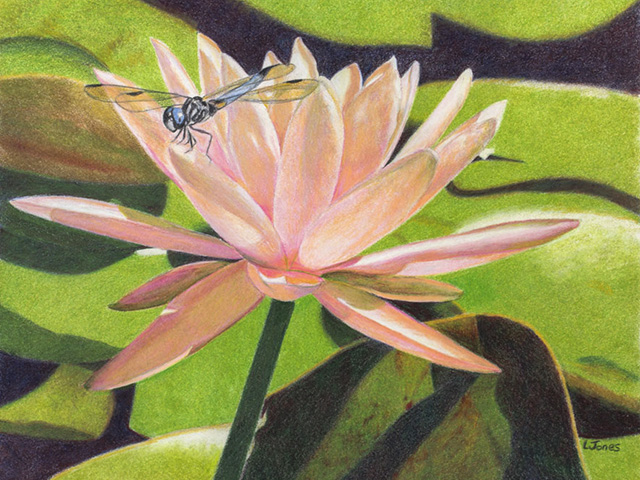 RALEIGH, N.C. — The North Carolina Museum of Natural Sciences' Nature Art Gallery presents "North Carolina's Natural Beauty," a selection of photography-inspired works in colored pencil by North Carolina native Linda Jones. The show runs June 2 through July 31. A Gallery reception honoring the artist will be held Saturday, June 3 from 2 to 4 p.m.
"The focus of my art is the extraordinary beauty I see in nature, whether in a plant, animal or landscape," says Jones. "Using my own photographs, I paint with colored pencil to capture this natural beauty as realistically as possible. The majority of my subjects have been found in North Carolina, many in my Raleigh neighborhood. My hope is that the viewer will be inspired by the wonders found in everyday nature and will be more conscious of the importance of preserving our planet."
Jones was born in North Carolina and educated at the University of North Carolina at Chapel Hill, where she majored in education and library science. Having moved to Richmond, Virginia after college, she returned to Raleigh in 1991 and recently moved to the Springmoor Retirement Community with her husband. "Painting in oils and acrylics has been an interest of mine for many years," Jones adds. "While taking a class at the NC Botanical Garden I discovered colored pencil. Classes at Sertoma Art Center and Kate Lagaly developed my interest in this medium which I now use exclusively."
Jones has exhibited in group shows with the Colored Pencil Society of America Chapter 114 at the three North Carolina Aquariums, the art centers in Apex and Cary and the NC Museum of Natural Sciences. In 2015, she had a solo show at Sunflowers Gallery in Wake Forest. Her "Sir Galloway" painting was awarded Best NC Agricultural Scene at the 2014 NC State Fair. She has also participated in the 2015 Boylan Heights Artwalk and the 2016 Front Porch Artwalk.
The Nature Art Gallery is located on the top floor of the Museum Store (1st floor, main building). Store hours are Monday through Friday, 10 a.m. to 4:45 p.m.; Saturday, 9 a.m. to 4:45 p.m.; and Sunday, noon to 4:45 p.m. All exhibited art is for sale. For more information about the Nature Art Gallery, call 919.707.9854.
---
The North Carolina Museum of Natural Sciences (11 W. Jones St. and 121 W. Jones St.) in downtown Raleigh, is the state's most visited cultural attraction. It is an active research institution that engages visitors of every age and stage of learning in the wonders of science and the natural world, drawing them into the intriguing fields of study that are critical to the future of North Carolina. Hours: Mon.- Sat., 9 a.m.-5 p.m., and Sun., noon-5 p.m. Admission is free, however donations are appreciated and accepted. Visit the Museum on the Web at naturalsciences.org. Emlyn Koster, PhD, Director; Susi H. Hamilton, Secretary, N.C. Department of Natural and Cultural Resources; Roy Cooper, Governor.