For immediate release ‐ March 11, 2019
Contact: Jon Pishney, 919.707.8083. Images available upon request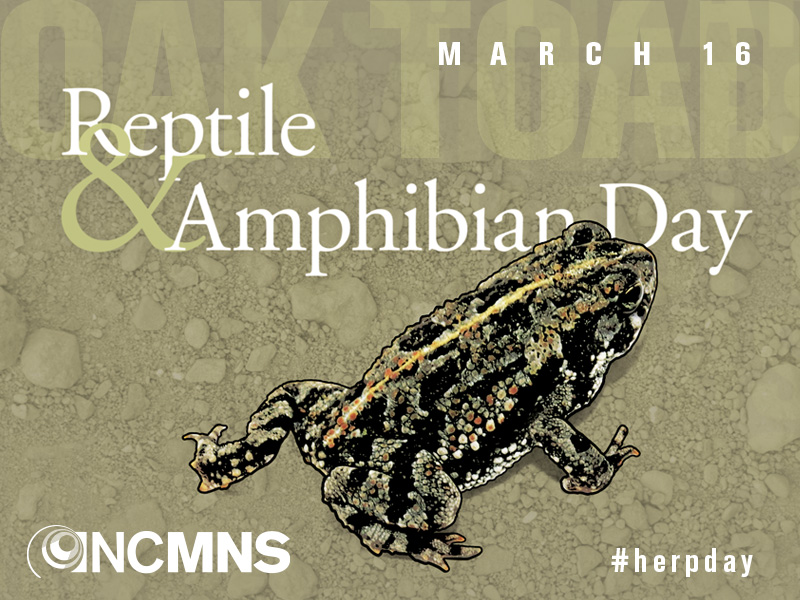 RALEIGH, N.C. — This March, take a deep dive into the world of toads, from the diminutive oak toad to the aptly named spadefoot toad, a uniquely adapted resident of the Southwest US deserts. Visitors can come face-to-face with a menagerie of reptiles and amphibians from North Carolina and around the world at the North Carolina Museum of Natural Sciences' 25th annual Reptile & Amphibian Day, Saturday, March 16, 9 a.m.–5 p.m. This free event is the largest of its kind in the country.
Enjoy toad-focused presentations, including "Toadally Folklore," a closer look at warts, witches and other weirdness related to toads. Or check out "Terrific Toads," which explores the creation of medicines from toad toxins, and how this makes toad conservation efforts that much more important. Education stations abound as well, including a display of fossil frogs and toads, courtesy of the Museum's paleontology unit — discover when frogs and toads first appeared in the fossil record, how they're different from modern toads, and how they're the same.
Would you like to see how snakes, salamanders, frogs and the venomous Gila monster eat? Live feeding demonstrations happen throughout the day. Explore real "dragons" found in nature and discover the similarities they share with the mythological creatures. Or learn how to safely identify the different species of snakes in North Carolina, and even how to attract them to your back yard.
All floors of the Museum will offer dozens of guest exhibitors and herpetology experts, live reptiles and amphibians (including lizards, crocodilians, frogs and toads, snakes and salamanders, turtles and tortoises), and information on topics ranging from conservation efforts to veterinary care. Kids can enjoy making take-home crafts, exploring the Pollywog Playspace (with activities "perfect for young tadpoles"), and much more.
For more information, visit naturalsciences.org.
---
The North Carolina Museum of Natural Sciences in downtown Raleigh (11 and 121 W. Jones St.) is an active research institution that engages visitors of every age and stage of learning in the wonders of science and the natural world. Hours: Monday–Saturday, 9 a.m.–5 p.m., and Sunday, noon–5 p.m. General admission is free. Jason Cryan, PhD, Interim Director. For more information, visit naturalsciences.org.