For immediate release ‐ January 14, 2020
Contact: Jon Pishney, 919.707.8083. Images available upon request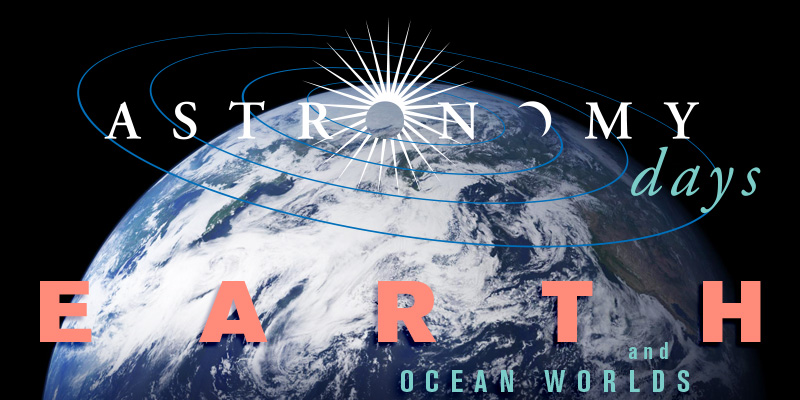 RALEIGH, N.C. — The abundance of water on Earth's surface is a unique feature that distinguishes Earth from other planets and moons in the Solar System, and it has played a crucial role in the emergence of life on our planet. All known life needs water to survive, so finding water on other worlds is an important step toward searching for Earth-like life. This year take a closer look at Earth and Ocean Worlds when the North Carolina Museum of Natural Sciences hosts Astronomy Days, Saturday, Jan. 25, 9 a.m.–5 p.m. and Sunday, Jan. 26, noon–5 p.m. Free.
From telescope crafts to astrophotography, dry-ice comets to rocket launches, this free event is for space enthusiasts of all ages. Special guest presenters this year include:
Carter Emmart from the American Museum of Natural History, who will use OpenSpace software to take the audience on a virtual tour of our Solar System's closest planets up close.
Murthy S. Gudipati from NASA's Jet Propulsion Laboratory in California will talk about the Rosetta mission's discovery of large quantities of organic molecules on a comet, indicating that the building blocks of life were already present in comets before they bombarded early Earth.
Richard Greenberg from the Lunar and Planetary Lab in Arizona will reveal what scientists learned from NASA's Galileo spacecraft: that Europa's global ocean contains twice the liquid water of all Earth's oceans combined, and this moon of Jupiter may be the most likely place for the first detection of extraterrestrial life.
Plus, the Museum's own astronomer Rachel Smith will also use OpenSpace software to "fly" the audience through space, from our planet to potentially habitable worlds in the solar system, and then to the stars beyond as we consider the search for extraterrestrial intelligence.
Throughout the day, aspiring rocketeers can gaze at the 40-foot working models of the Tripoli Rocketry Association. Sun worshipers can peer at the Sun (safely) through solar telescopes provided by Museum astronomers and the Raleigh Astronomy Club. All visitors can make and blast off their own bottle rocket on the Museum plaza, find out how much they weigh on different moons and planets, or meet live animals of the constellations (like the bearded dragon, which represents the constellation Draco).
Astronomy Days is presented in collaboration with the Raleigh Astronomy Club. Astronomy Days exhibitors include NC State University, Pisgah Astronomical Research Institute (PARI), CHAOS (Chapel Hill Astronomical and Observational Society), Morehead Planetarium and Science Center, and NASA Langley. For more information about Astronomy Days, visit www.naturalsciences.org or contact Kari Wouk at kari.wouk@naturalsciences.org or 919.707.9879.