For immediate release ‐ April 15, 2019
Contact: Jon Pishney, 919.707.8083. Images available upon request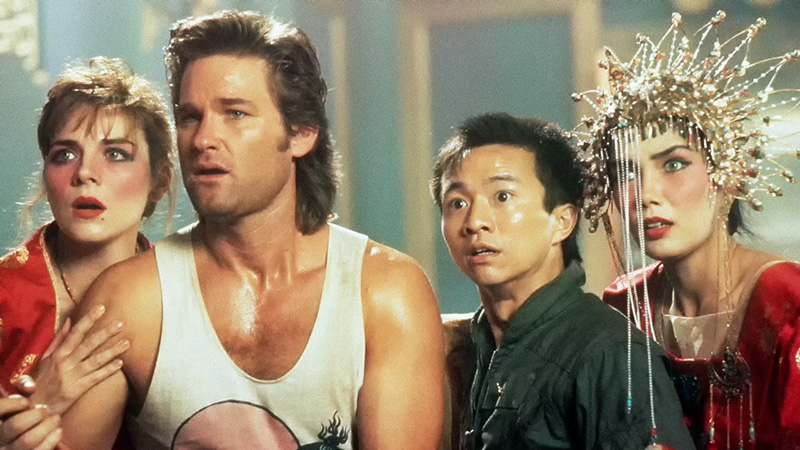 RALEIGH, N.C. — There is a hidden world where ancient evil weaves a modern mystery. They call it Little China. It's where big trouble was waiting for Jack Burton … but don't worry, he can take it. Don't miss this deftly crafted concoction of mystical, action, adventure, comedy, kung fu, monster and ghost story. It's "Big Trouble in Little China," on the big screen at the North Carolina Museum of Natural Sciences, Friday, April 26 at 7 p.m.
"Big Trouble in Little China" (1986, PG-13) is directed by John Carpenter and stars Kurt Russell, Kim Cattrall and Dennis Dun. The film tells the story of Jack Burton (Russell), a macho truck driver who agrees to go to the San Francisco airport and pick up his friend's green-eyed fiancée, freshly arrived from China. The fiancée is kidnapped right in front Russell's eyes by a Chinatown gang, which leads to an adventure into the mysterious underworld beneath Chinatown. Once there, Burton — along with lawyer Gracie Law (Cattrall) and (sub)urban warrior Wang Chi (Dun) — face the ghost of a 3,000-year-old sorcerer, who needs to marry a woman with green eyes to release him from a centuries-old curse.
Carpenter has helmed both classic horror films like "Halloween" (1978), "The Fog" (1980) and "The Thing" (1982), and noted sci-fi tales like "Escape from New York" (1981) and "Starman" (1984). After starring in the title role in Carpenter's TV movie "Elvis" (1979), Russell appeared in a range of other Carpenter films in the 1980s, including "Escape from New York" and "The Thing." Fittingly, Russell landed a role in the Elvis Presley movie "It Happened at the World's Fair" (1963) when he was only 11 years old. Cattrall is certainly best known for her role as public relations executive Samantha Jones on the HBO sitcom "Sex and the City" (1998).
Prior to the movie, beginning at 5:30 p.m., check out movie-themed science stations. Plus, a special guest will help separate the facts from the fiction following the screening. Finally Friday movie nights feature a fun night of trivia and tongue-in-cheek commentary on popular science-themed movies, complemented by experts and hands-on science stations related to each night's theme. Dinner (such as sliders or tacos), beverages and popcorn will be available for purchase before the show. Doors open at 5:30 p.m.; movies and presentations begin at 7 p.m. Admission: $5/person. For information or tickets, visit naturalsciences.org/calendar/finally-friday/.
---
The North Carolina Museum of Natural Sciences in downtown Raleigh (11 and 121 W. Jones St.) is an active research institution that engages visitors of every age and stage of learning in the wonders of science and the natural world. Hours: Monday–Saturday, 9 a.m.–5 p.m., and Sunday, noon–5 p.m. General admission is free. For more information, visit naturalsciences.org.