For immediate release ‐ January 23, 2020
Contact: Jon Pishney, 919.707.8083. Images available upon request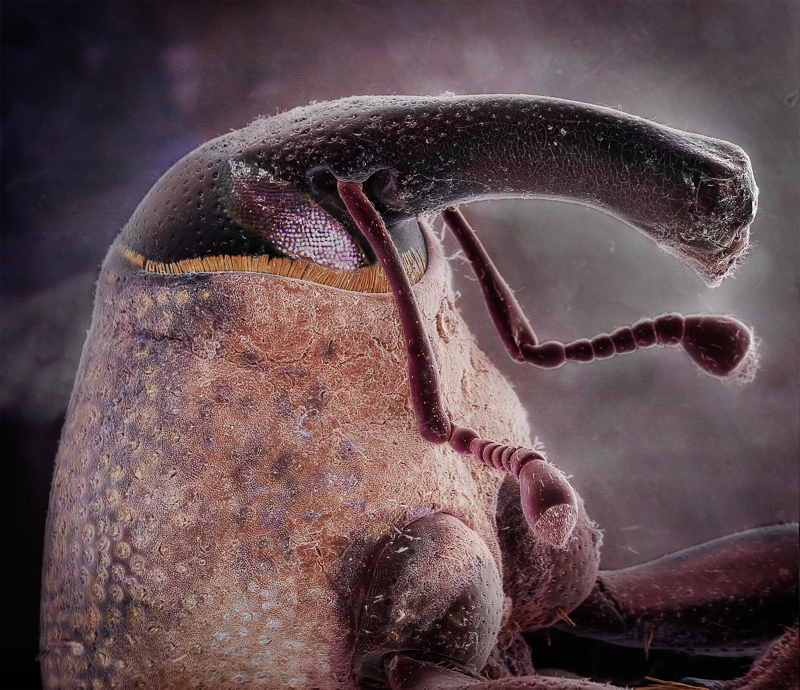 (RALEIGH, N.C.) — The North Carolina Museum of Natural Sciences' Nature Art Gallery presents "Surburban Symbiosis Insectum Domesticus," unique and tongue-in-cheek photography by East Carolina University professor Daniel Kariko that highlights the tiny critters found in our homes. The show runs Jan. 31 through March 1, with a Gallery reception Saturday, Feb. 1, 2–4 p.m. All exhibited art is for sale.
Insects find ways into our homes no matter how vigilant we are in our effort to keep nature on the outer side of our windowpanes. This series of photographs capturing these little (and sometimes not so little) invaders utilizes a combination of scanning electron microscope and optical stereo microscope, completed in collaboration with ECU's Imaging Core Facility, in order to achieve a portrait-like effect inspired by the tradition of 17th Century Dutch and Flemish painters.
"This anthropomorphic presentation of our closest, often invisible, co-habitants in a humorous, quasi-scientific way, is an invitation to consider the evidence of the human impact on the landscape as we constantly redraw boundaries between us and the natural environment," Kariko says. "In the age of popular citizen science, this project is an honest and tongue-in-cheek endeavor by an artist to observe a nearby natural world from an unusual angle. "
Originally from former Yugoslavia, Kariko's work investigates environmental and political land use, disappearing and changing landscape, and cultural interpretation of inhabited space. His work has been shown nationally and internationally in galleries and museums including: Manchester Science Festival, UK; Rewak Gallery, University of Sharjah, UAE; Edinburgh International Science Festival, UK; Museum of Contemporary Art of Vojvodina, Novi Sad, Serbia; Rijeka Foto Festival, Croatia; Fries Museum, NL; Festival della Scienza di Verona, IT; Royal Albert Hall, London, UK; ArtCell Gallery, Cambridge, UK; and Galata Museo del Mare, Genova, IT; Orlando Museum of Art, Orlando, FL; Museum of Florida History, Tallahassee, FL.
The Nature Art Gallery is located inside the Museum Store. Hours are Monday through Friday, 10 a.m. to 4:45 p.m.; Saturday, 9 a.m. to 4:45 p.m.; and Sunday, noon to 4:45 p.m. Admission to the Gallery is free. All exhibited art is for sale. For more information about the Nature Art Gallery, call 919.707.9854.
---
The North Carolina Museum of Natural Sciences in downtown Raleigh (11 and 121 W. Jones St.) is an active research institution that engages visitors of every age and stage of learning in the wonders of science and the natural world. Hours: Monday–Saturday, 9 a.m.–5 p.m., and Sunday, noon–5 p.m. General admission is free. For more information, visit naturalsciences.org.