For immediate release ‐ July 29, 2019
Contact: Jon Pishney, 919.707.8083. Images available upon request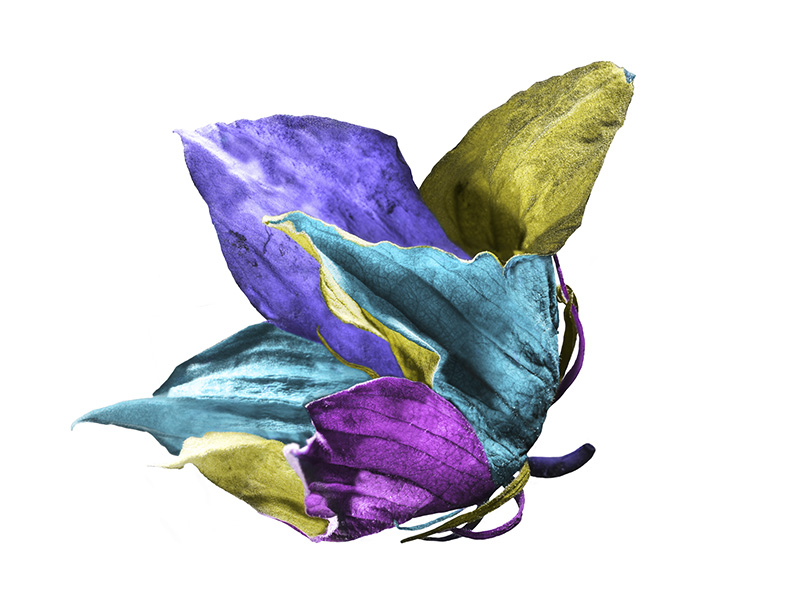 (RALEIGH, N.C.) — The North Carolina Museum of Natural Sciences' Nature Art Gallery presents "Mutualism," artwork by Langley Anderson. The show runs August 2–25, with a Gallery reception Saturday, August 3, 2-4 p.m. All exhibited art is for sale.
Anderson's photographic series, 'Mutualism,' focuses on colorful imagery that she creates with a microscope. "'Mutualism' explores a relationship between science and art," Anderson explains. "Tight imaging of organic specimens and the manipulation of their color and space transform minute matter into archival pigment prints. When I observe objects in our natural world — sinuous scales of snakeskin, withered pods of plants, hairy articulations of arachnids — I see a parallel between the structure of these specimens and the elements of art and design."
Her artistic process is, in fact, quite scientific. Using scanning electron and dissecting microscopes, Anderson enlarges specimens, then digitally enhances them with vibrant hues, allowing unique anatomical attributes to surface. "My artwork expresses a mutualism between science and art and displays the inherent beauty of nature in a new way," she adds.
Anderson grew up in New Orleans, Louisiana and received her Bachelor of Arts from Trinity University, San Antonio, Texas in 1999. Anderson recently earned her Master of Fine Arts in studio art, with a concentration in photography, from Radford University in Radford, Virginia. She has received the Radford University Graduate Award of Distinction, private commissions, and publication in Photographer's Forum Best of Photography 2018. Anderson has served on several art committees and presented her work at SECAC (Southeastern College Art Conference) in Columbus, Ohio in 2017. Anderson teaches art at the elementary through university levels, works as freelance photographer, and resides in Radford, Virginia.
The Nature Art Gallery is located inside the Museum Store. Hours are Monday through Friday, 10 a.m. to 4:45 p.m.; Saturday, 9 a.m. to 4:45 p.m.; and Sunday, noon to 4:45 p.m. Admission to the Gallery is free. All exhibited art is for sale. For more information about the Nature Art Gallery, call 919.707.9854.
---
The North Carolina Museum of Natural Sciences in downtown Raleigh (11 and 121 W. Jones St.) is an active research institution that engages visitors of every age and stage of learning in the wonders of science and the natural world. Hours: Monday–Saturday, 9 a.m.–5 p.m., and Sunday, noon–5 p.m. General admission is free. For more information, visit naturalsciences.org.