For immediate release ‐ April 12, 2022
Contact: Jonathan Pishney, 919.707.8083. Images available upon request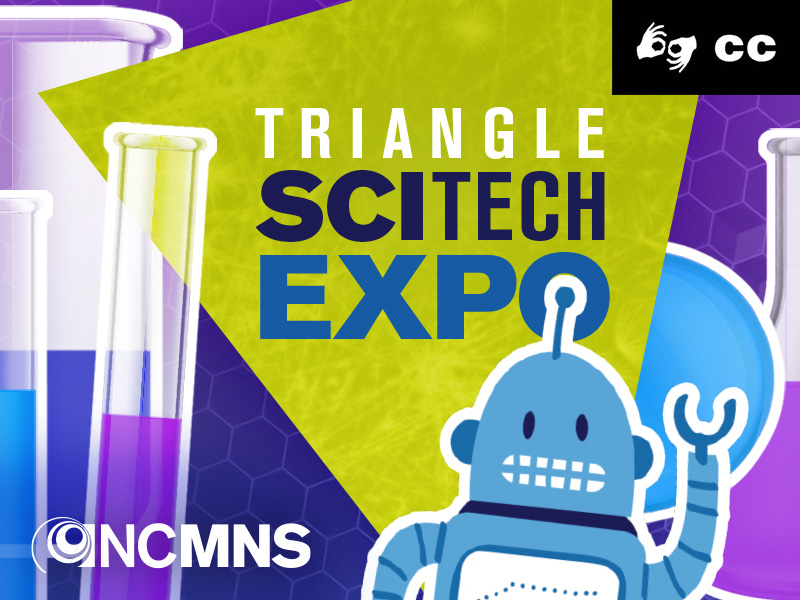 [RALEIGH, N.C.] — Make your own candle-powered steamboat, watch robots tackle the monkey bar challenge, and meet live "animal architects," including an American alligator and a curly hair tarantula, that design and build their own homes. Join us for Triangle SciTech Expo — the first in-person event in over two years at the North Carolina Museum of Natural Sciences — and immerse yourself in the excitement of STEM (Science, Technology, Engineering and Mathematics), Saturday, April 23, 10 a.m. – 5 p.m. Free.
Featuring dozens of hands-on exhibits, games, crafts, activities and presentations, Triangle SciTech Expo is a unique event that gives visitors a chance to talk directly to area experts, scientists and specialists that are actively developing new technologies and finding new ways to use existing technologies. For example, drones! Meet an expert pilot and hear how Museum scientists are using his aerial drone footage and GPS data to create digital models of remote sites in Montana, Ecuador and Panama for later research.
Visitors can also explore the mysteries of planet formation with Museum astrophysicist Rachel Smith. Check out some of her recent astronomical observations of forming stars taken with NASA's Infrared Telescope Facility and discover what such techniques are telling scientists about the early chemistry of forming planetary systems. Or listen as North Carolina Central University grad students highlight innovations in a variety of health-related topics, from virus-associated diseases to neuroscience.
Additional exhibits and activities include Rogue Robotics, a program where high school and middle school students design and build their own robots, then compete against each other in the RoboArena to score as many points as possible. Visitors can play in a demonstration arena to test their skills at scoring points. Or join The Maker Academy to design and make your own mini, light-up sculptures. Then join Museum educators to make your own putt-putt boat, a little candle-powered craft that sputters and coughs just like a real motorboat, all thanks to the power of steam.
Triangle SciTech Expo is an Official Expo of the NC Science Festival and is sponsored by Biogen Foundation. Find out more at naturalsciences.org.
---
For more information about our upcoming activities, conservation news and ground-breaking research, follow @NaturalSciences on Instagram, Twitter and Facebook. Join the conversation with #visitNCMNS.