For immediate release ‐ September 08, 2022
Contact: Jon Pishney, 919.707.8083. Images available upon request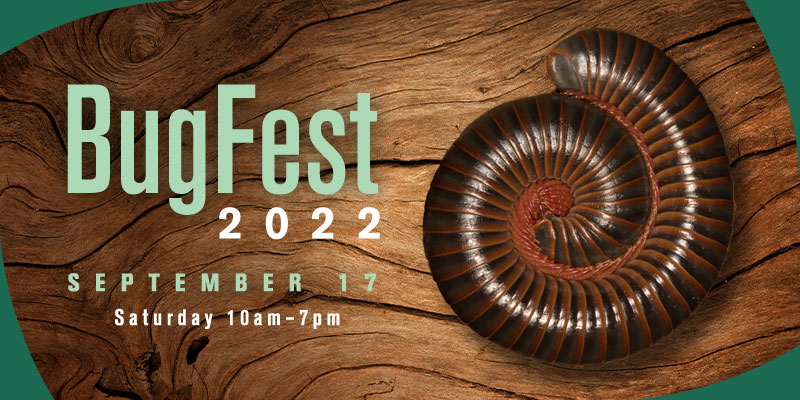 (RALEIGH, N.C.) — For the first time in three years, the North Carolina Museum of Natural Sciences' largest annual event is back in person. BugFest, the largest one-day bug-centric event in the country, introduces Museum guests to a range of arthropods from North Carolina and around the world. Satisfy all your web weaving, wing flapping, dungball rolling, creepy crawling and bug munching pursuits in one day: Saturday, Sept. 17, 10 a.m.–7 p.m. It's in-person and free!
This year, BugFest spotlights myriapods, the group of animals that includes millipedes and centipedes. If you feel a bit squeamish about all those legs, join special guest Derek Hennen, Entomologist and Myriapodologist from Virginia Tech, at 1 p.m. for a judgment-free guided tour through the myriapod tree of life. What's the difference between a millipede and a centipede? Are they friendly? How do they make my life better? These questions and more will be answered as you learn about the biology of these many-footed bugs that are all around us. In April, Hennen named a new species of twisted-claw millipede Nannaria swiftae in honor of Taylor Swift, whose music Hennen says "helped me get through the highs and lows of graduate school."
Throughout the day, BugFest offers live and preserved bugs from North Carolina and around the world, plus bug experts, games and activities (like Stag Beetle Battles and the Roachingham 500), live music, movies and presentations to entertain and educate the entire family. If looking at all the live insects makes you hungry, you can grab a plate of unique food at the Café Insecta, where local restaurants offer a variety of free bug-filled fare ranging from Dirt 'n' Worms Donuts to Mealworm & Goat Cheese Hushpuppies. And while eating bugs might sound weird, not eating bugs is even weirder. Bug-filled dishes have found their way into the culinary palates of up to 80 percent of countries on Earth. And yes, they're good for you.
Additionally, at 2 p.m. you can hear from entomologist Paul Marek and his study of the leggiest animal on the planet, a 1,306-legged minibeast discovered last year in Western Australia. At 5 p.m., enjoy a free screening of "The Wasp Woman," a 1959 gem in which the head of a major cosmetics company experiments on herself with a youth formula made from royal jelly extracted from wasps, but the formula's side effects have deadly consequences. And don't miss the popular Caterpillarology Tent, where you can check out a huge variety of native North Carolina caterpillars from small, spine-covered stingers to large silk moth caterpillars. Learn which plants these hungry larvae love to eat, what they'll turn into when they transform into adults, and much more.
More information at bugfest.org.
BugFest is brought to you by BASF, with additional support provided by Syngenta.